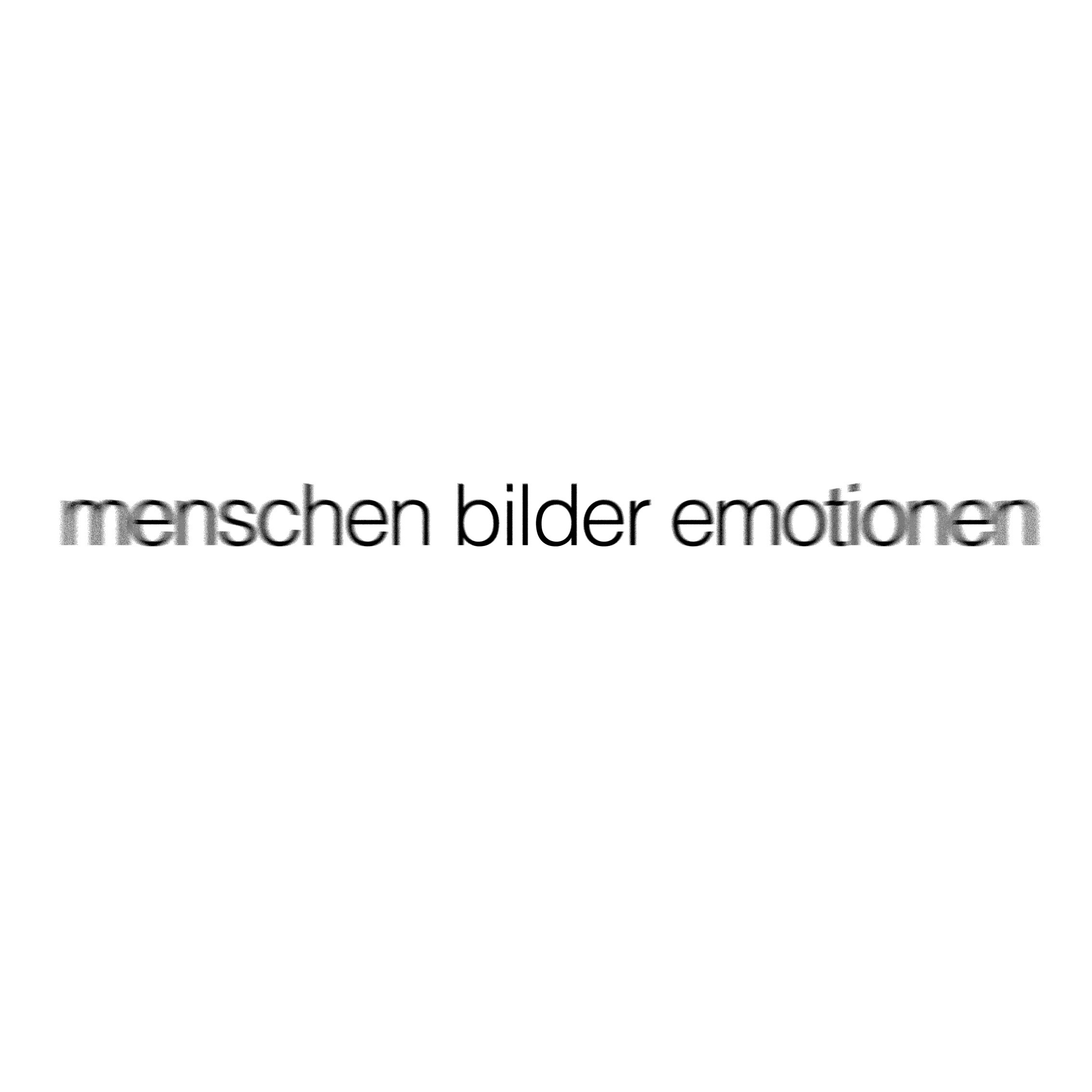 Erik Nordenhake, 7 – 28 february 2019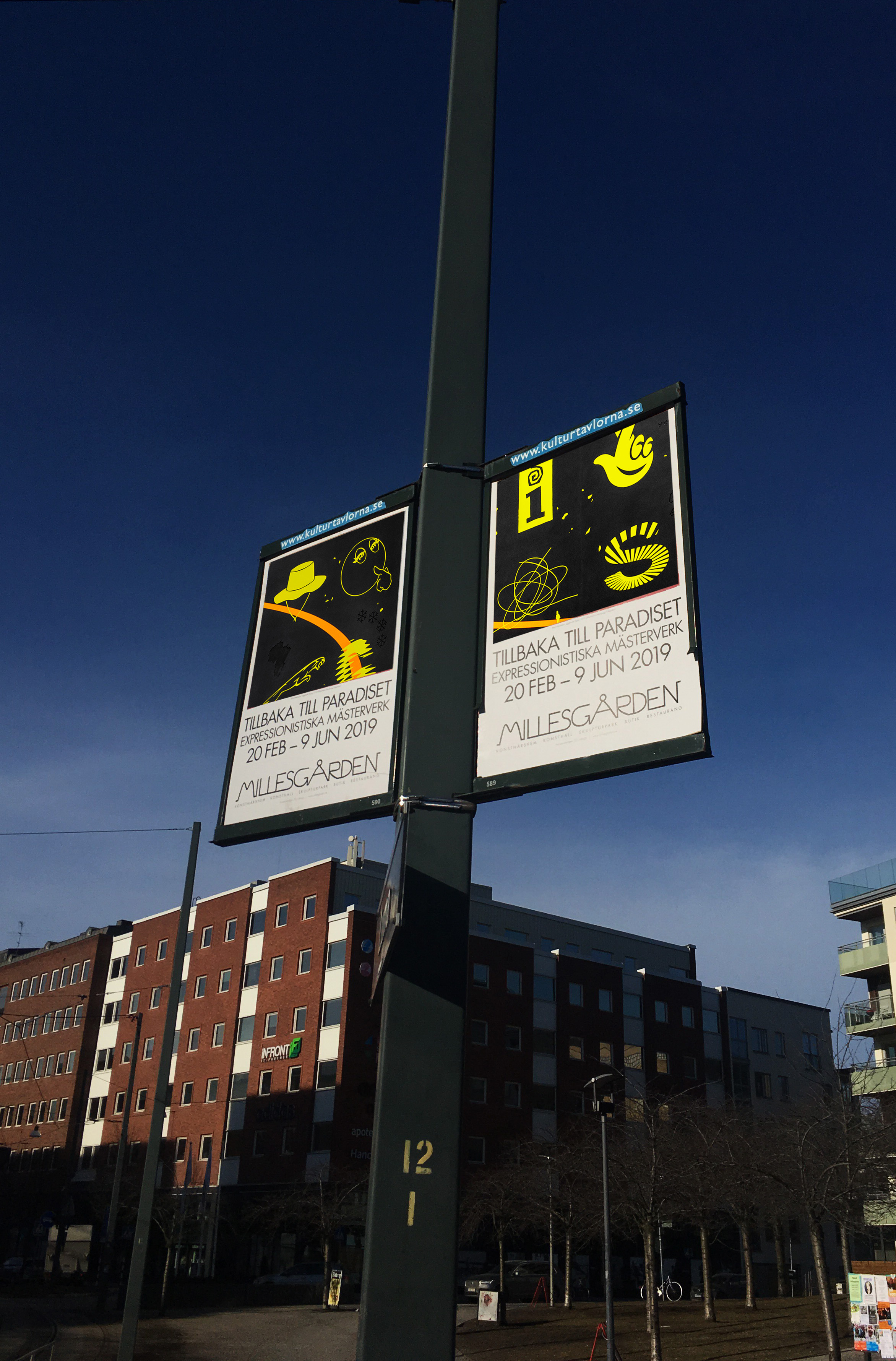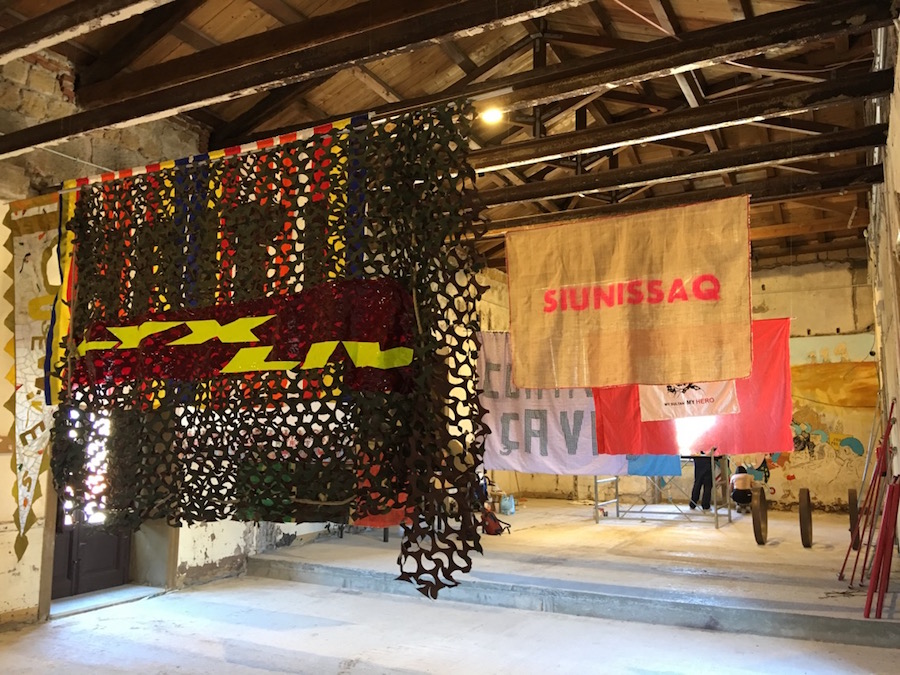 LYXLIV, vinyl on plastic and military net, rope
Across the Border (by Filippo Minelli), Manifesta 12, Palazzo Ajutamicristo, Palermo, 2018



Westafrican Roadmovie, 2017, with Agassi F Bangura


Music video for Jonas Lundqvist "Helt perfekt"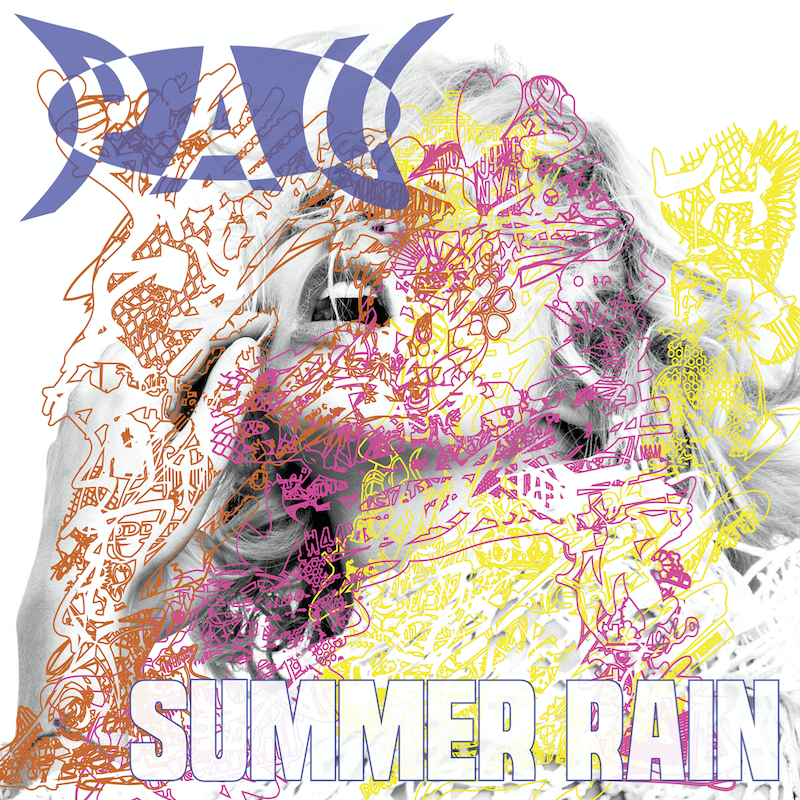 Artwork for PAU, New Boy Records (on Spotify)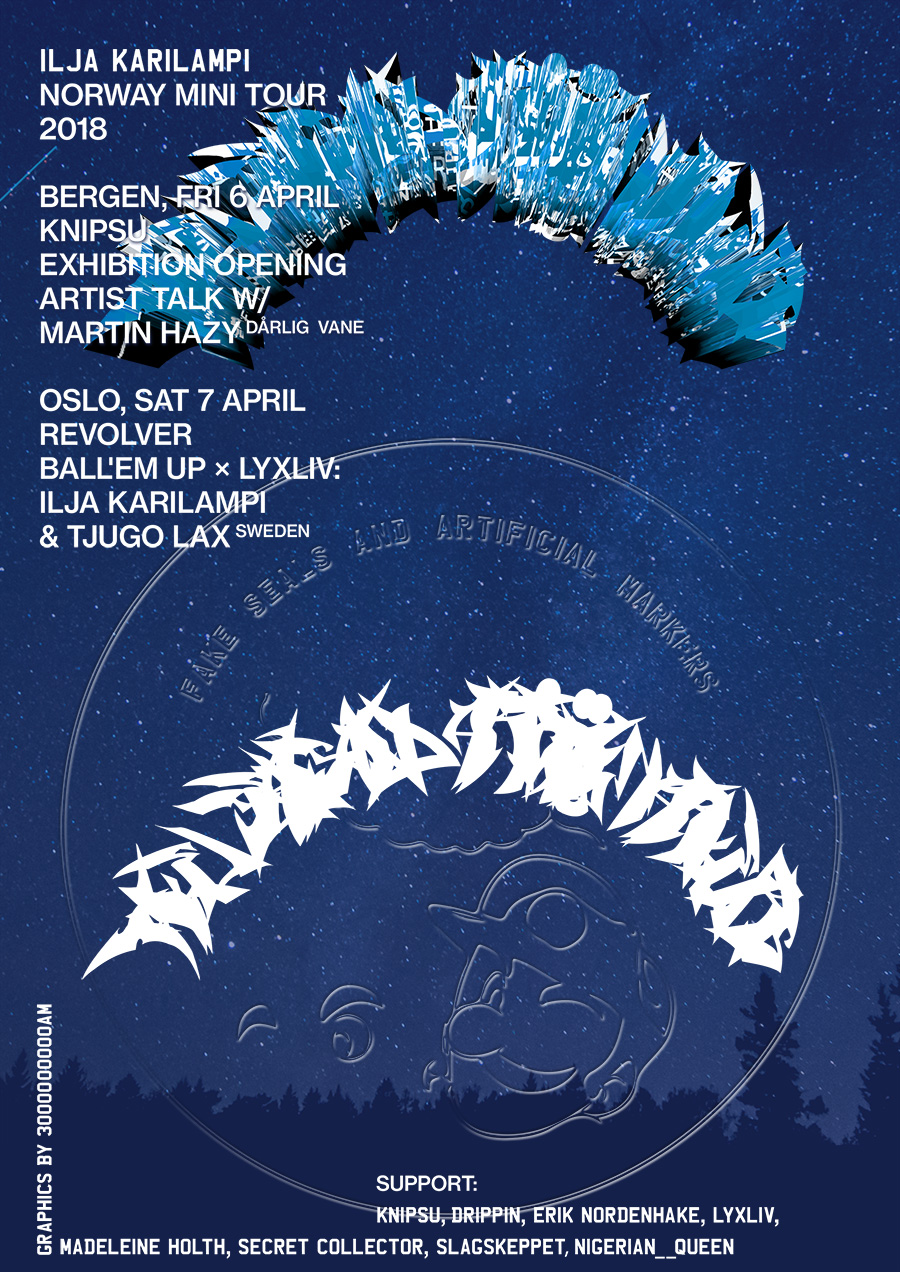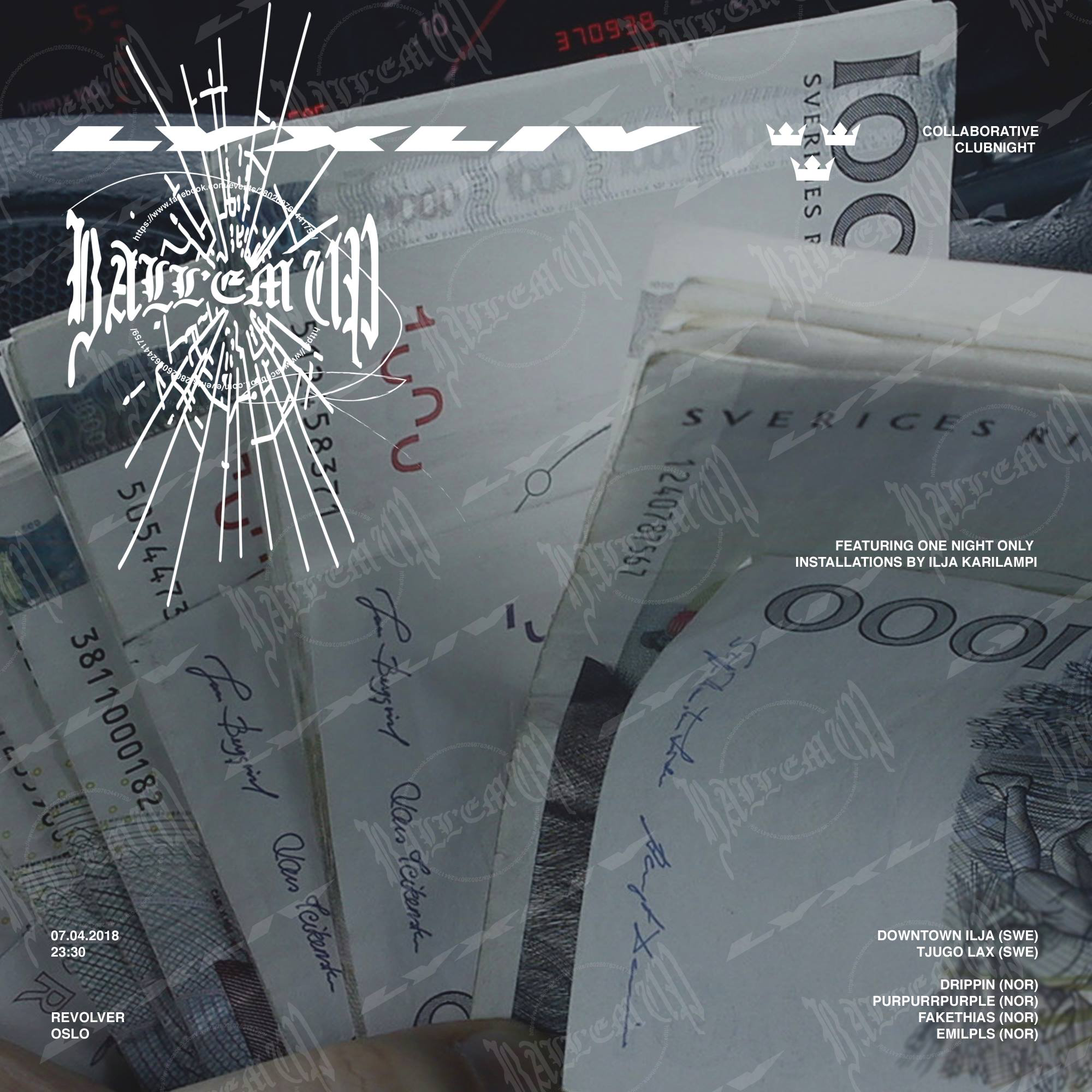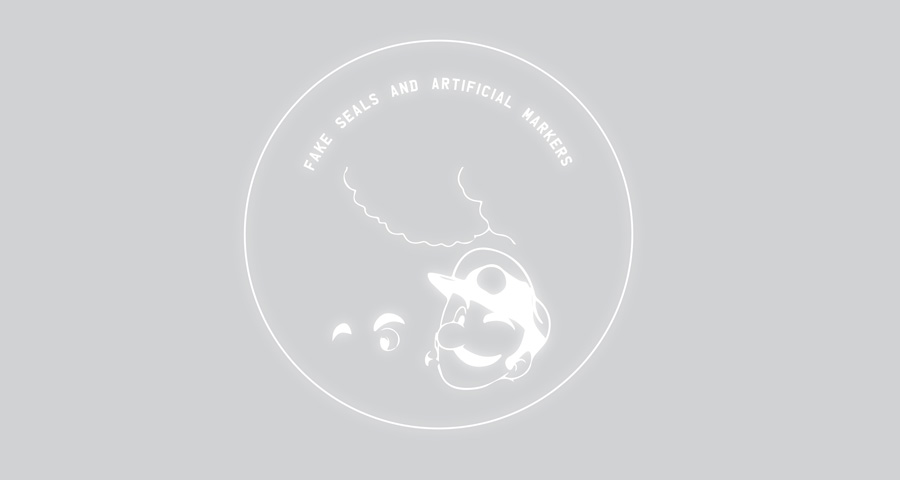 BRILLO, Växthusbaren, Stockholm, opening thursday 15/3 17-22.00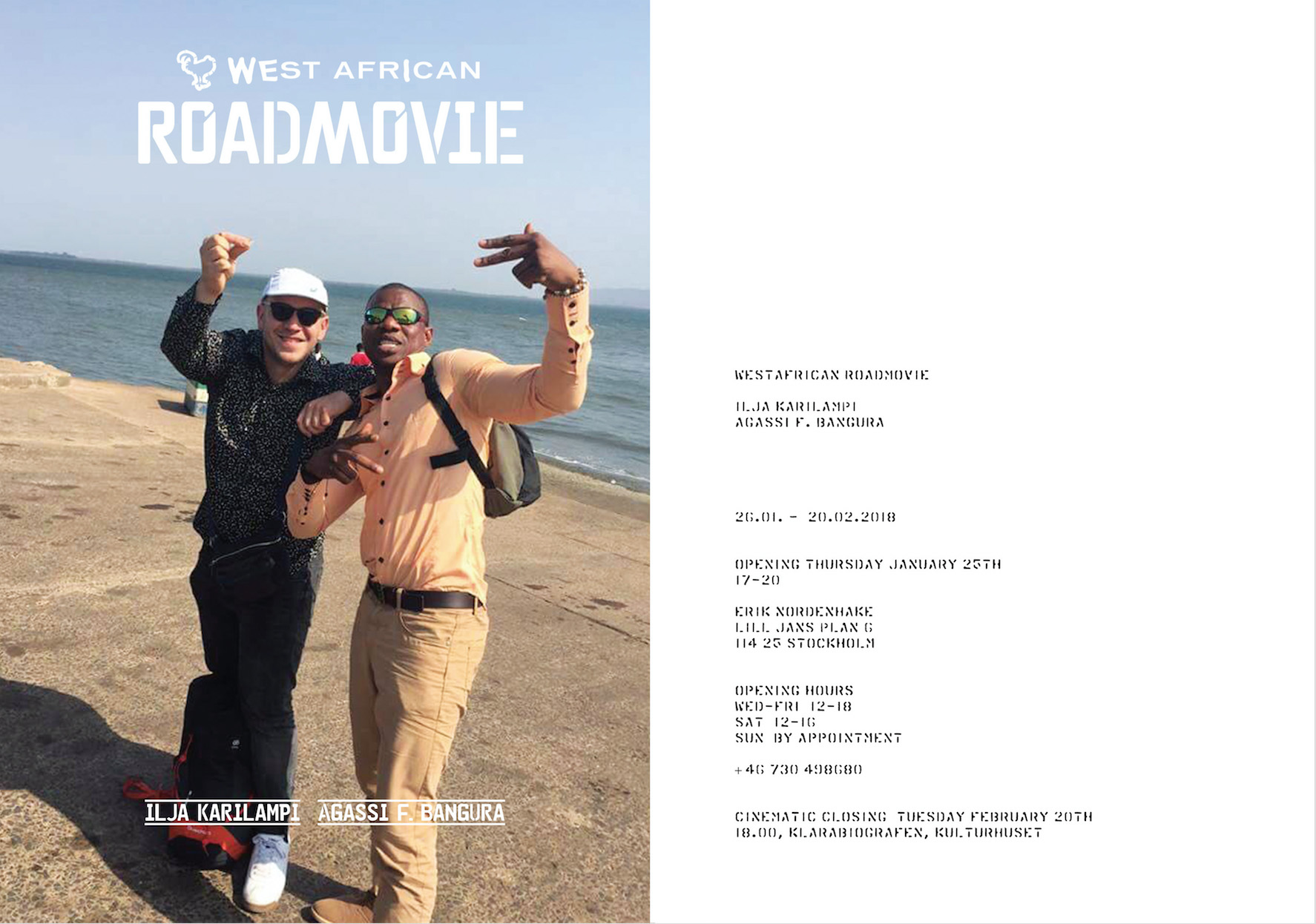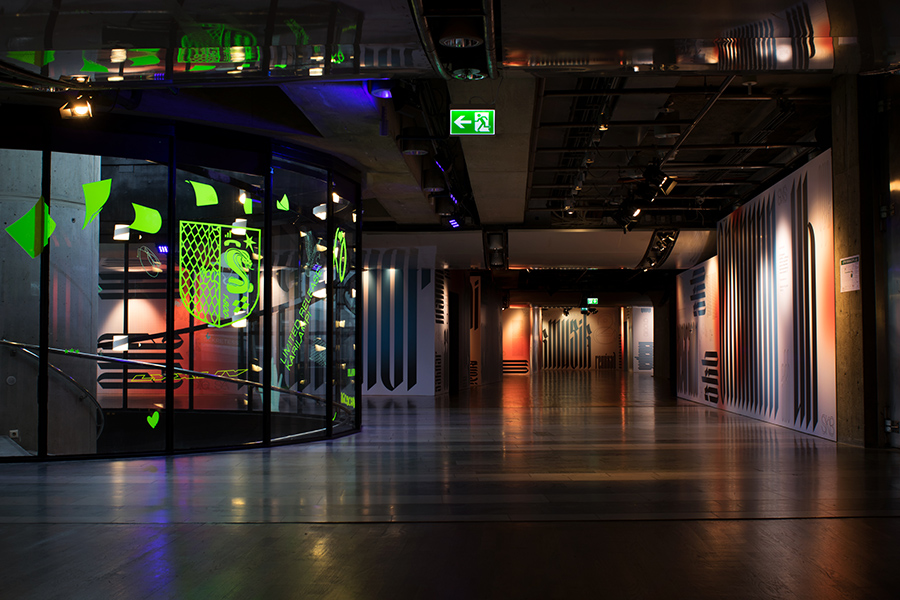 "S R B separation confirmed… …coming up onnnnnn uh staging theburnout of these twinnn solid rocket boosters at 2 minutes 5 seconds"
Site-specific installation, adhesive vinyl on glass, UV light
Folkmusik 2.0, Kulturhuse,t 2017/18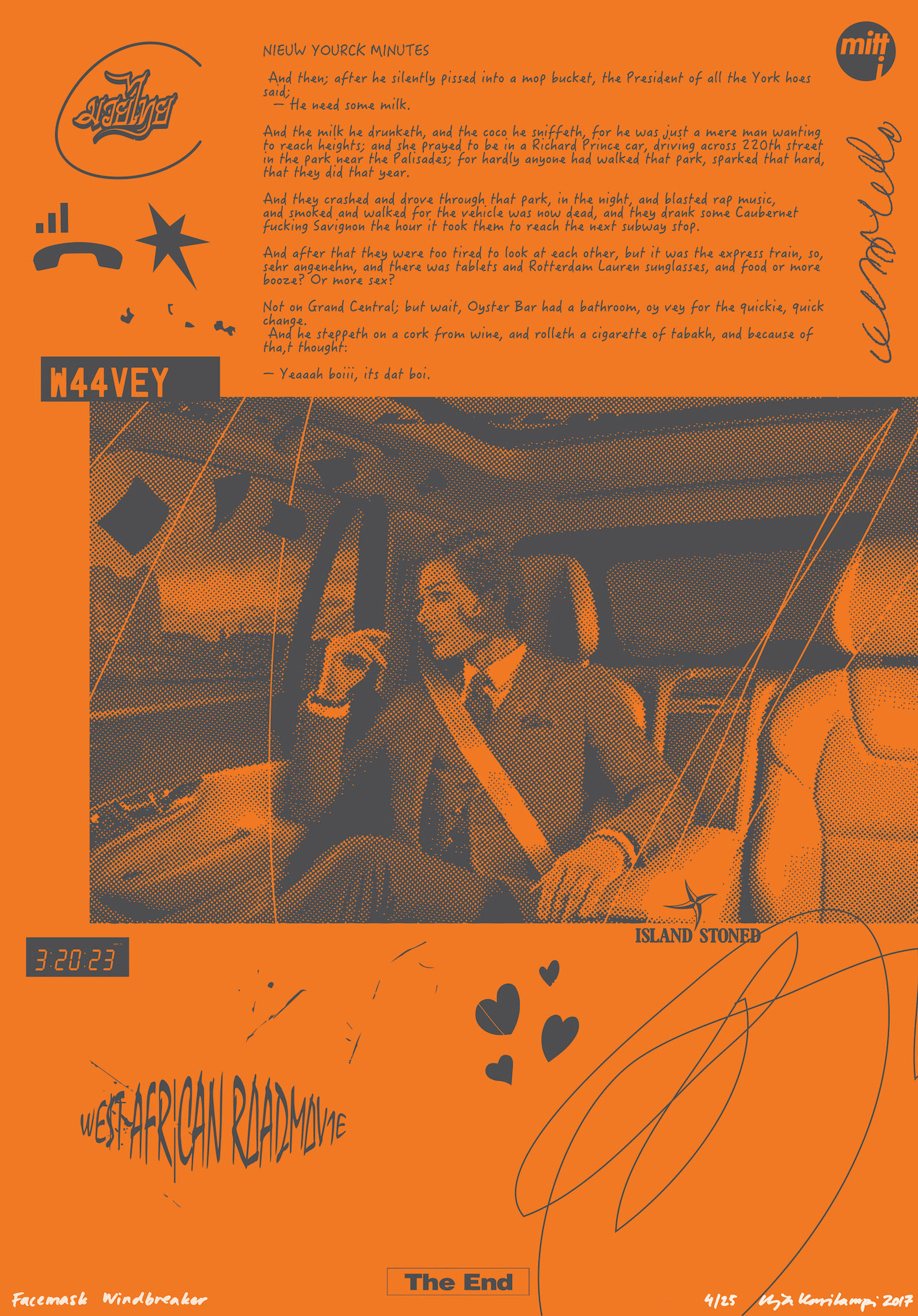 "Facemask Windbreaker", silkscreen poster, 100x70 cm, 2017/18, edition of 25, erik@eriknordenhake.com



NEO, 2017, plexiglass on aluminium, 13 x 12 m, lobby of Karolinska/KTH/Red Cross research education center, Flemingsberg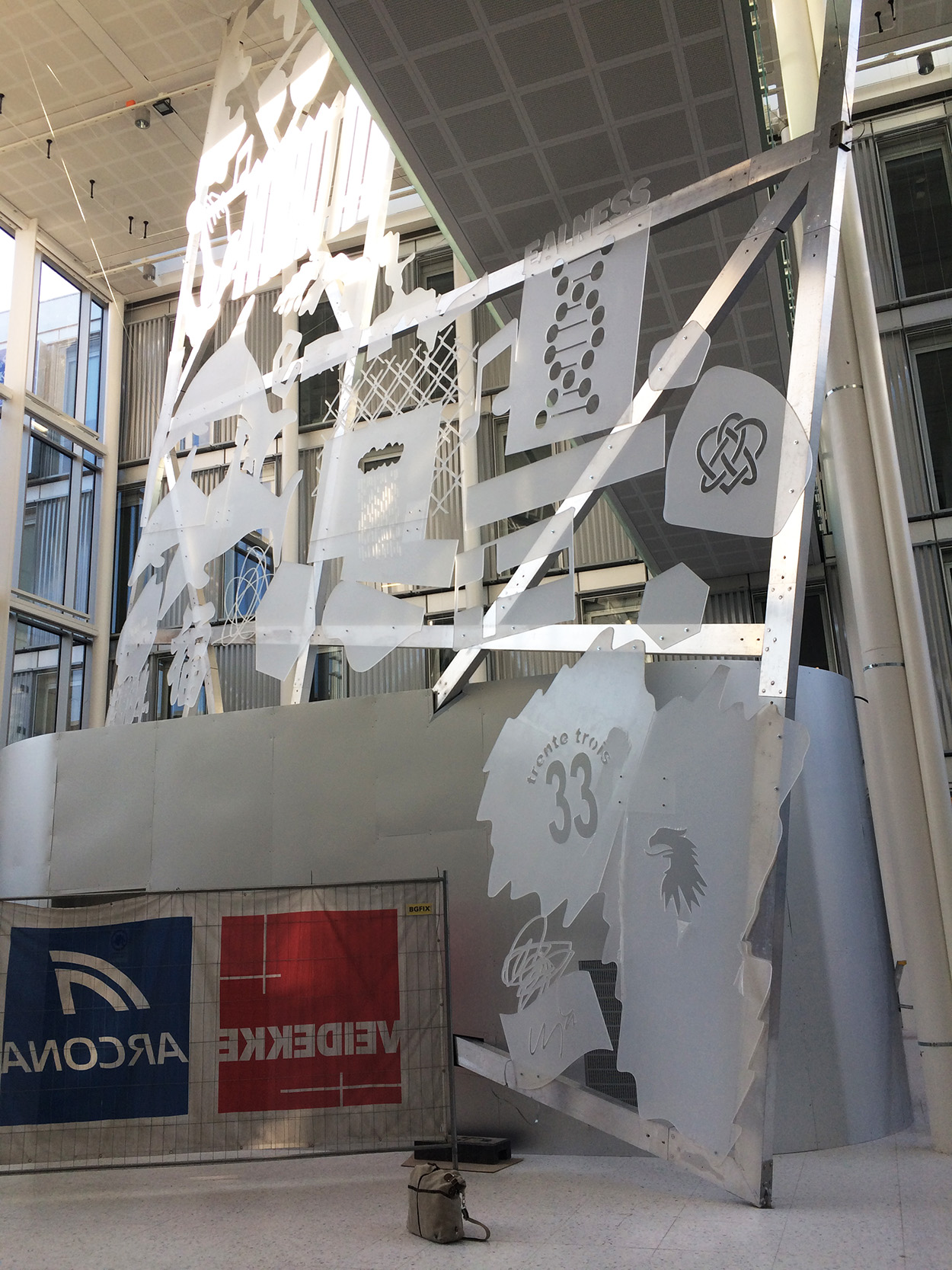 Pääkaupunki, installation, steel on aluminium, mural by Gustav Wideberg, bar, dj booth, videos. ARS17, Kiasma, Helsinki, 201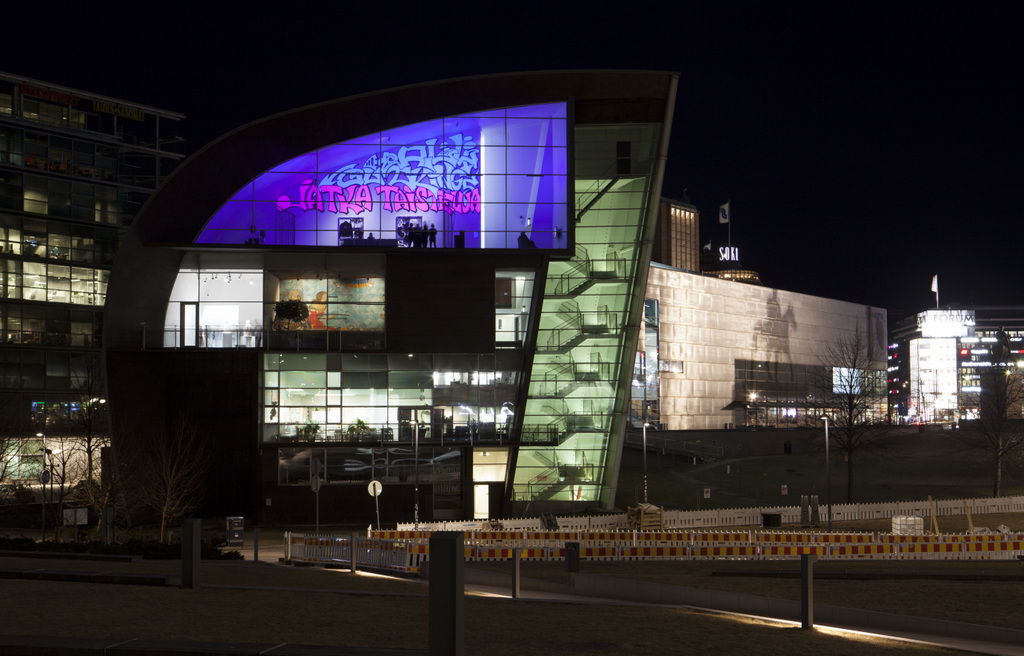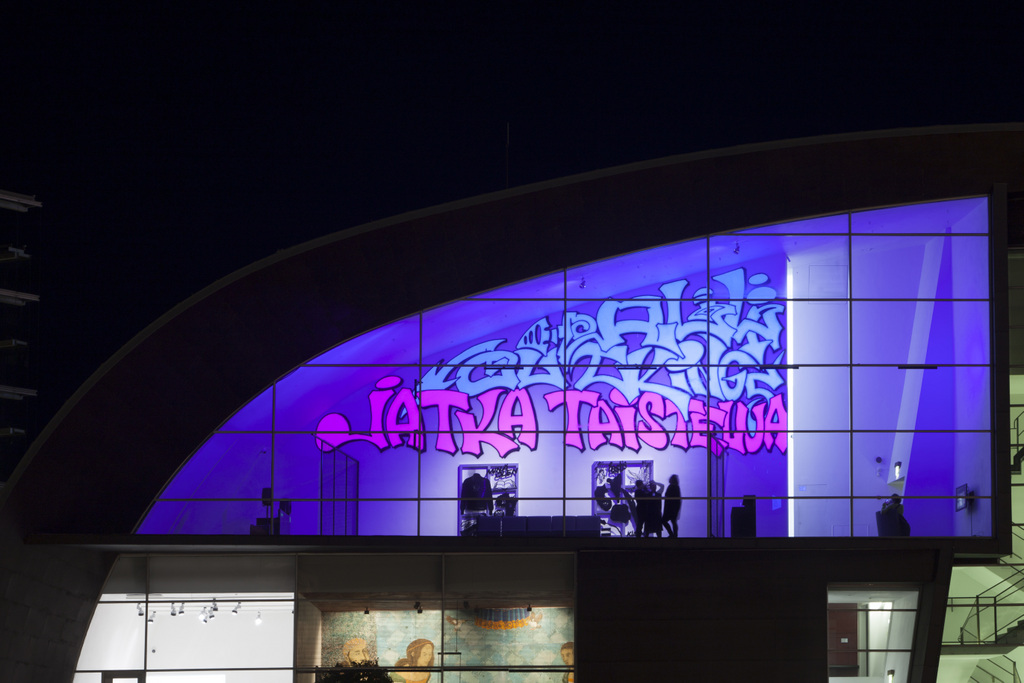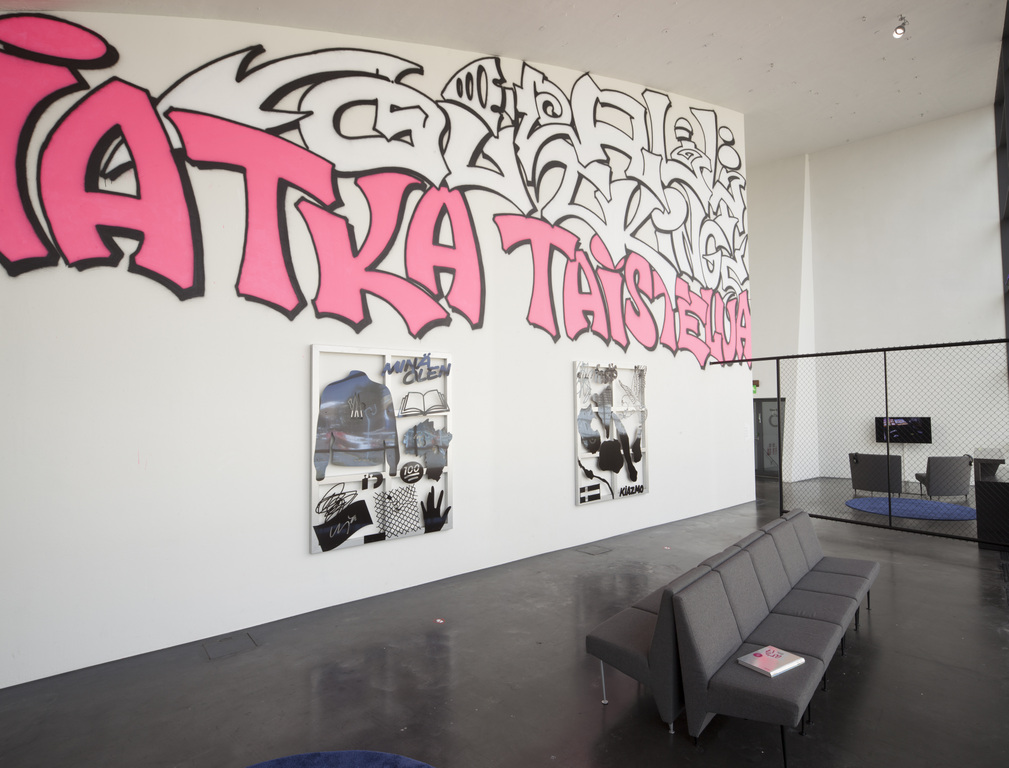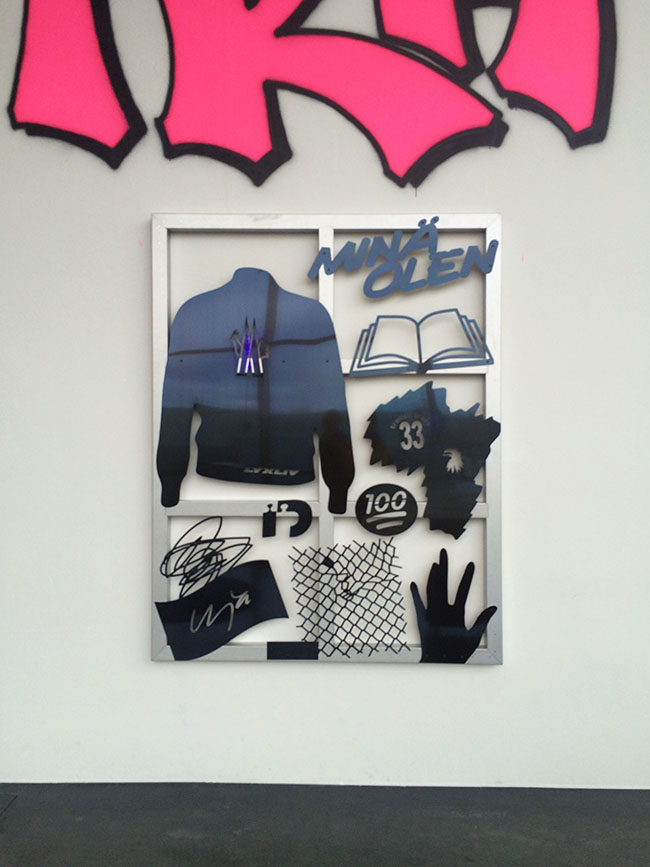 Mixtape Queen, with Kareem Lotfy
"BLUEPRINT: Whose urban appropriation is this?", TENT, Rotterdam 2017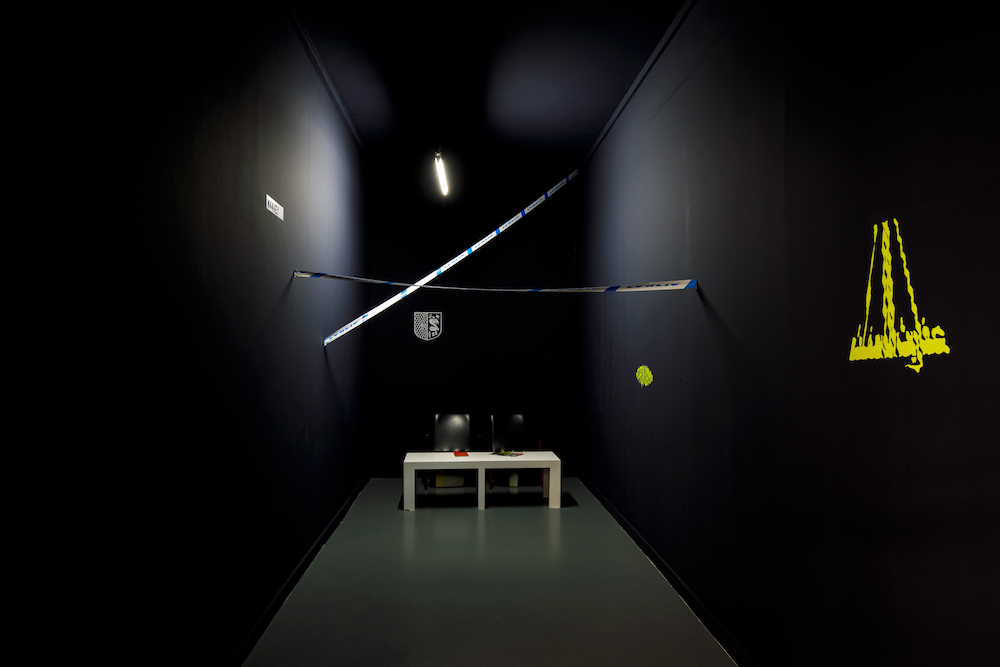 LYXLIV, label work, 2017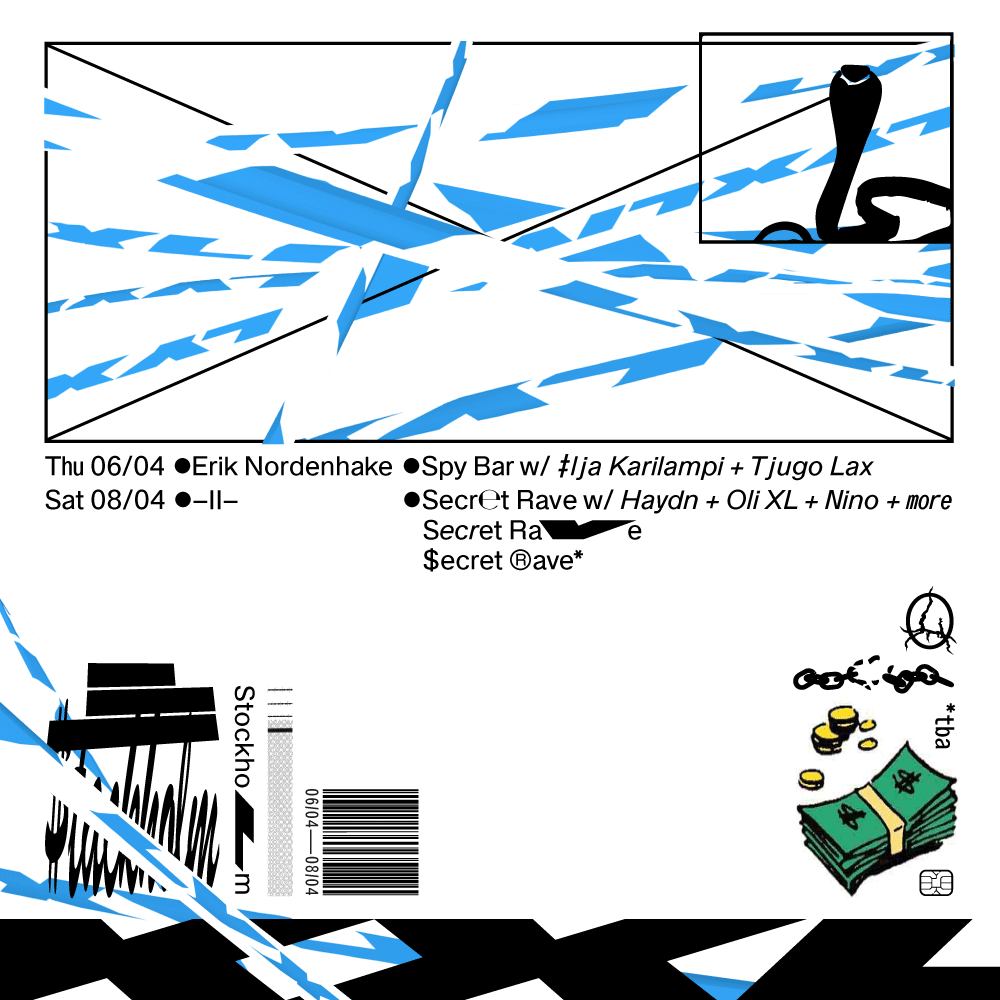 Saturn Up, 2016, size variable, plexiglass on aluminium frame. "Showout show out", Index, Stockholm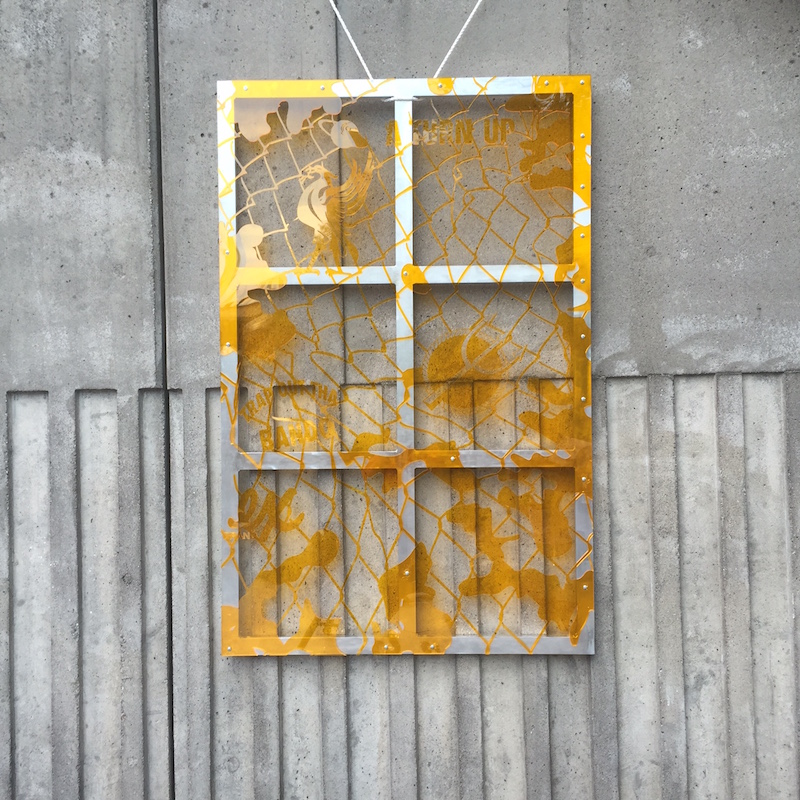 Sierra Leone Poice Headquarters, 2016, engraved aluminium & textile, Swedish Art Now!, Sve nHarrys konstmuseum, Stockholm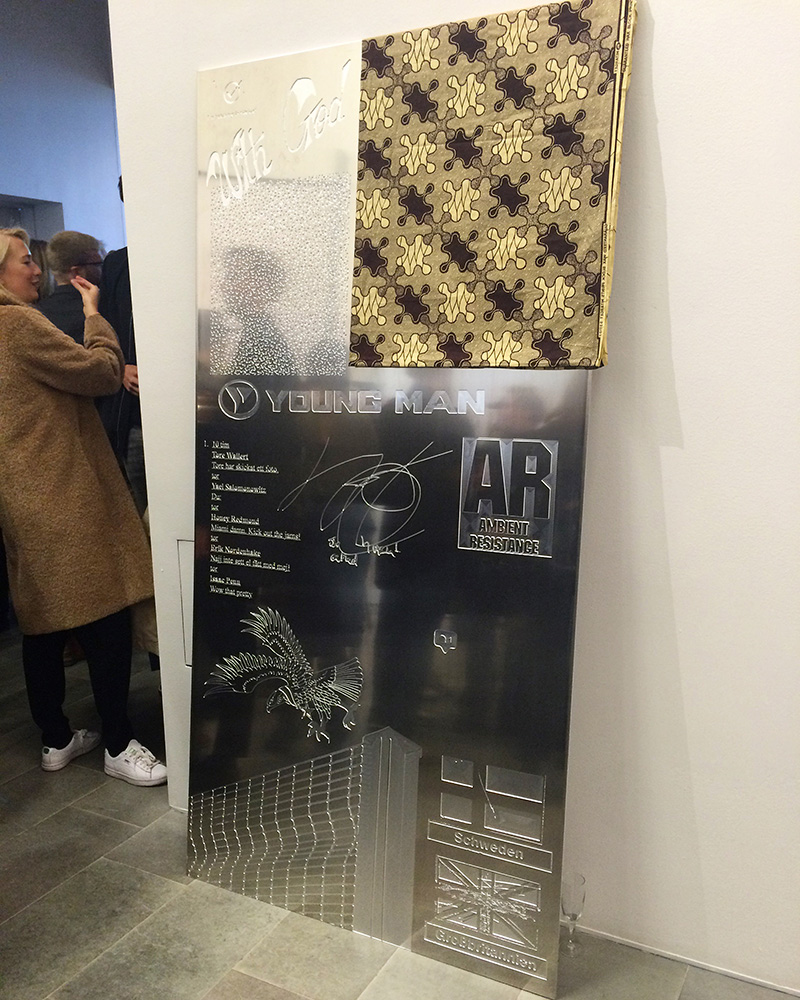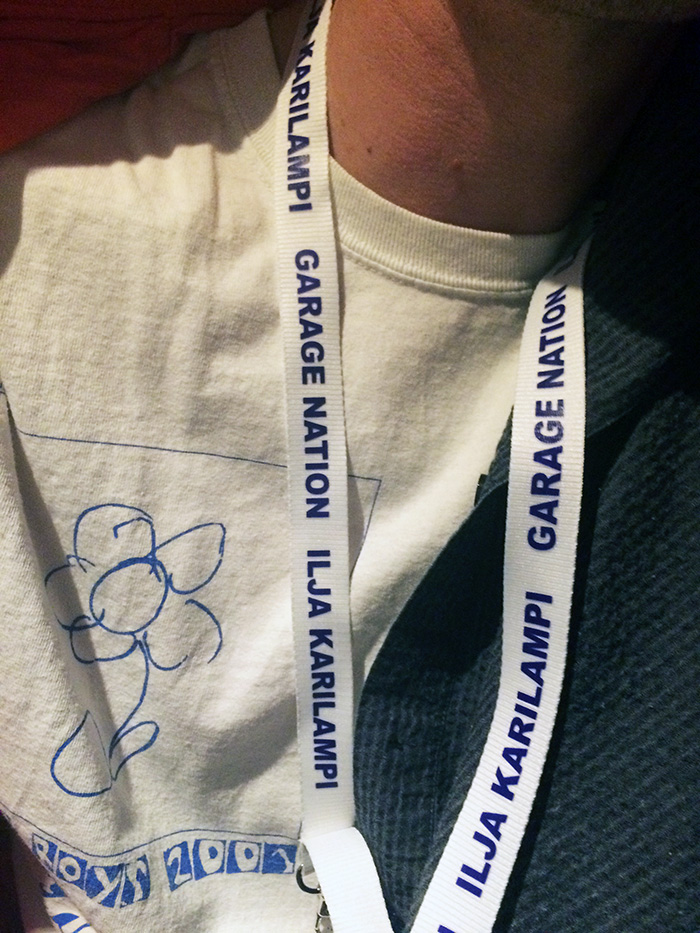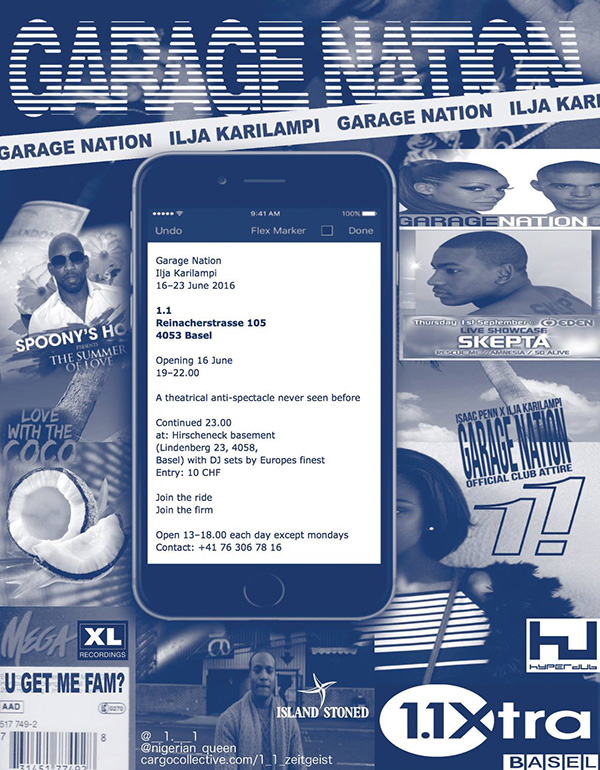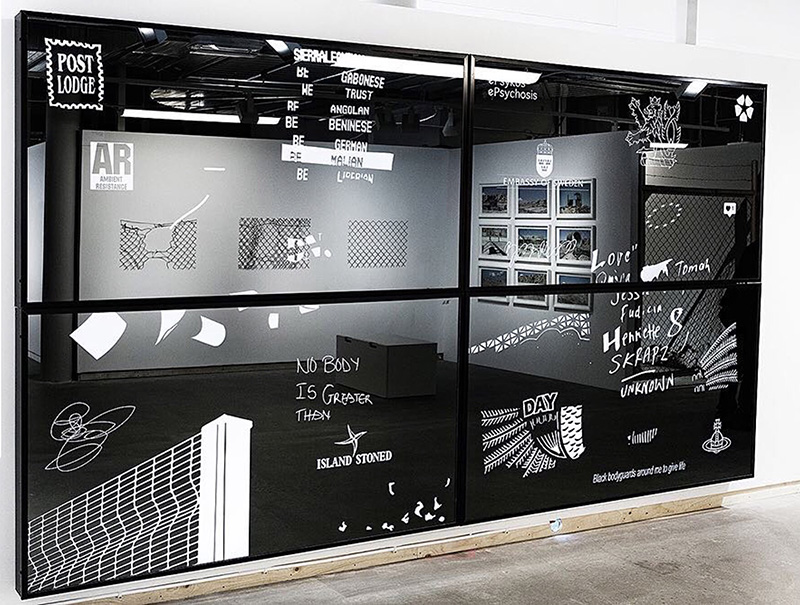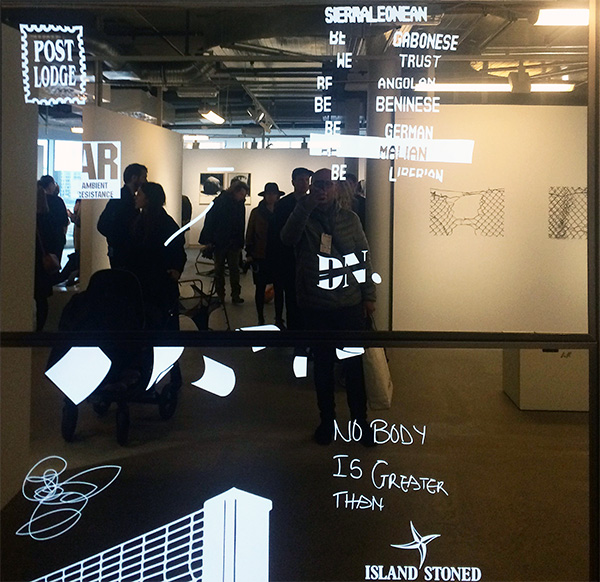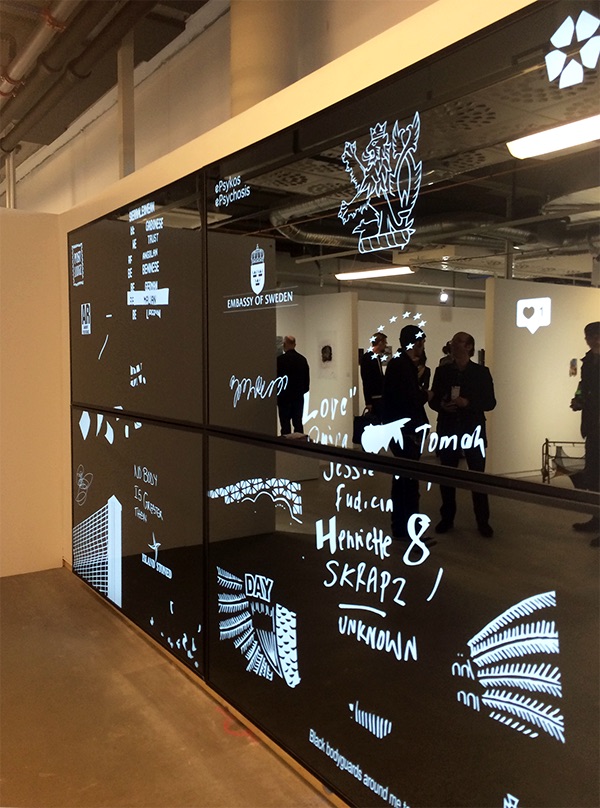 Market Art Fair 2016, 4 piece installation, engraved mirrors, LED-lights



TRUSS MI DADDY, La Plage, Paris, 21.10—23.11.2015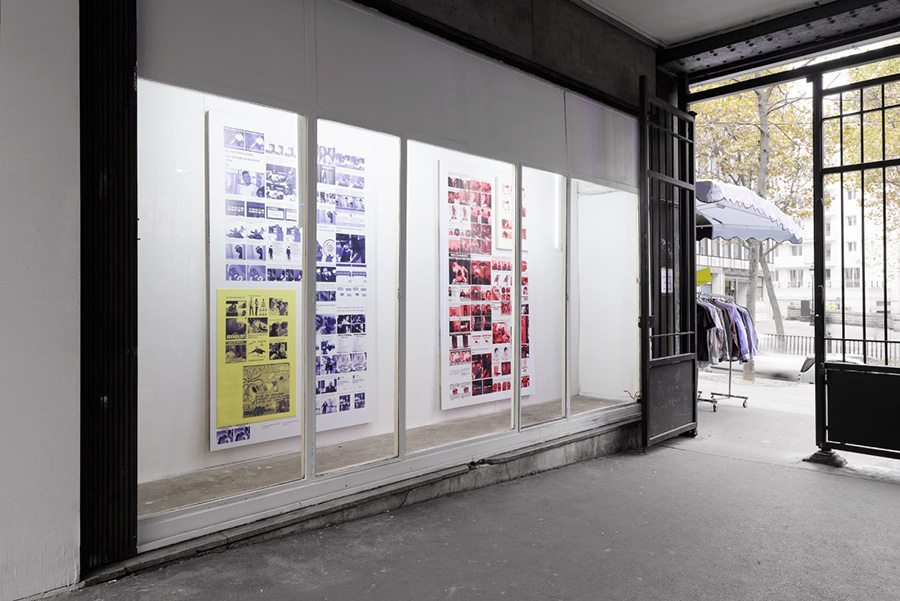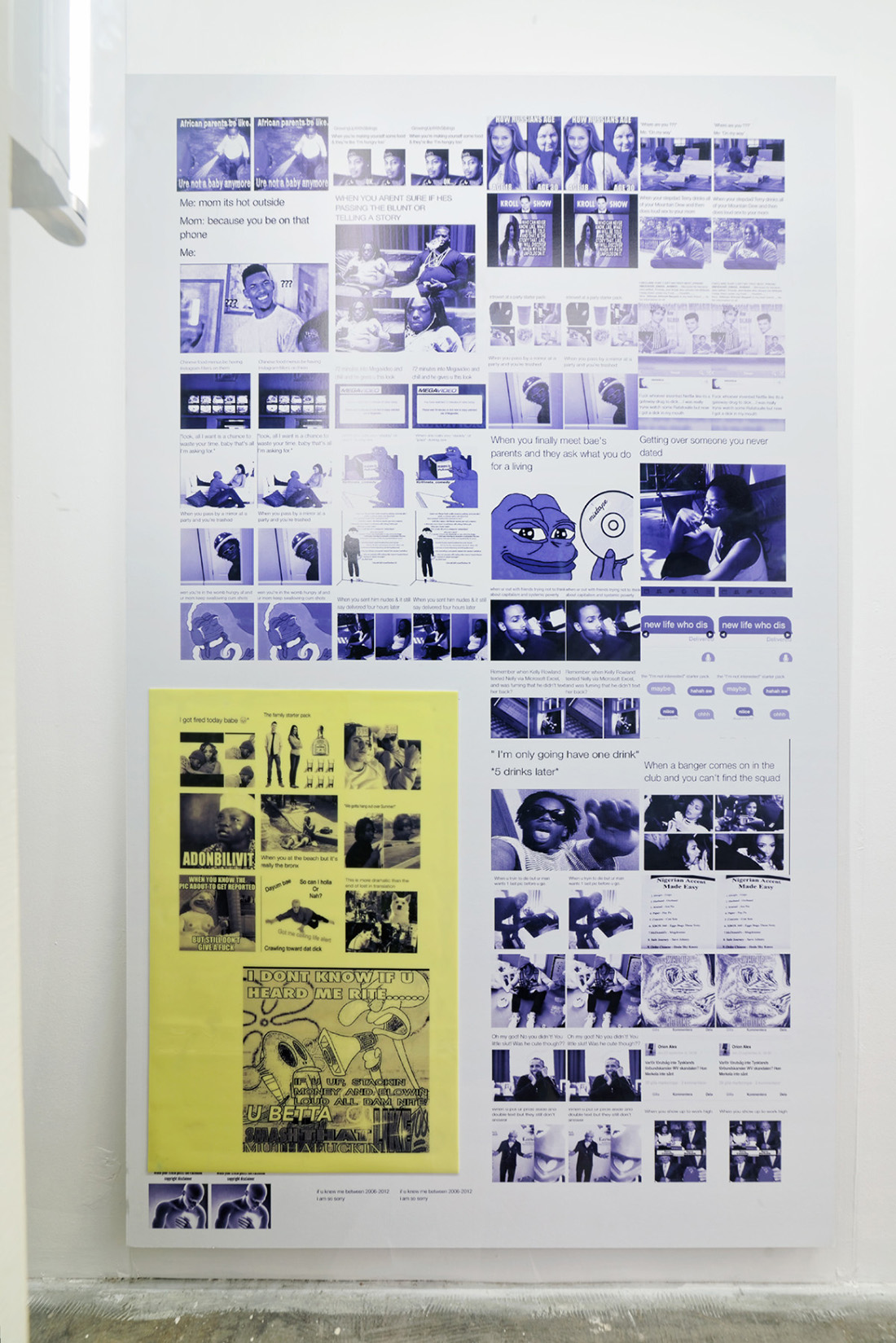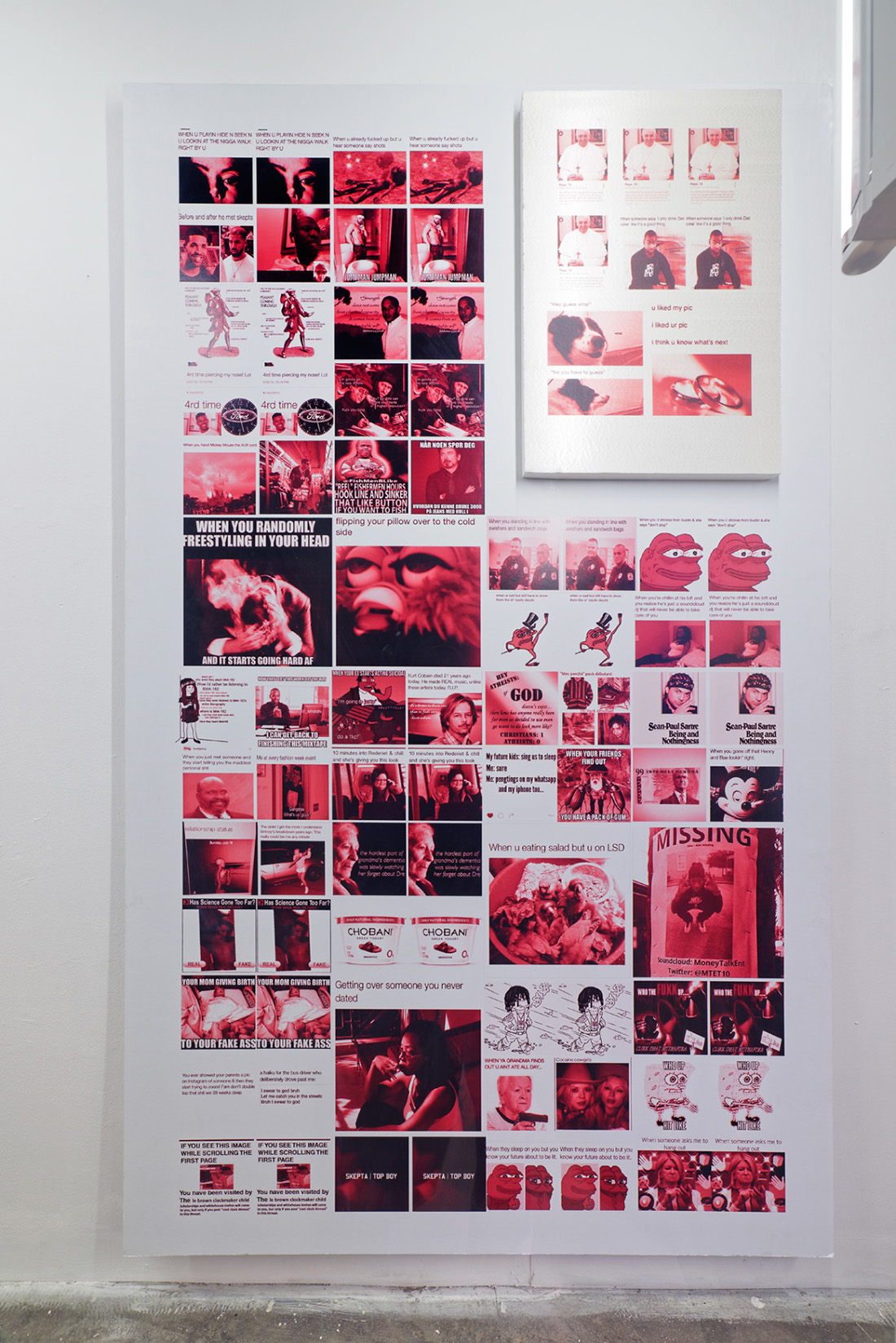 PRESIDENT ROOM, Absolut Art Bar, Stockholm, september 2016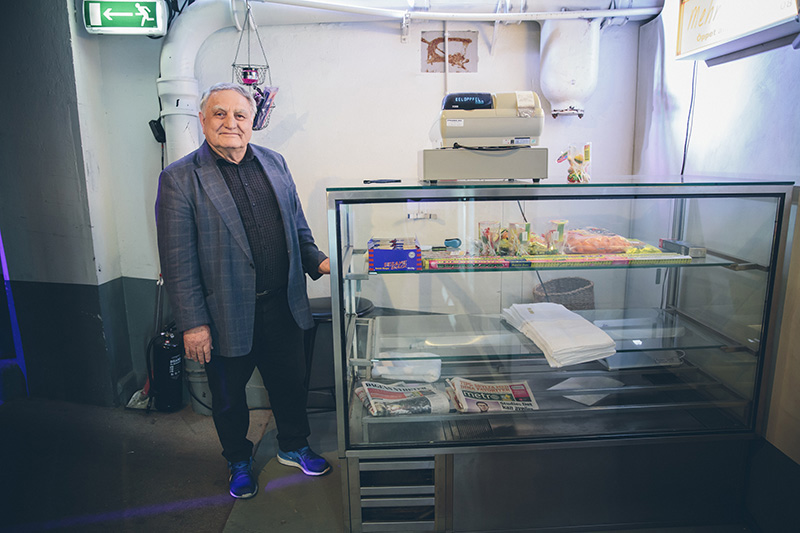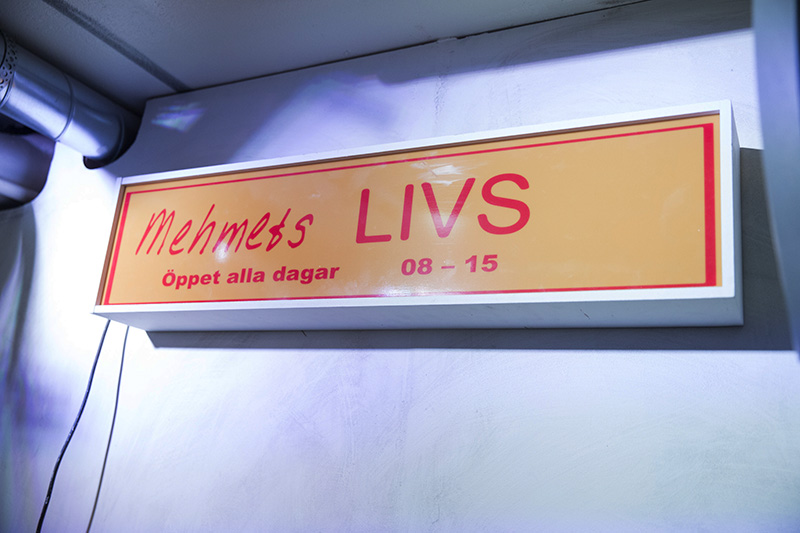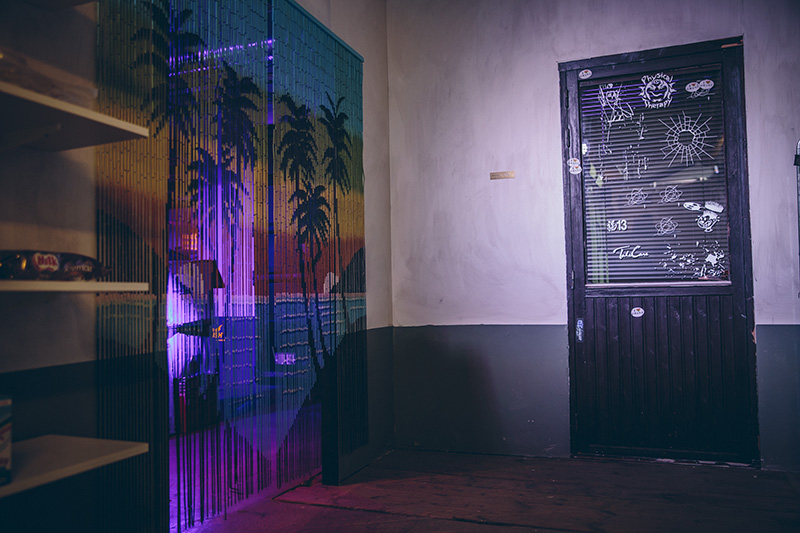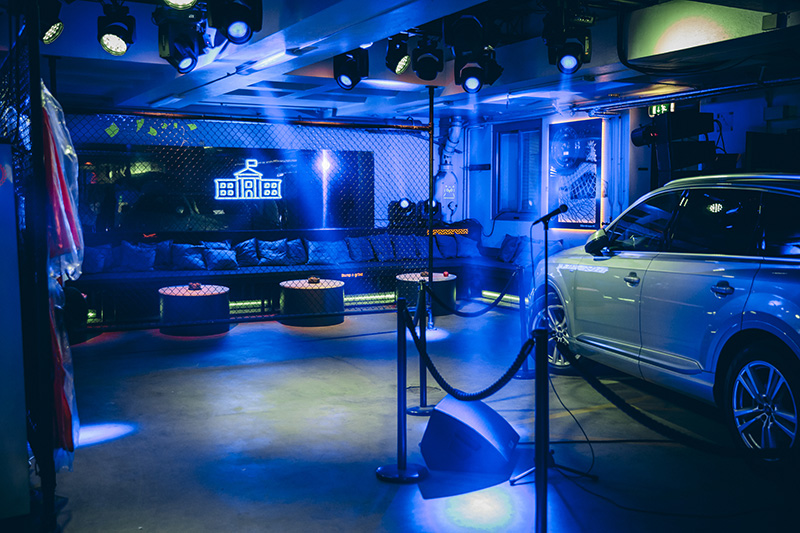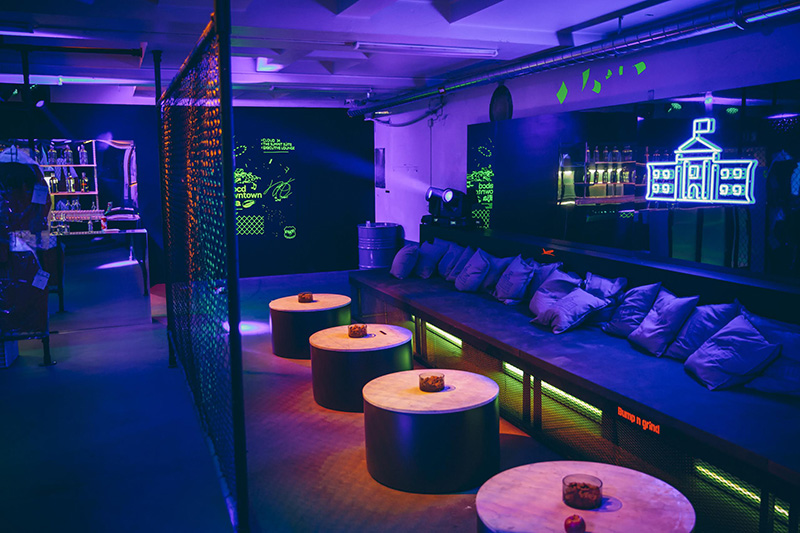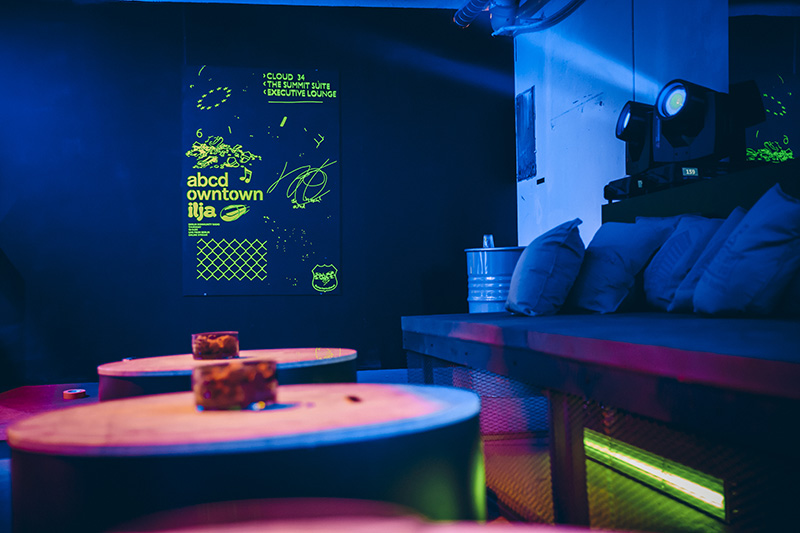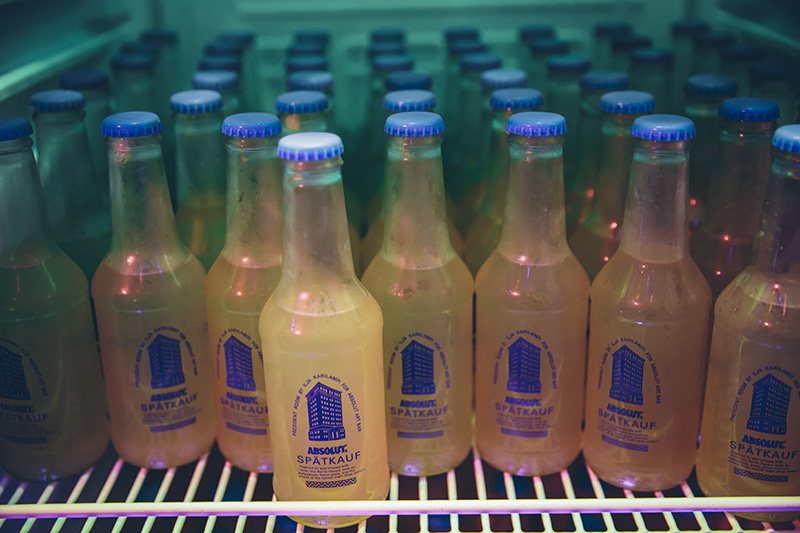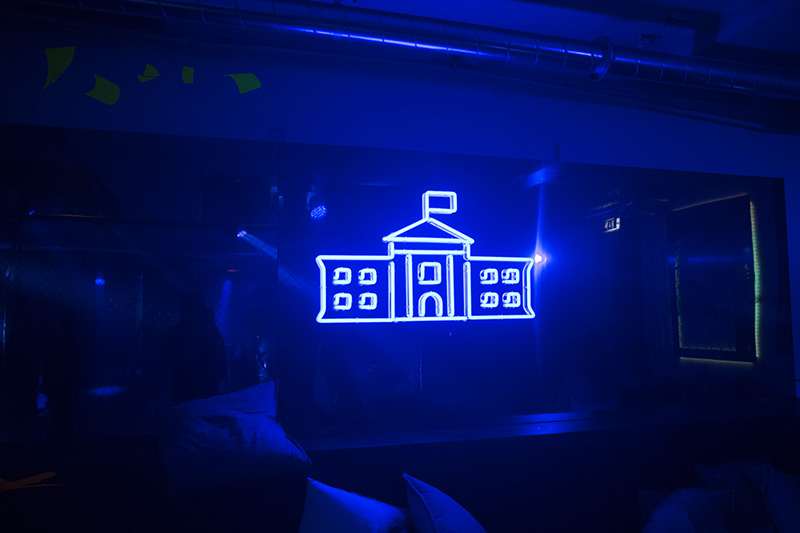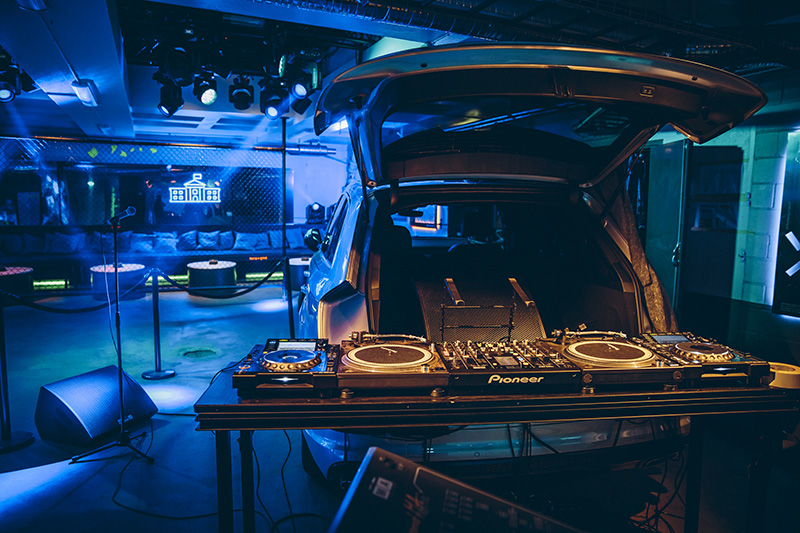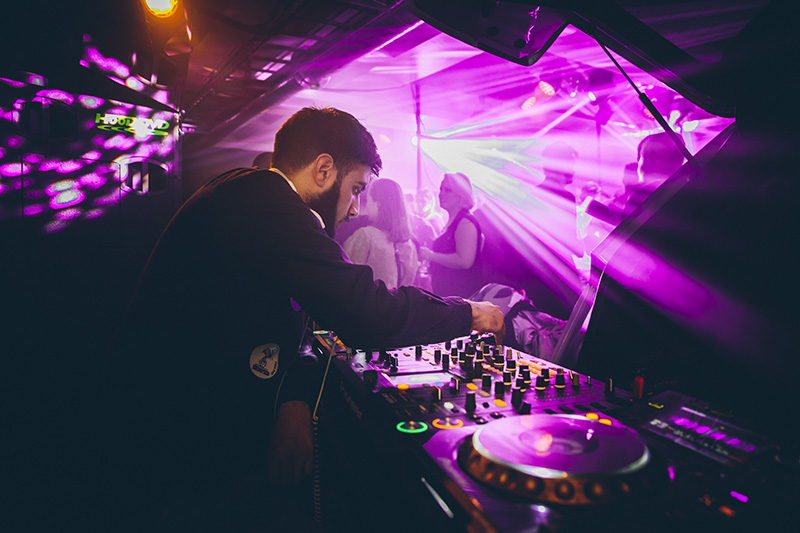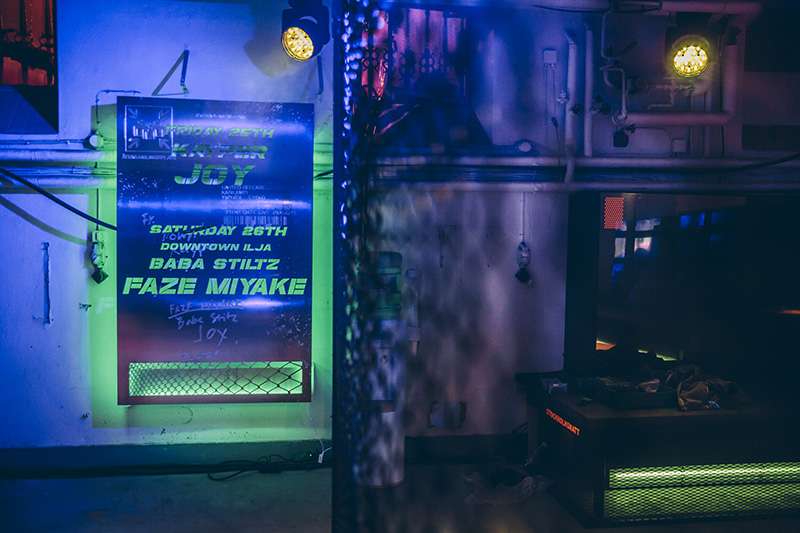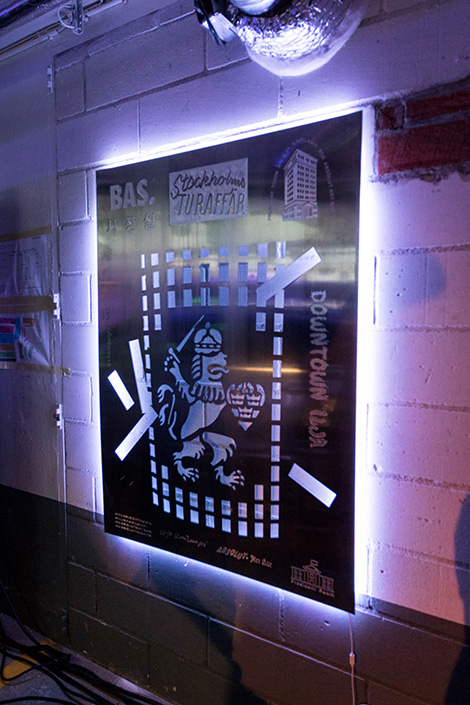 TRUST, Copenhagen Art Festival, Den Frie Udstillingsbygning, aug-oct, Copenhagen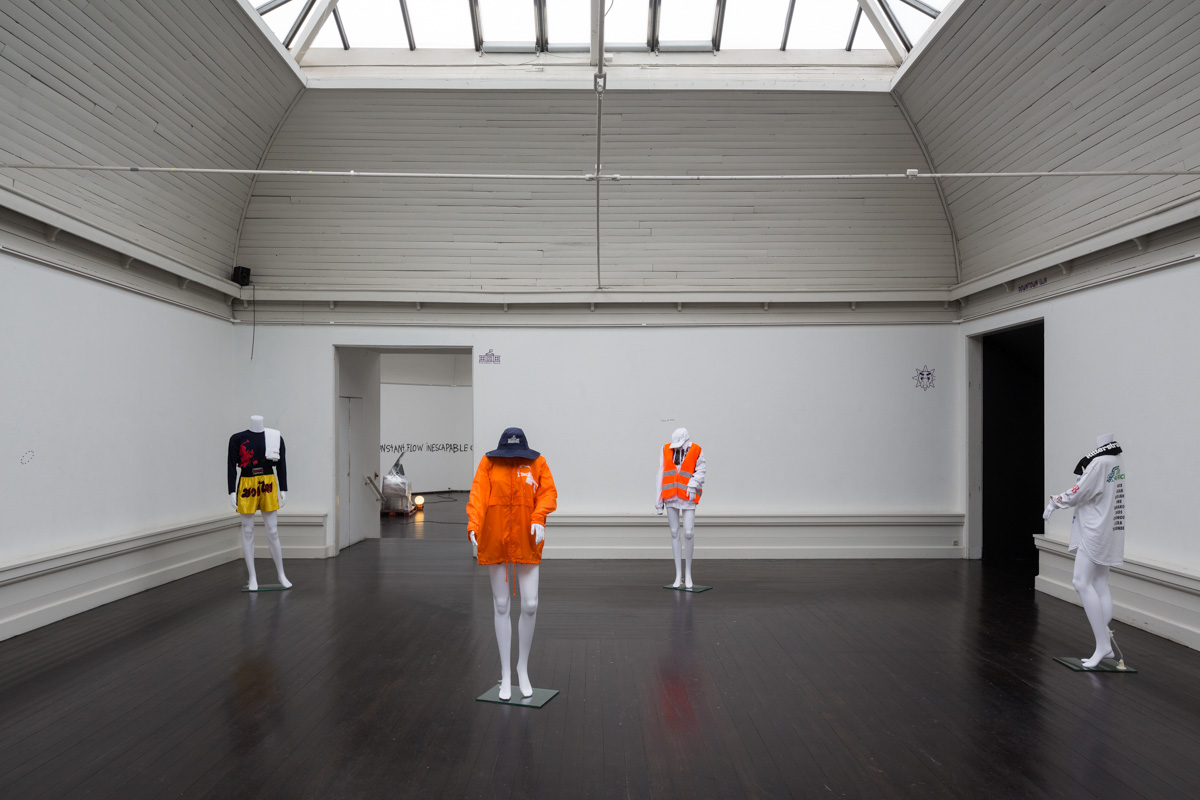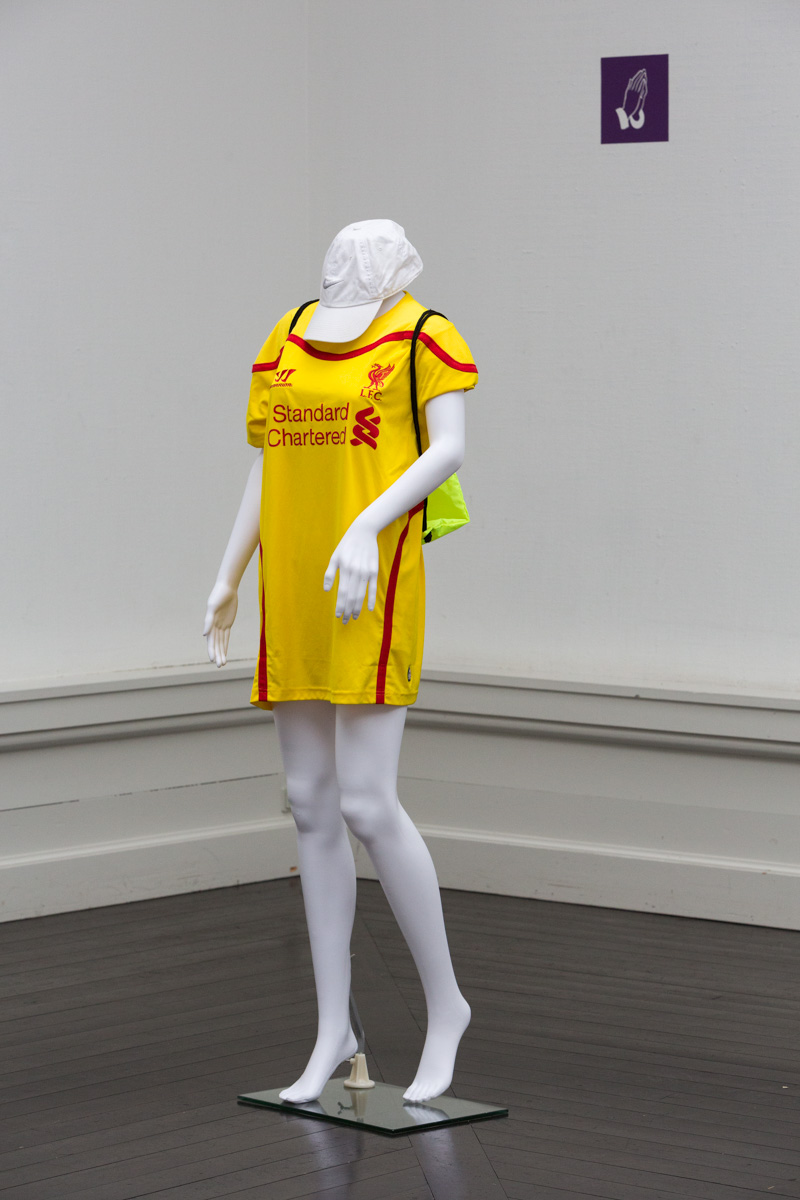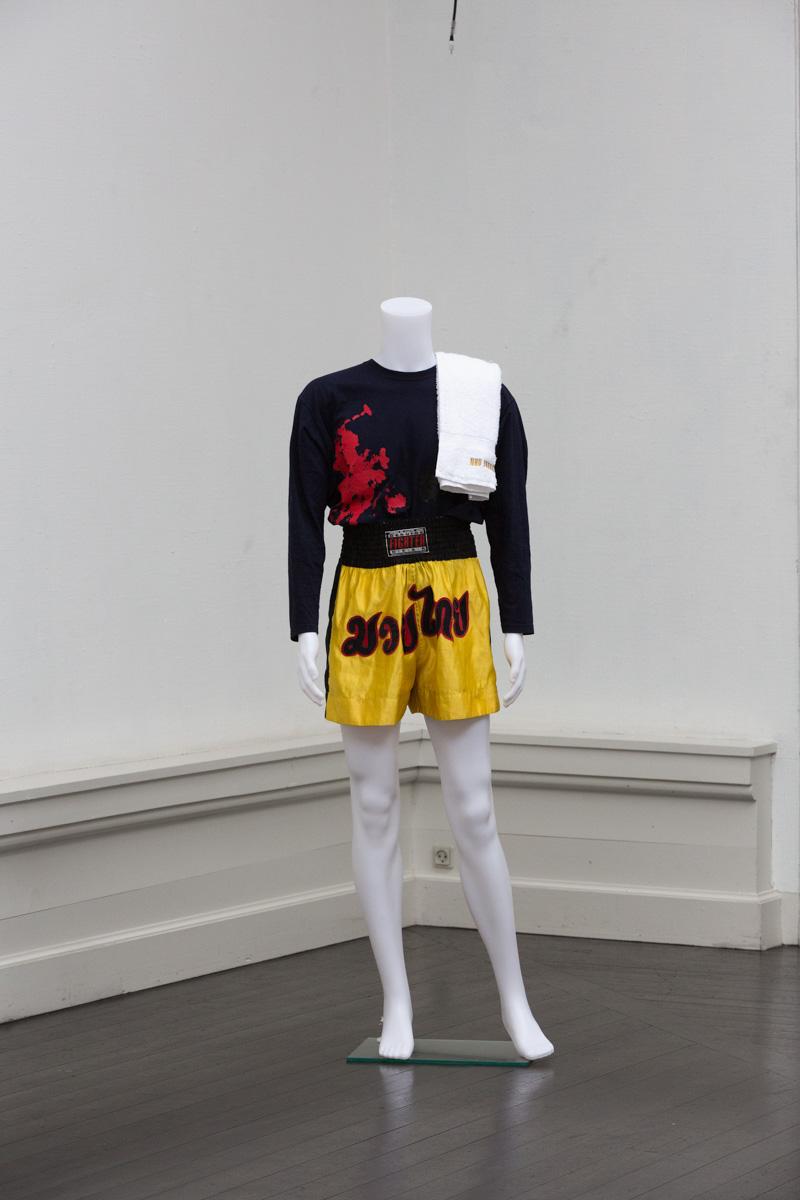 KAPITAL.FM, groupshow with Yngve Holen, Ben Schumacher, Thora Dolven Balke, Justin Swinburne (18+), Fred Lamb.
Cambridge Heath Road, and Wilkinson Gallery, London, july-sept
PRESSRELEASE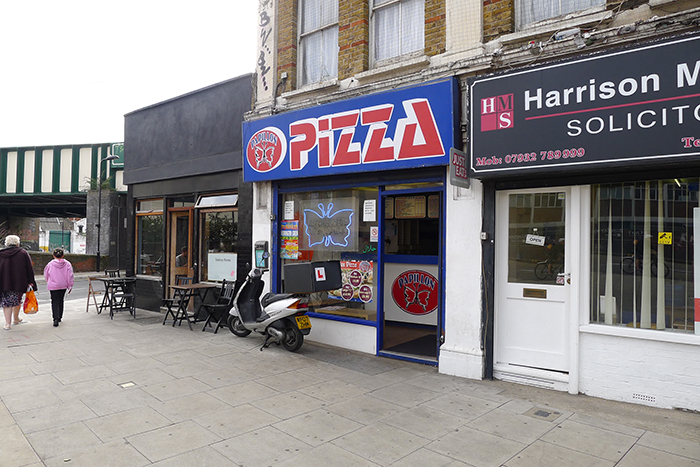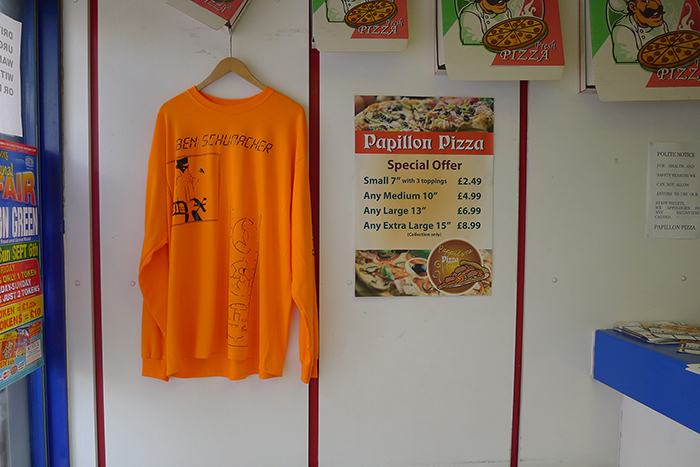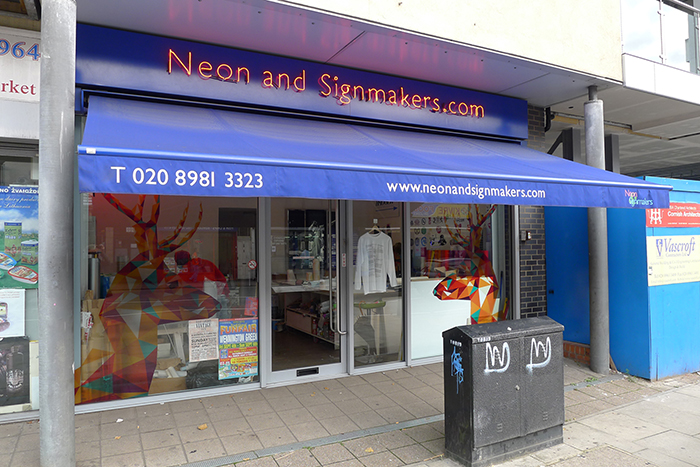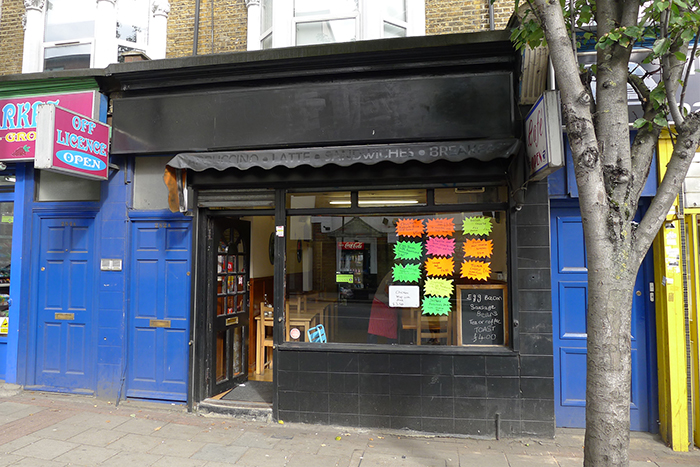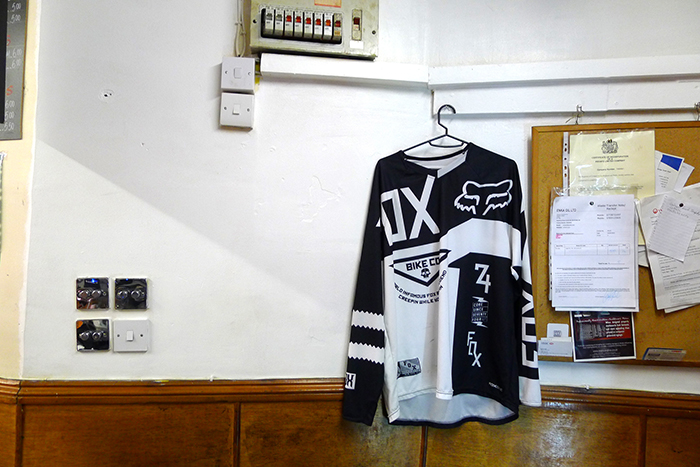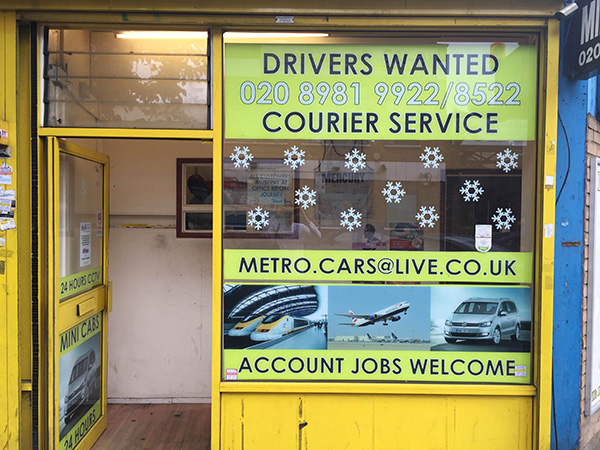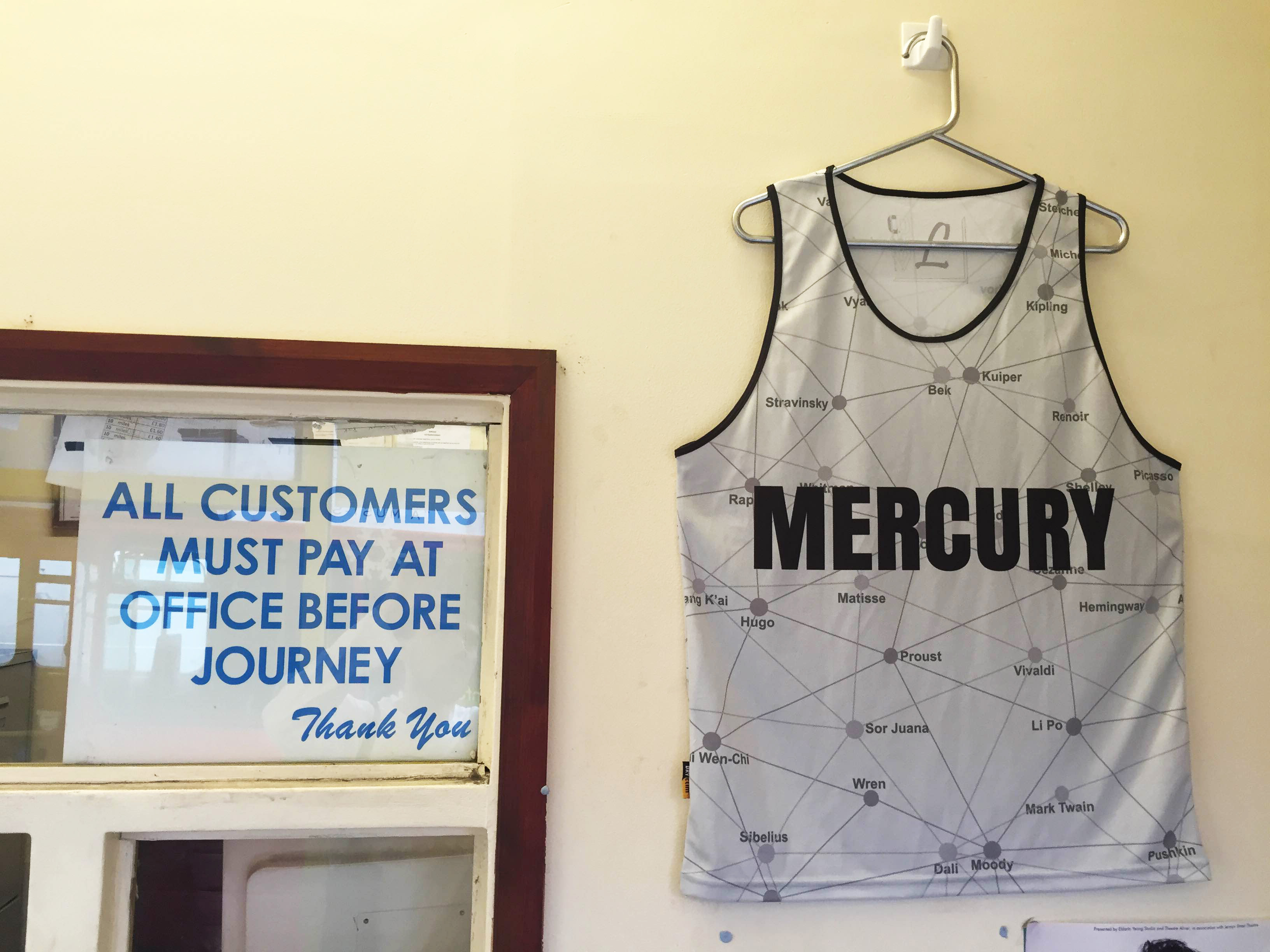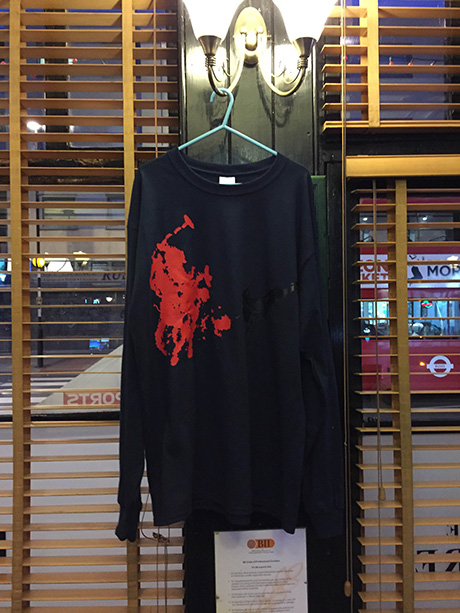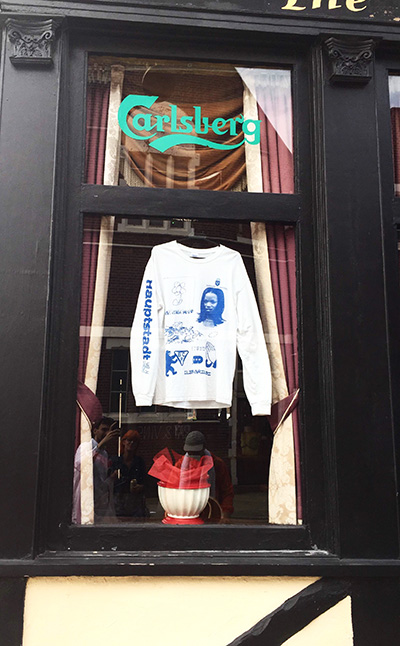 (Passages), LISTE, Basel, solo presentation with Sandy Brown
Cut aluminium & plexiglass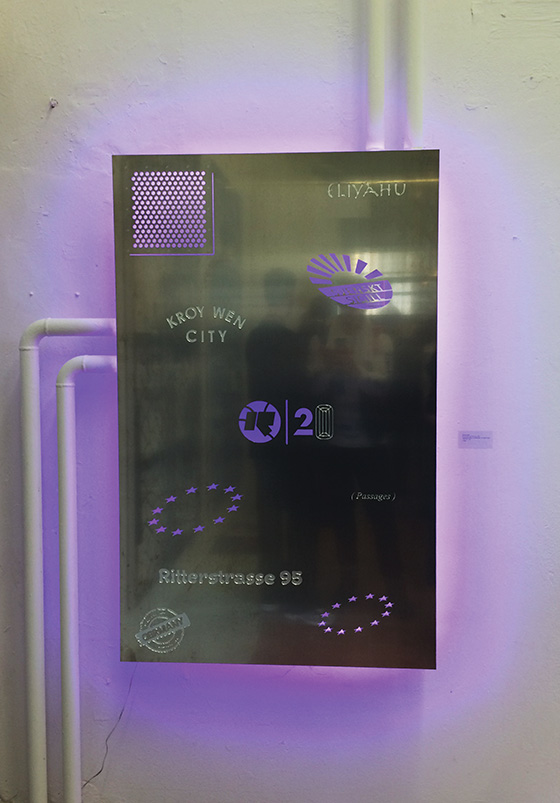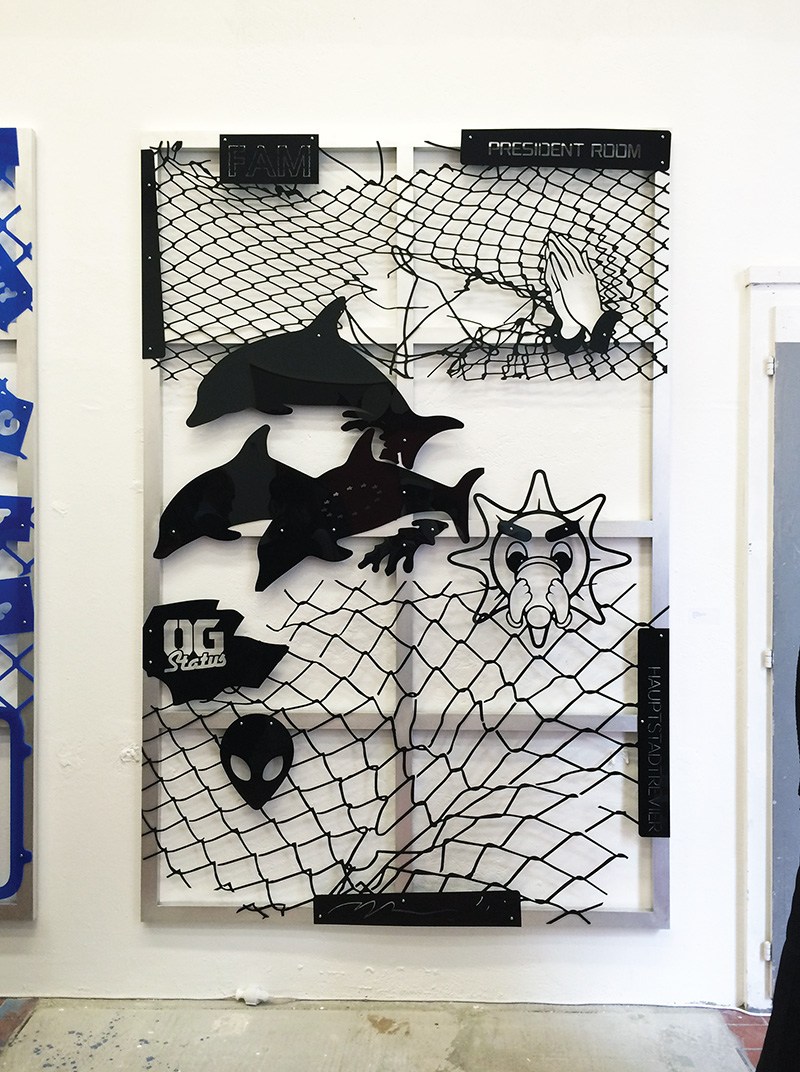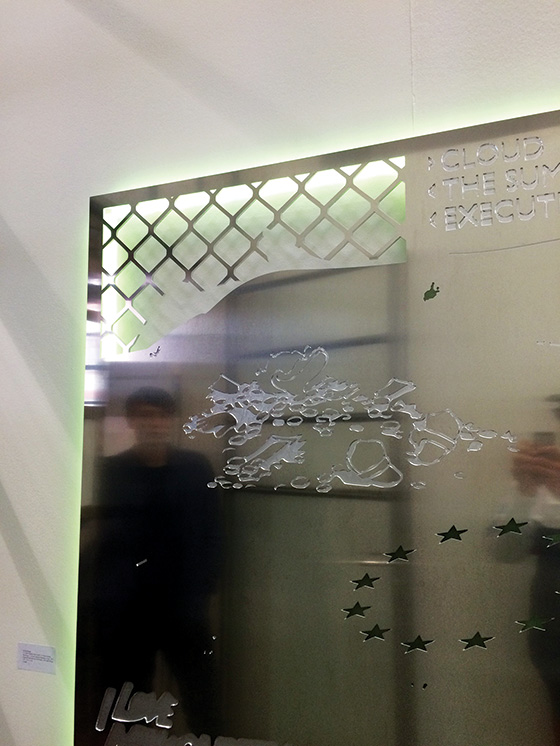 Straight off the Boat, Dingum at La Friche, 48HR Chrono, Marseilles, june
Printed longsleeves, edition of 70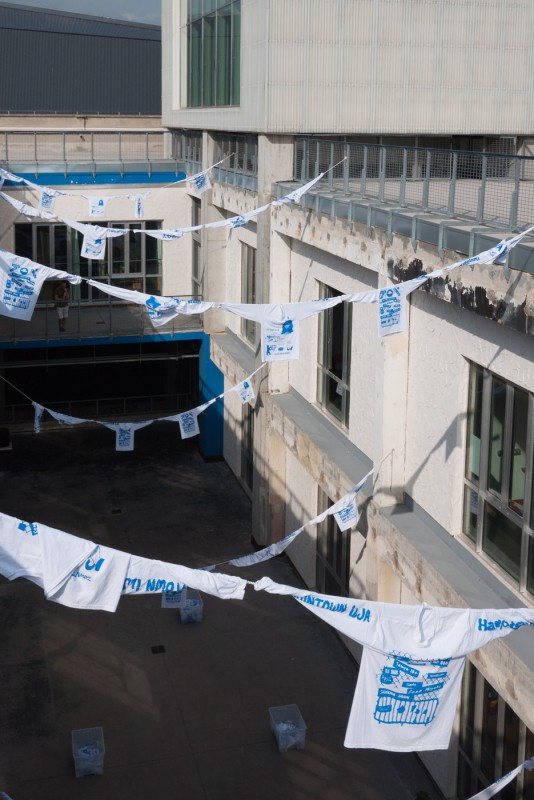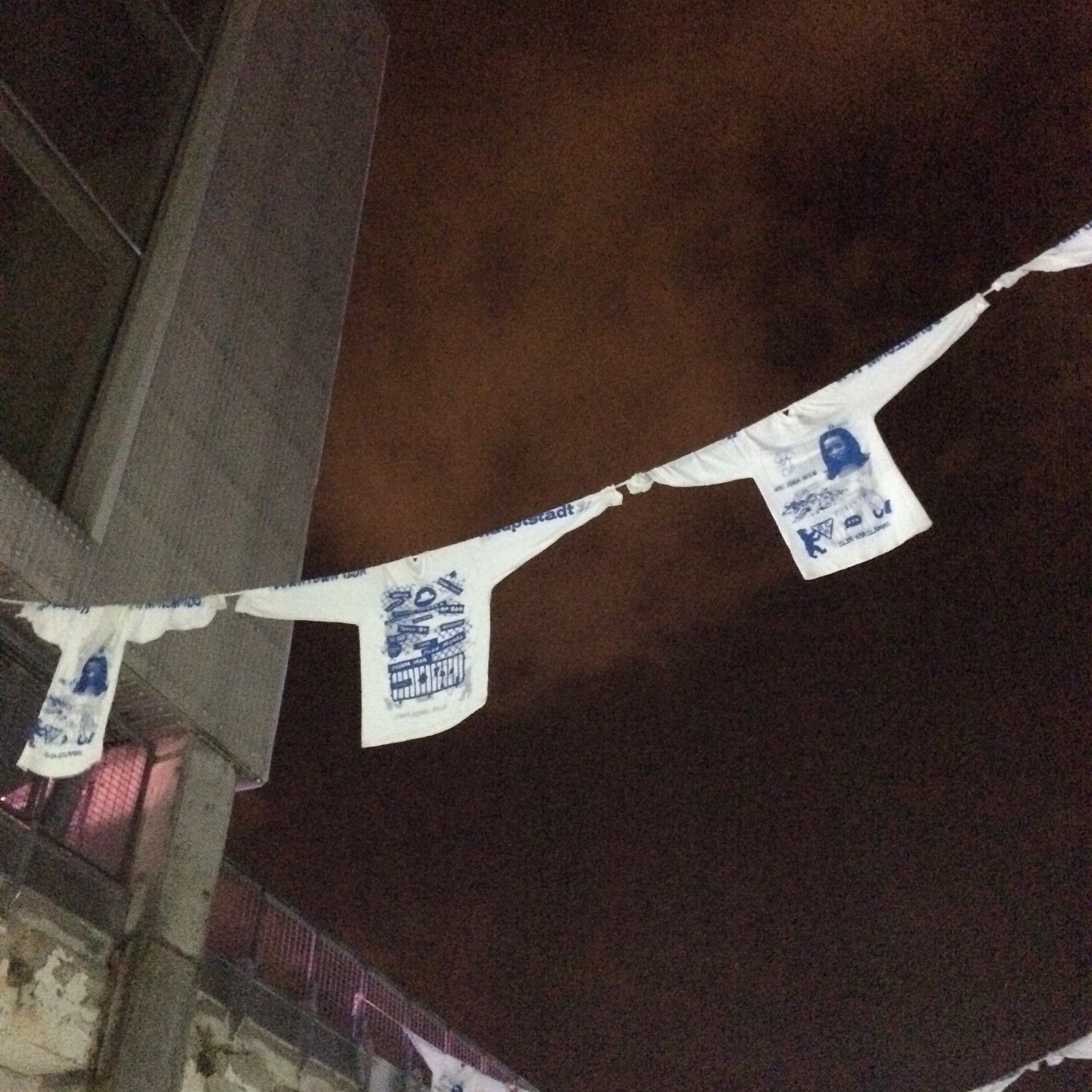 The Catwalk, Komplot, Brussels, 24th April – 6th June
Painted wood panels, 160 x 110 cm, self-adhesive vinyl, UV-lights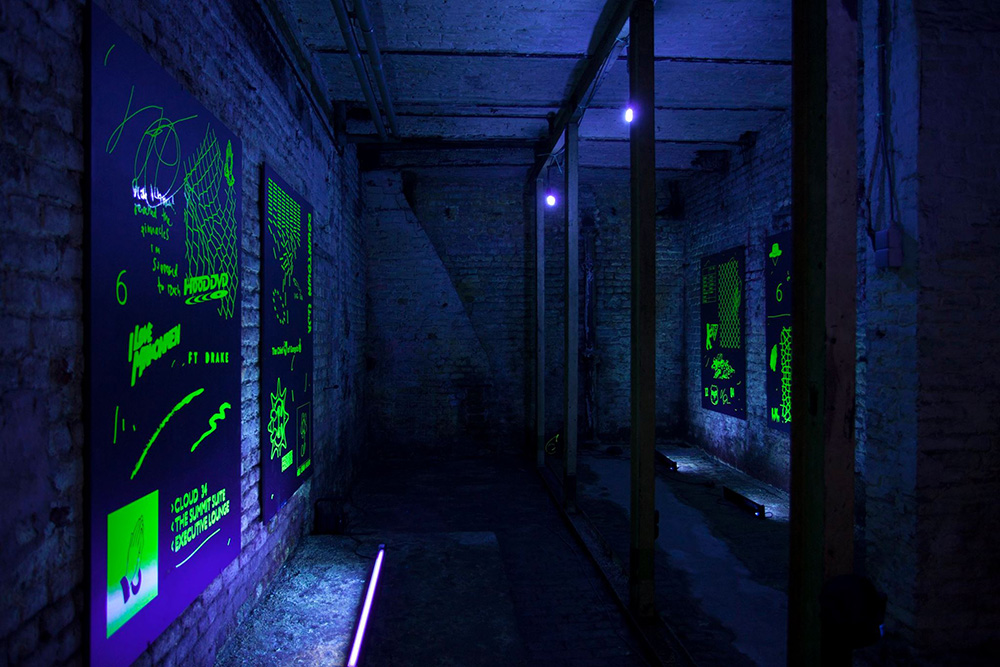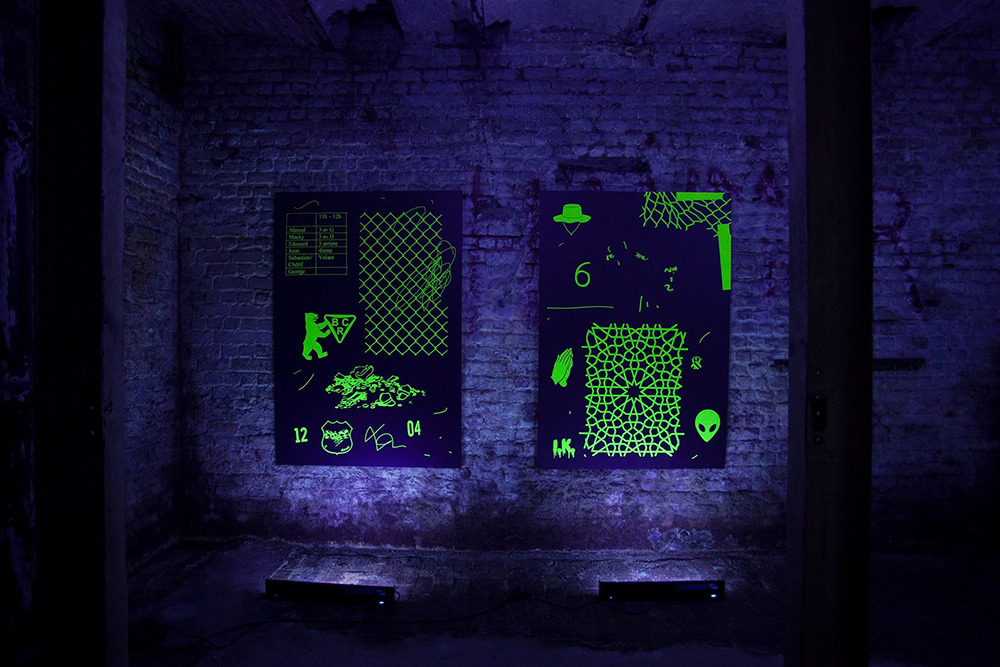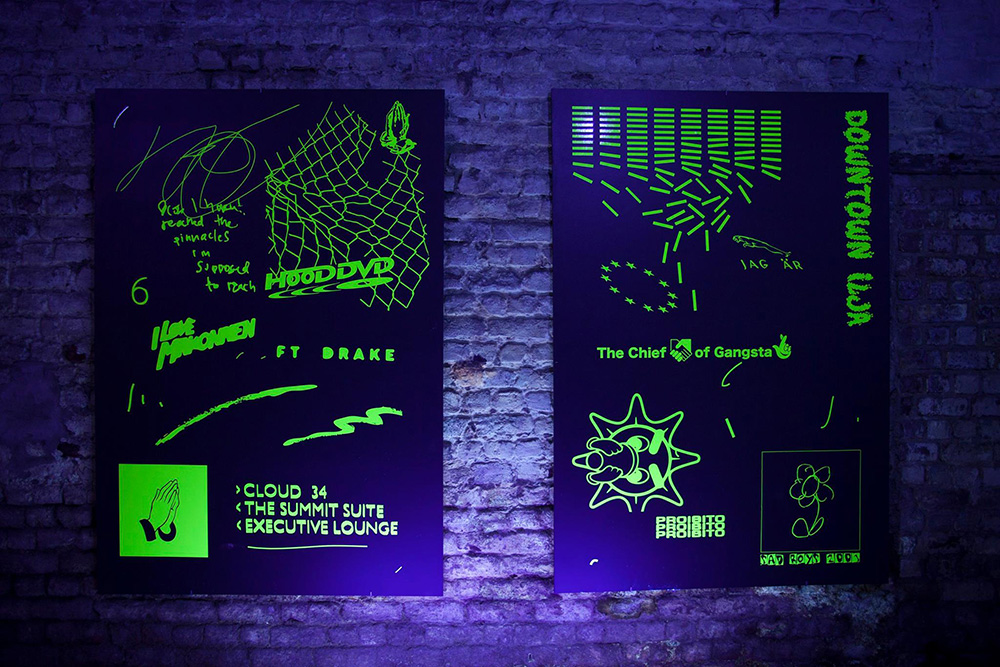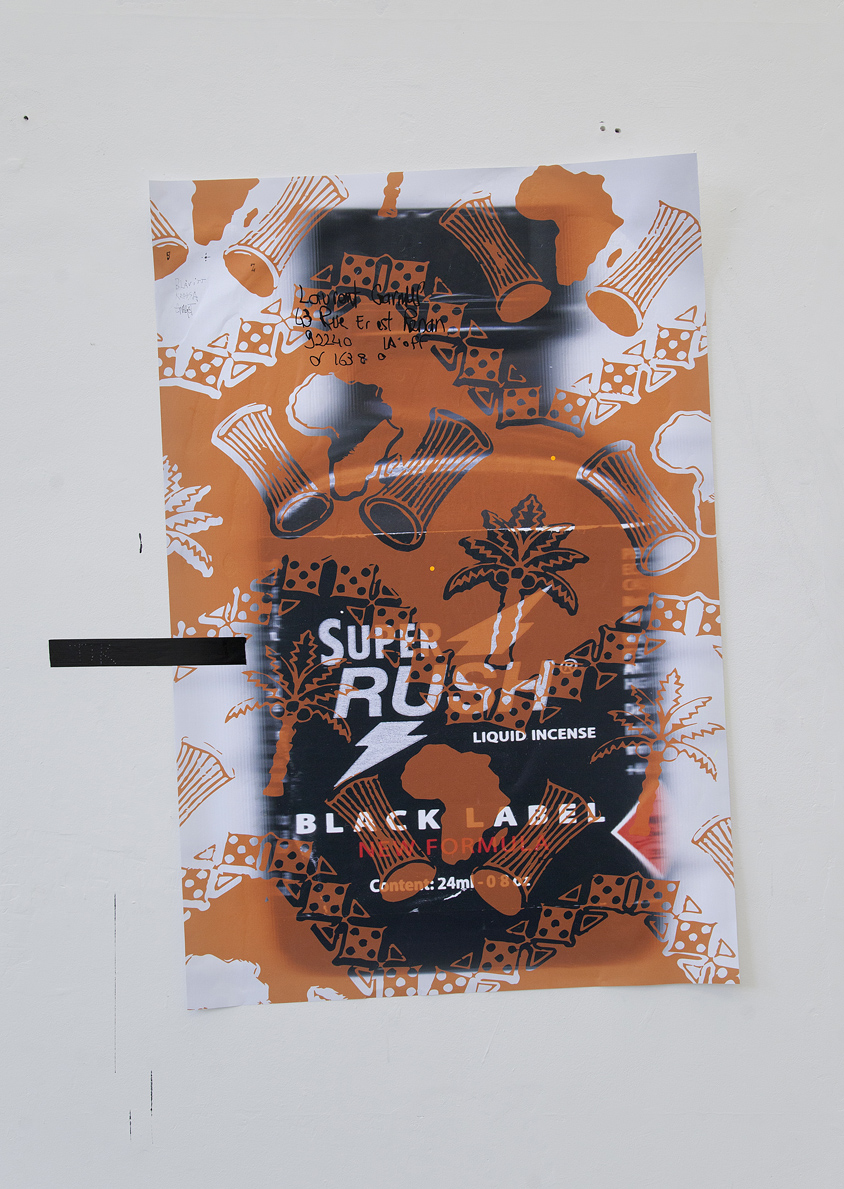 Printed poster, 100 x 70 cm
Documentation, Amsterdam Diary, Rijksakademie, Amsterdam
http://kareemlotfy.info/amsterdamdiary2.html


Faze Miyake, Belenius/Nordenhake, Stockholm, 15.01—13.02.2015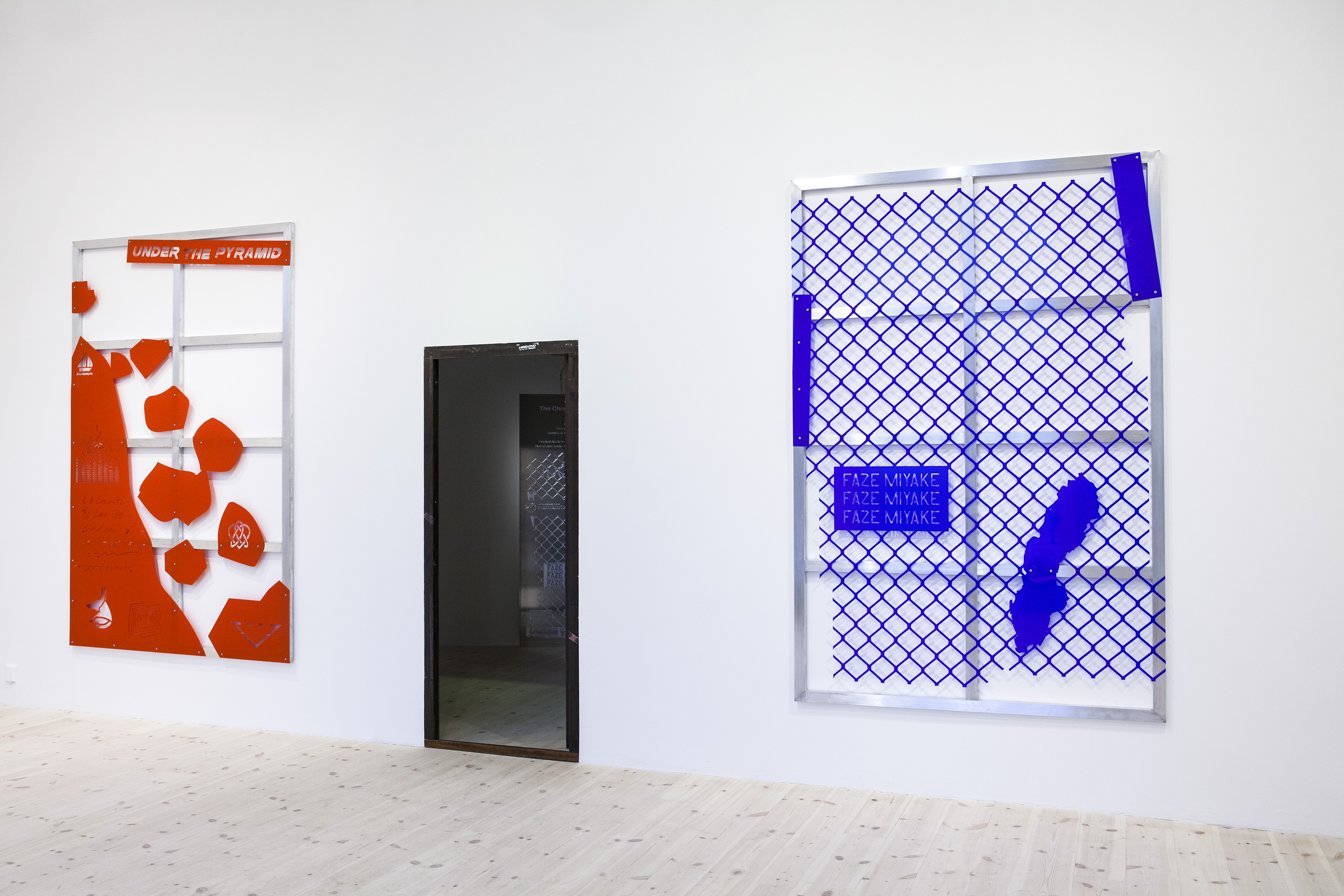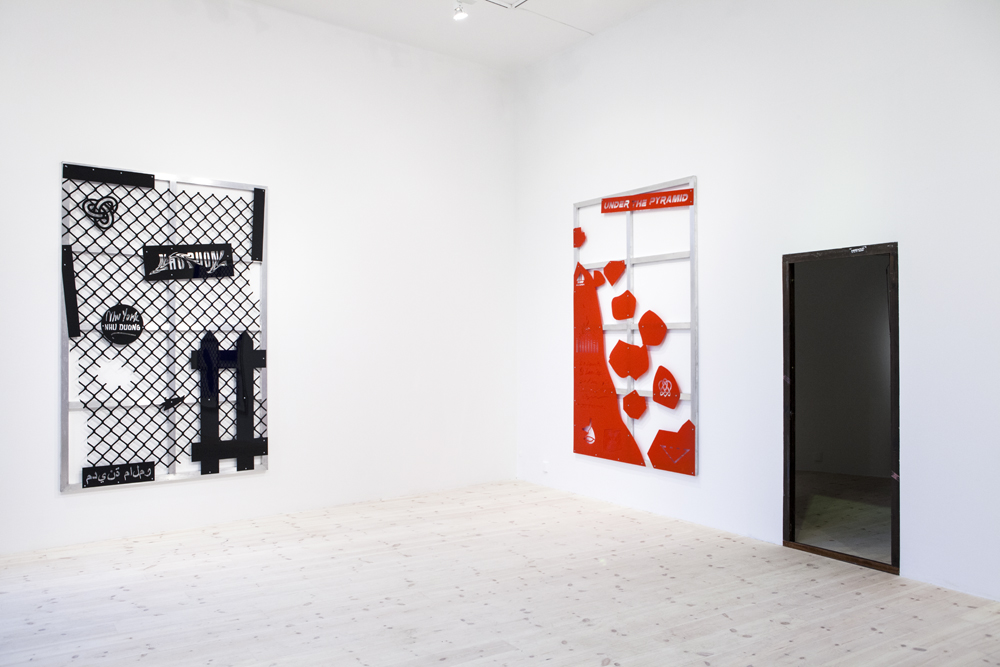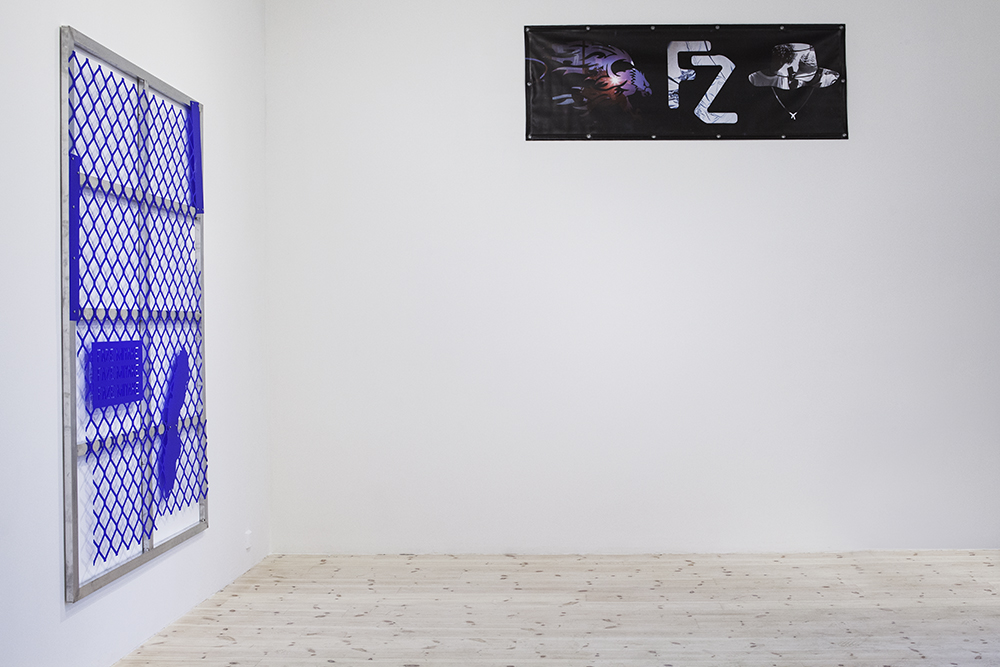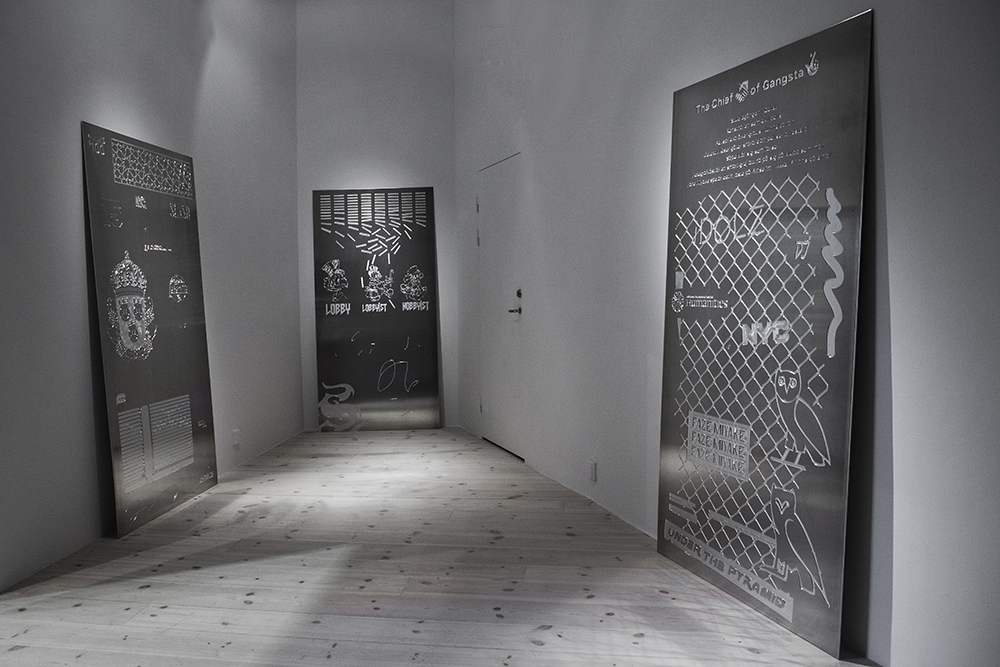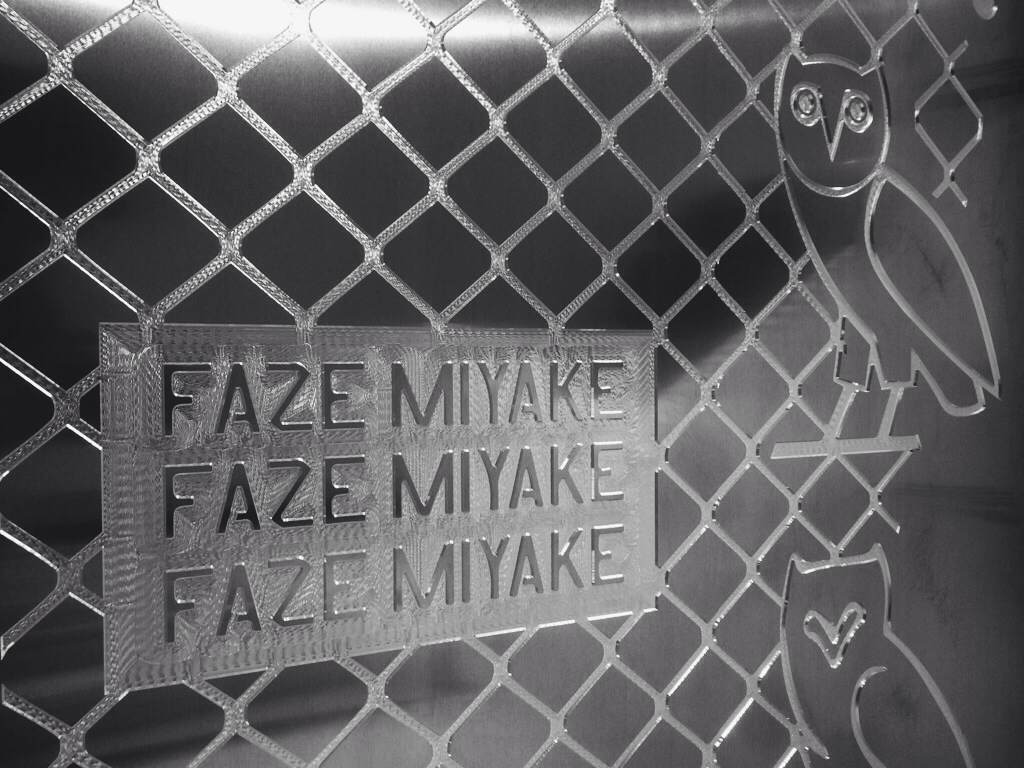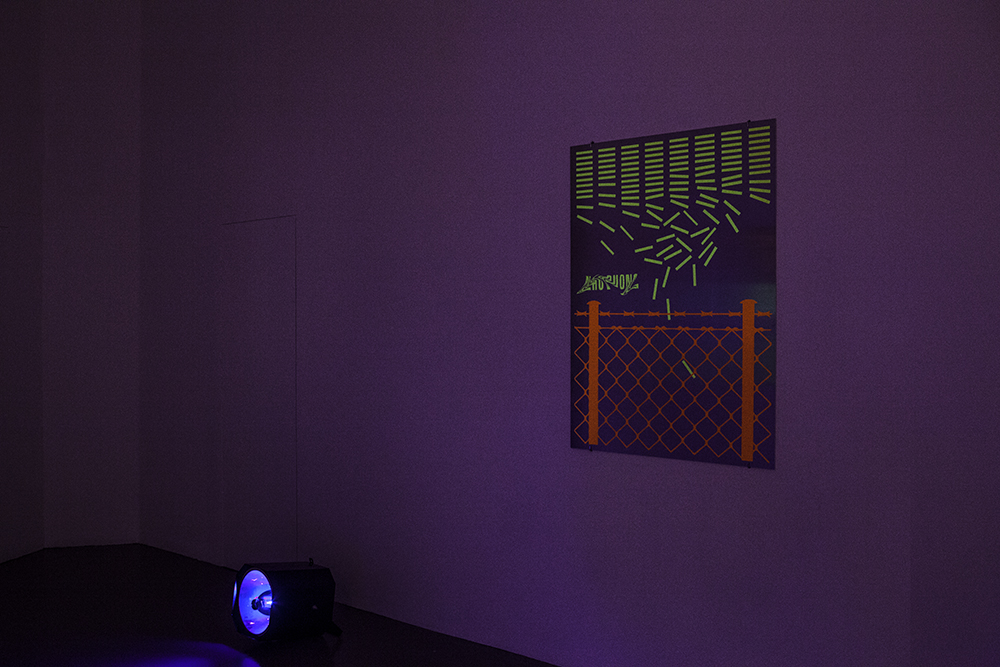 Kiria Koula, San Fransisco, November 6–January 10, 2014/15, with Paul Chan & José Leon Cerillo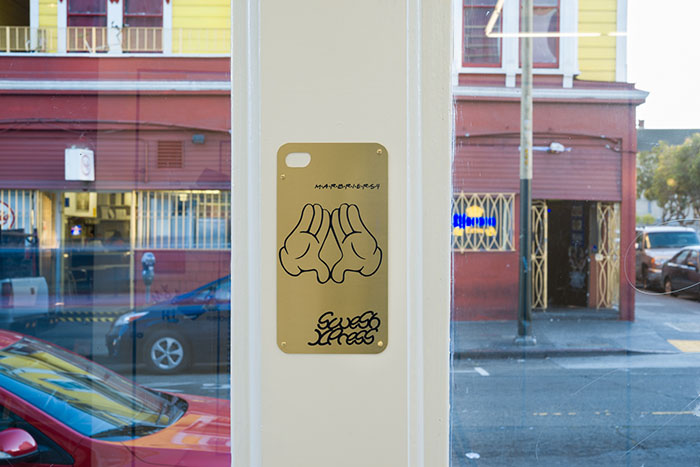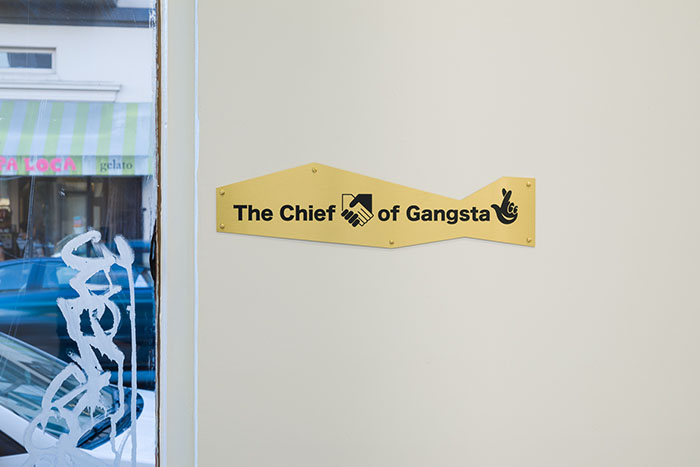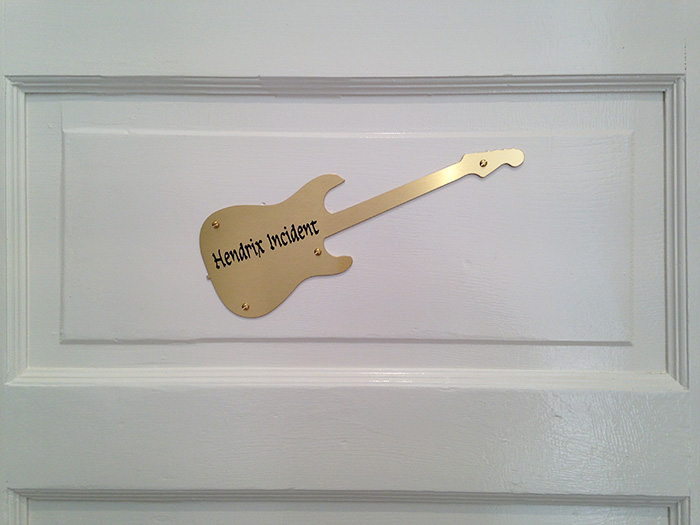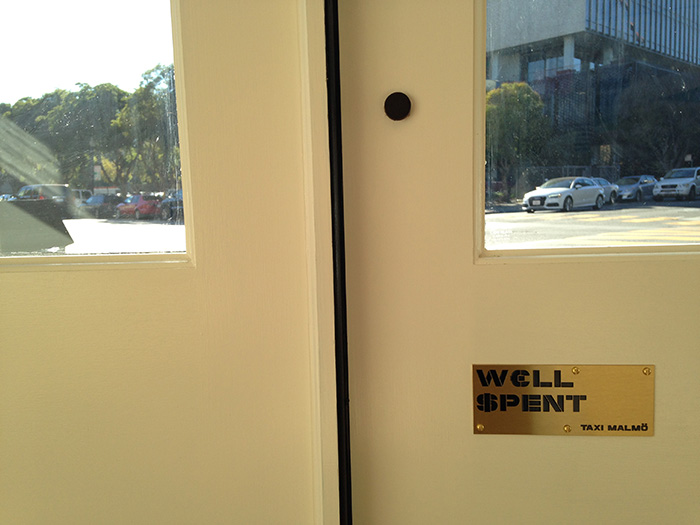 The Moving Museum, Istanbul, October 28th - December 14 2014, Sishane Park, Istanbul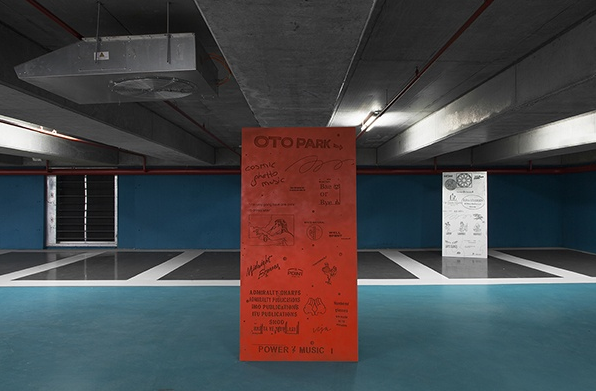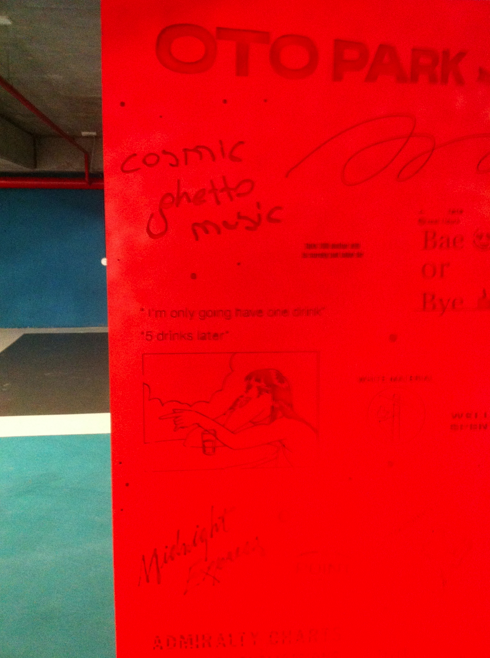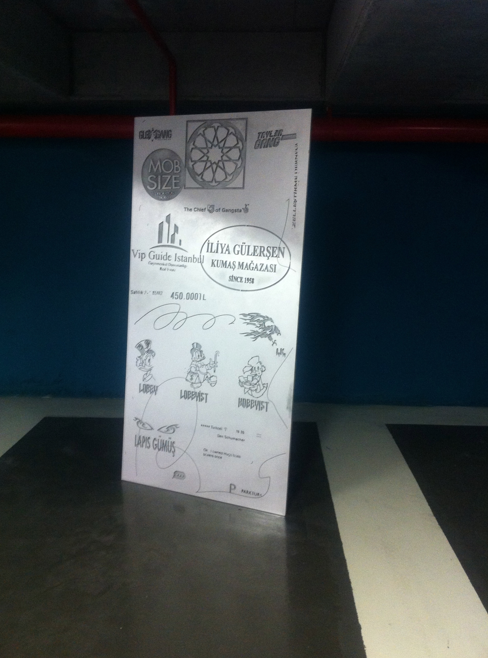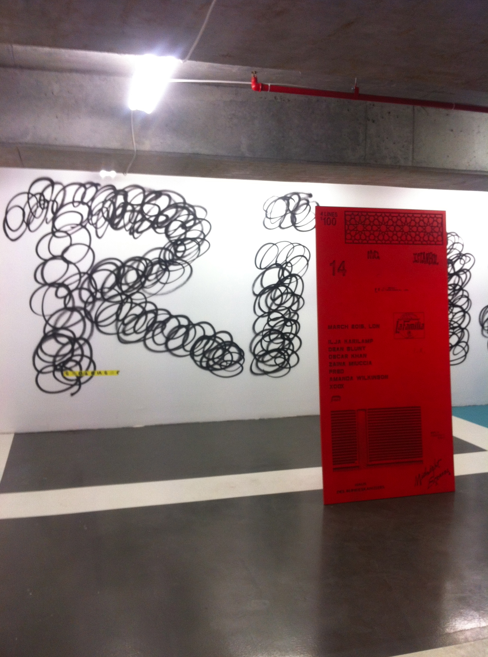 Rauhaussa Hund, SIC, Helsinki, 11.10. - 2.11. 2014
ATV:s, projectors, speakers, videos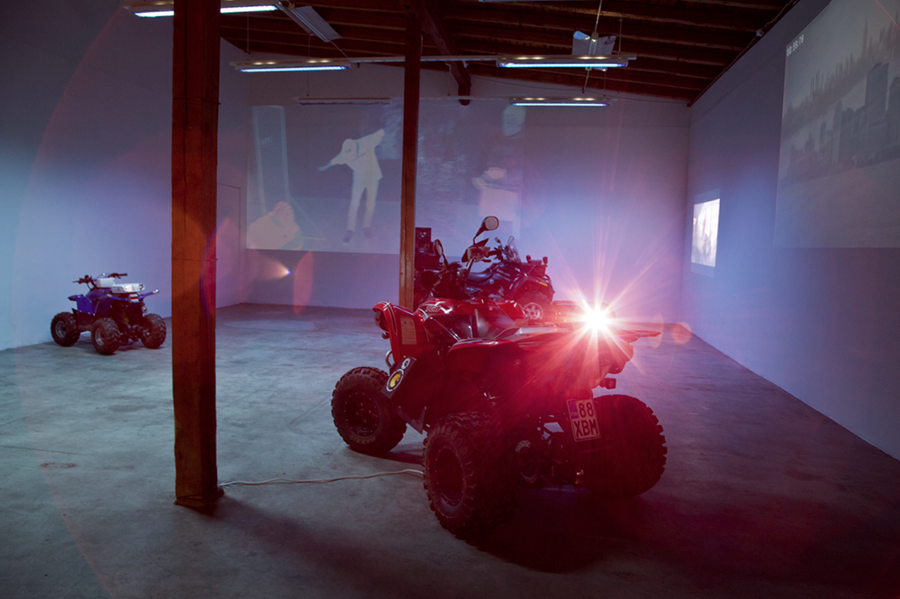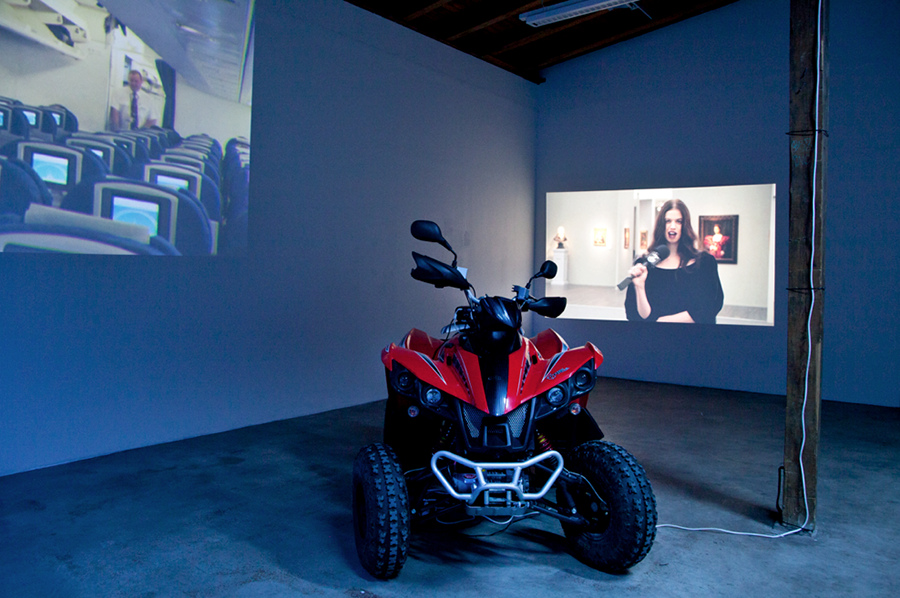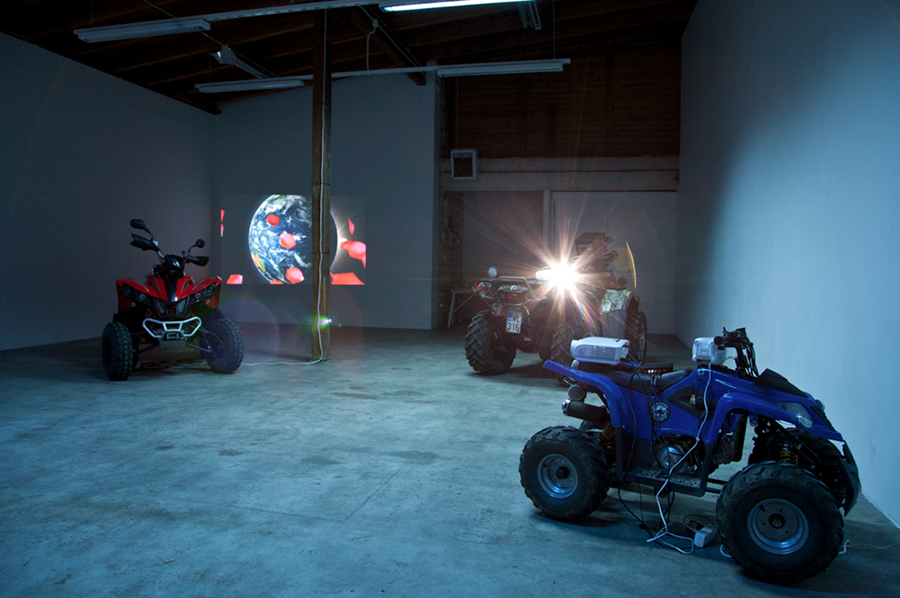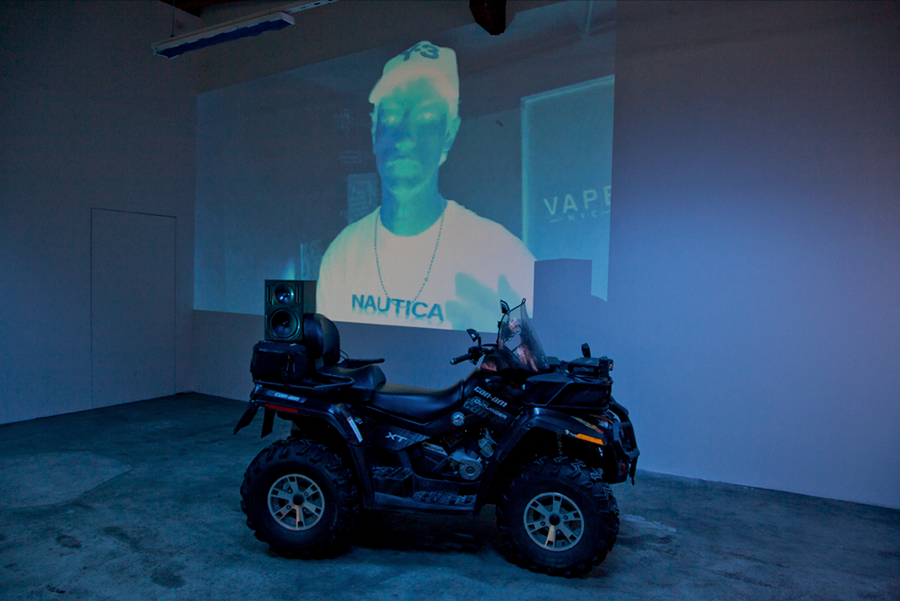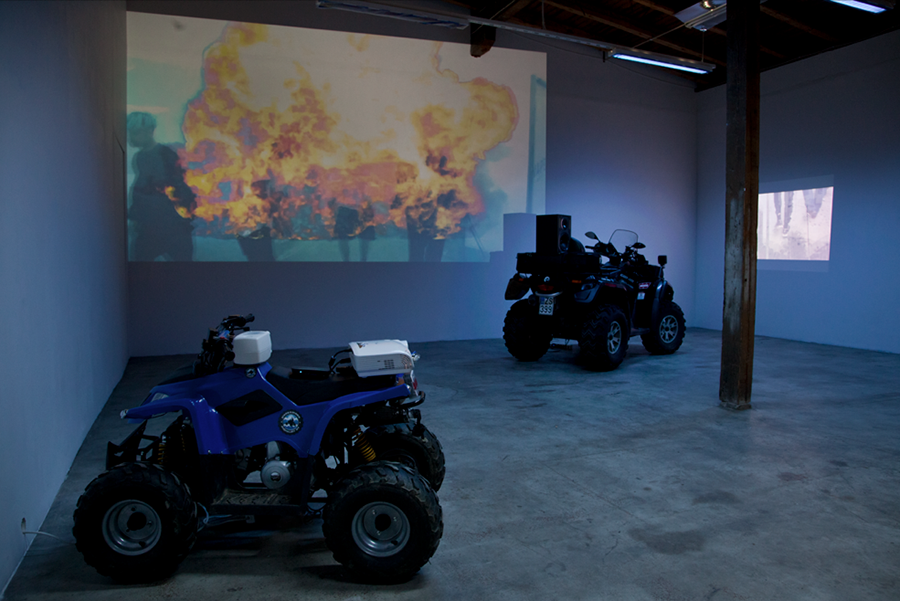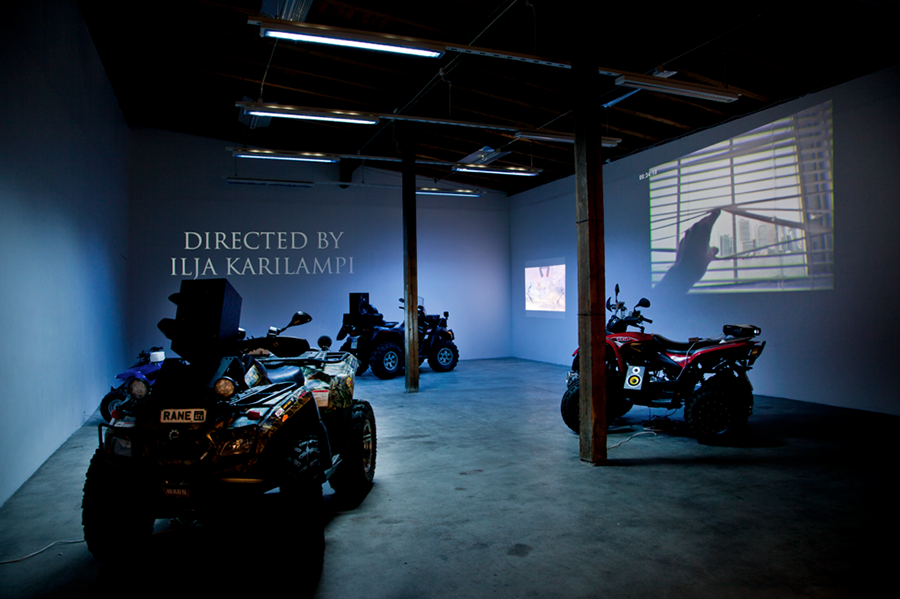 new RELEASES, Sandy Brown, Berlin,18.09 - 11.10.2014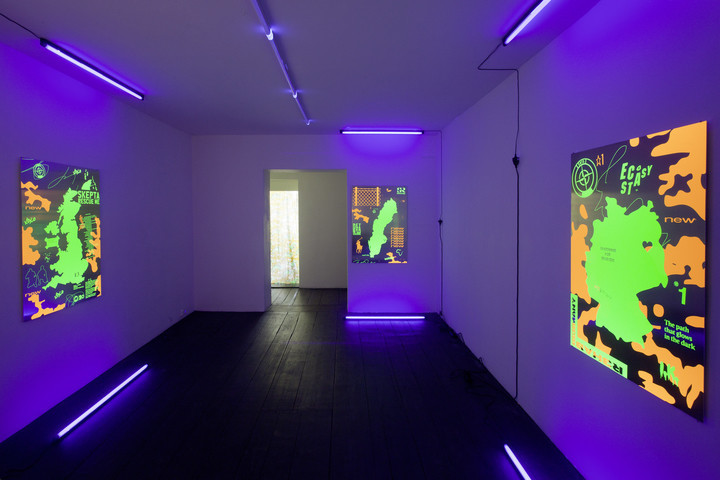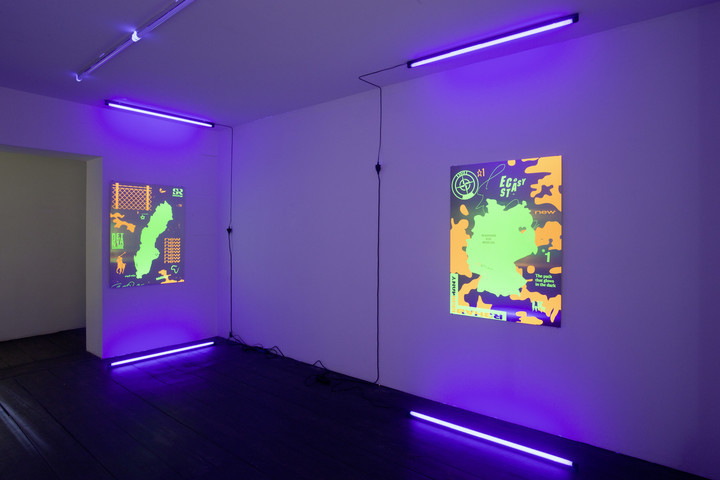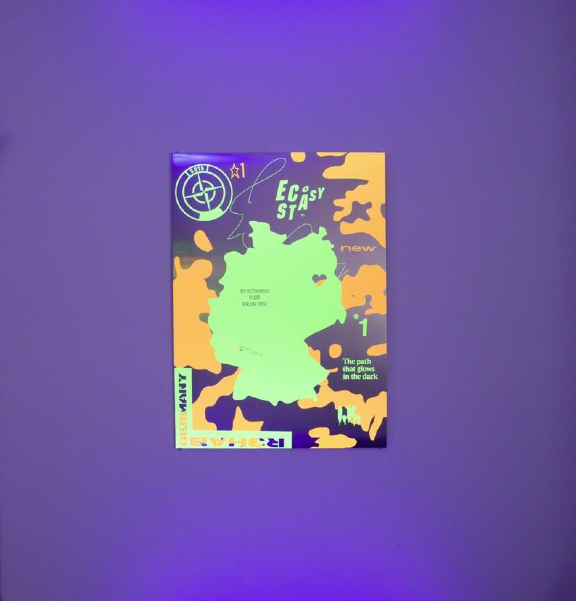 R3hab (DE)
2014
Self-adhesive vinyl on aluminium, UV light fixtures
120 × 86 cm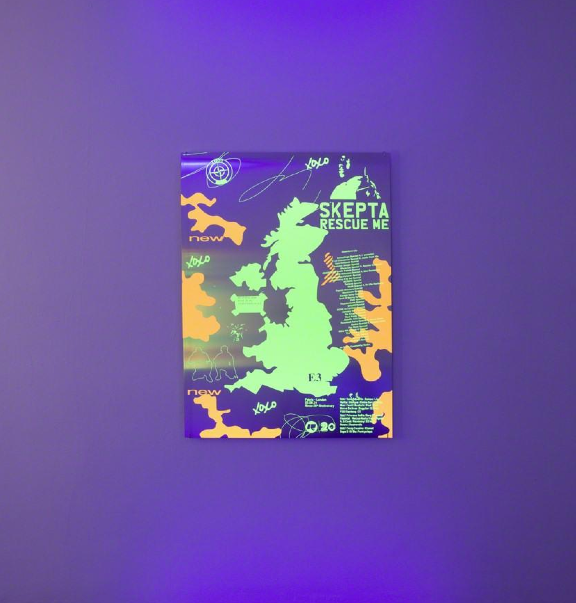 wag1 fam (GB)
2014
Self-adhesive vinyl on aluminium, UV light fixtures
120 × 86 cm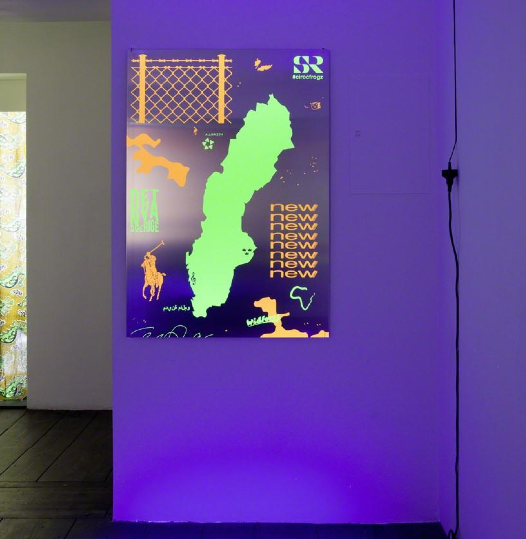 Abidaz (SE)
2014
Self-adhesive vinyl on aluminium, UV light fixtures
120 × 86 cm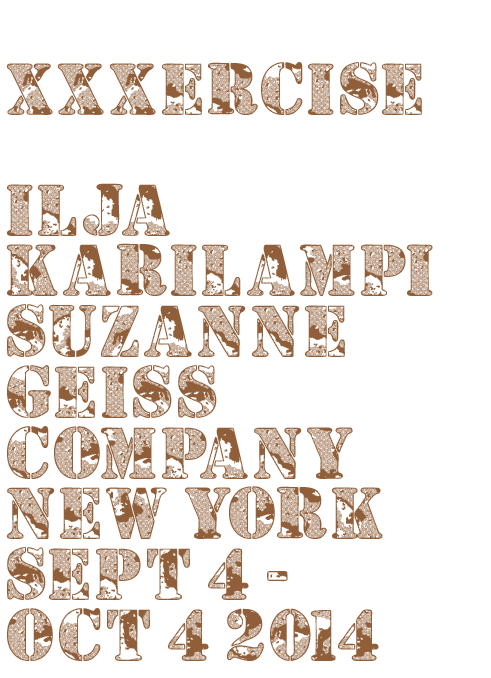 XXXERCISE, Suzanne Geiss Company, New York, 04.09 -04.10.2014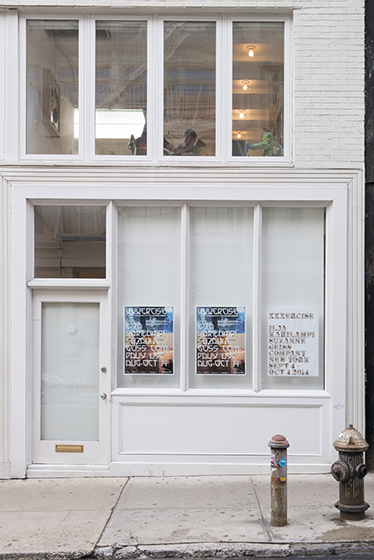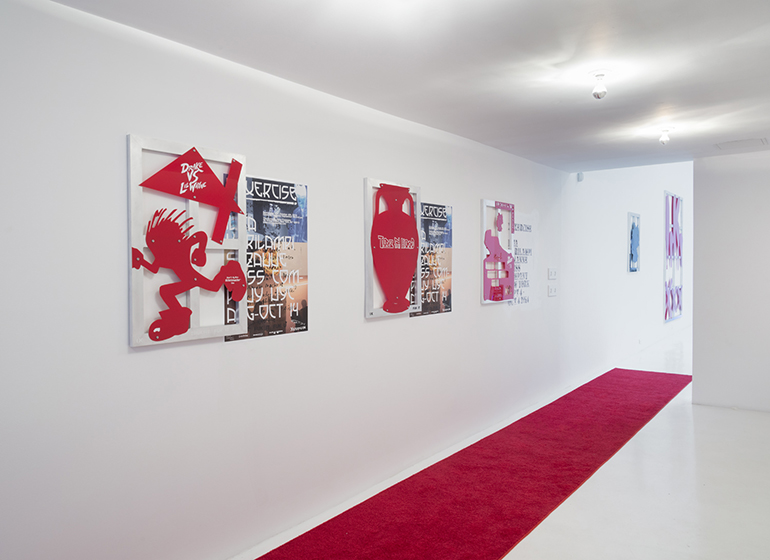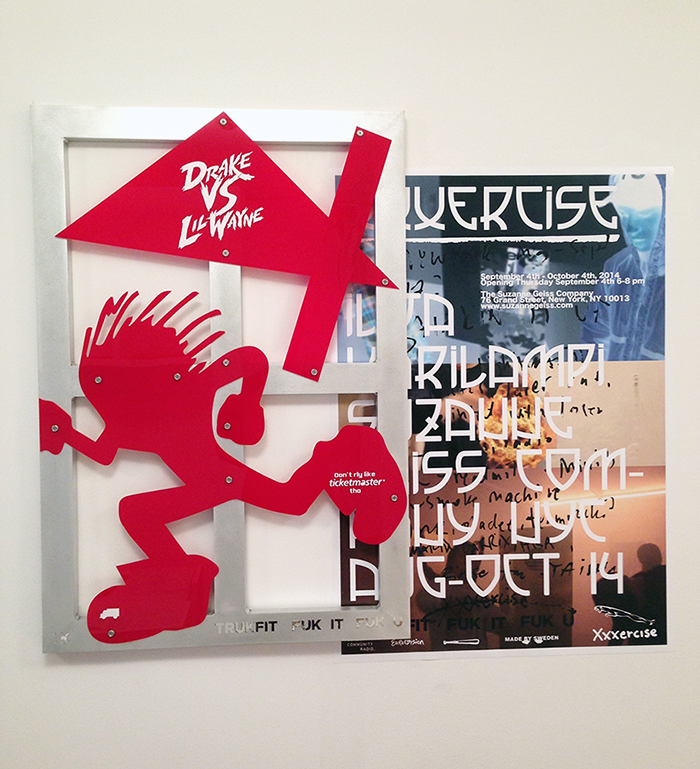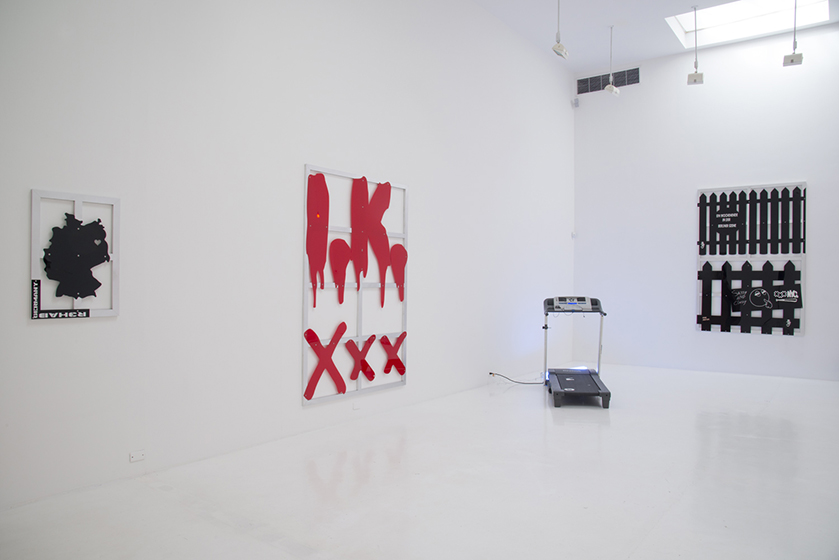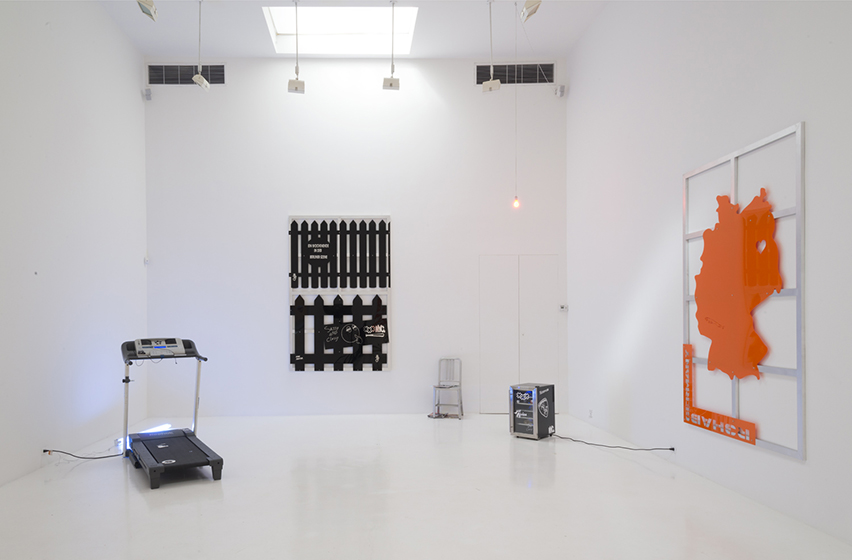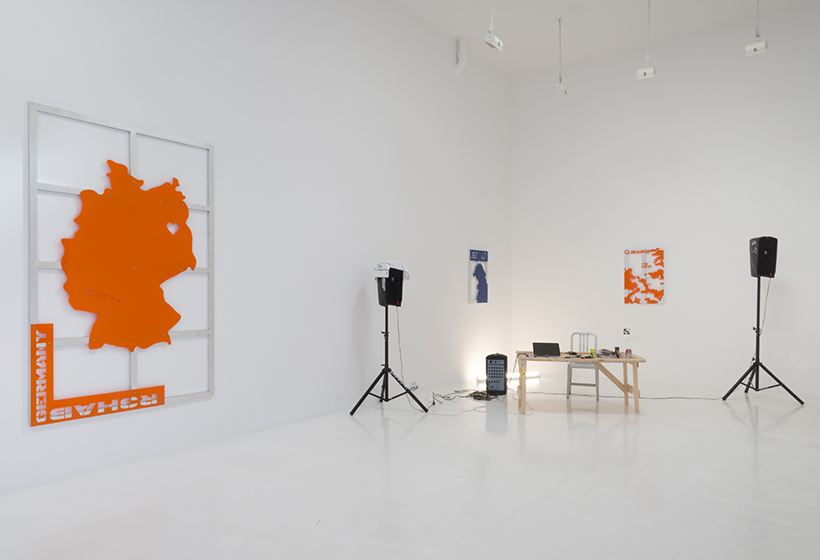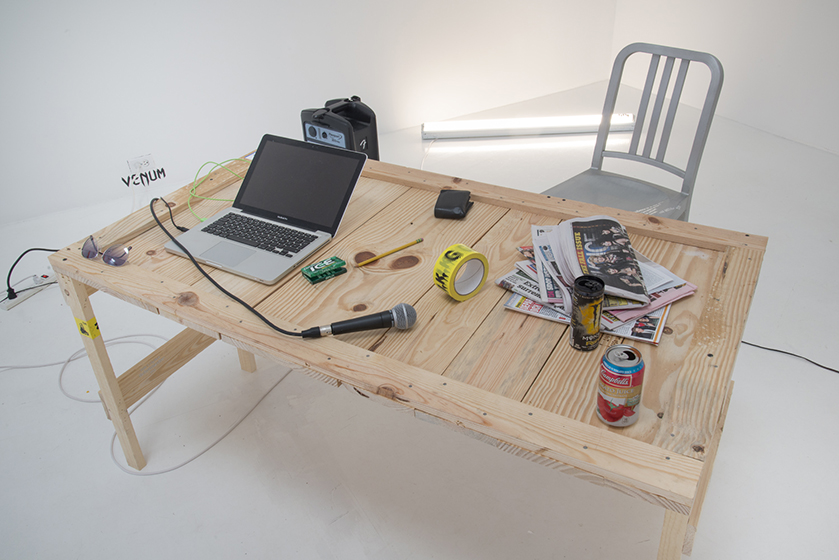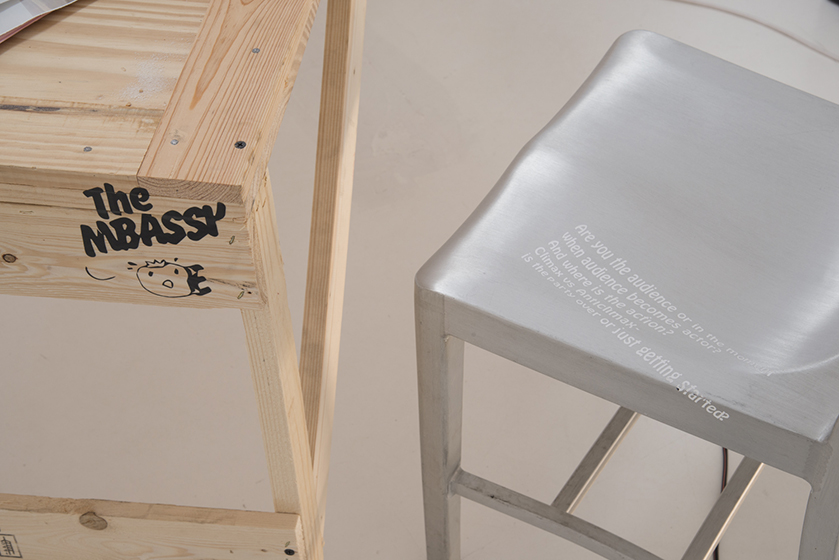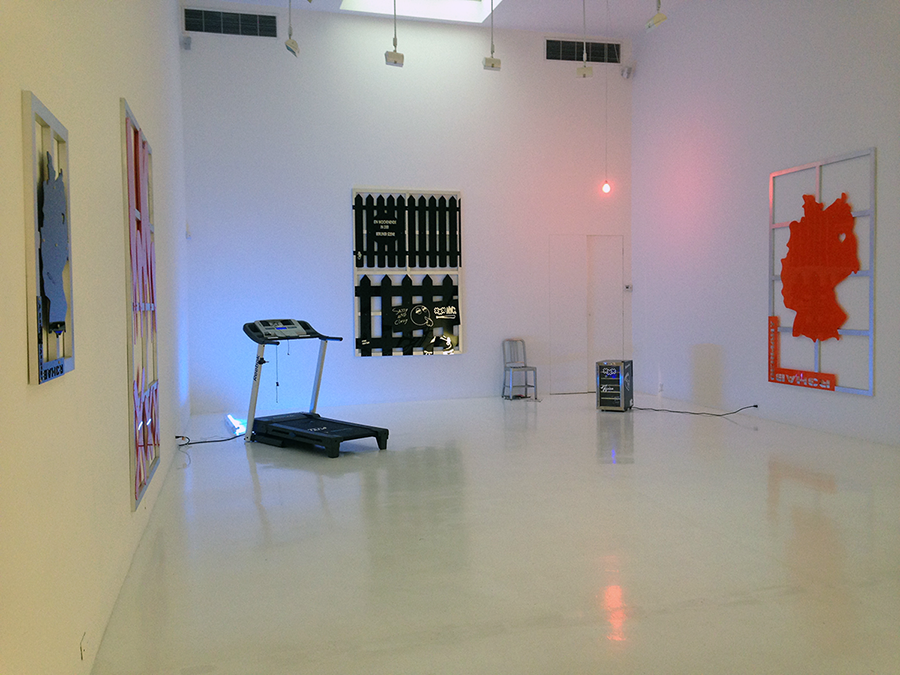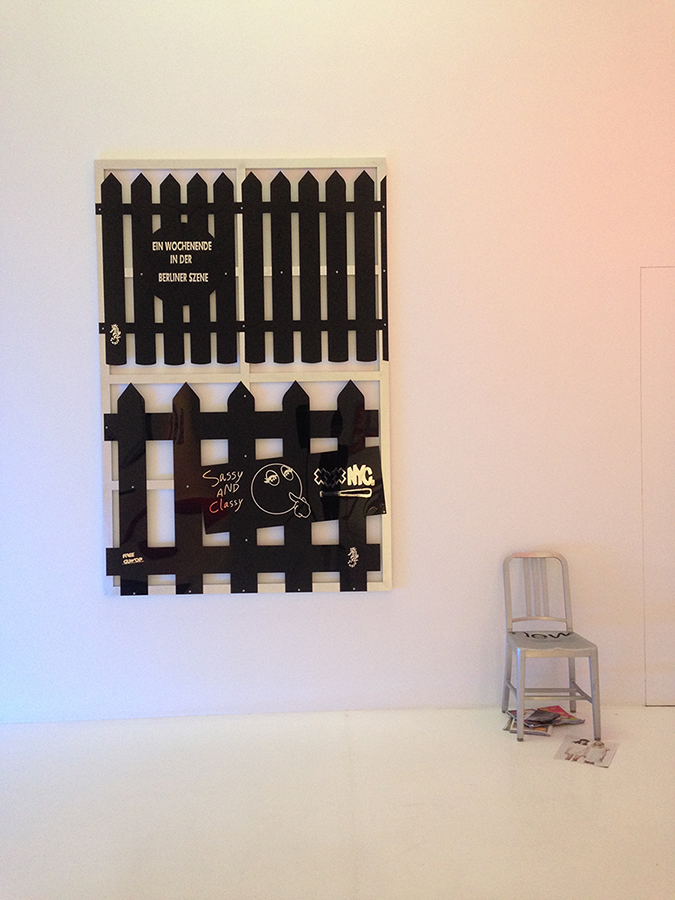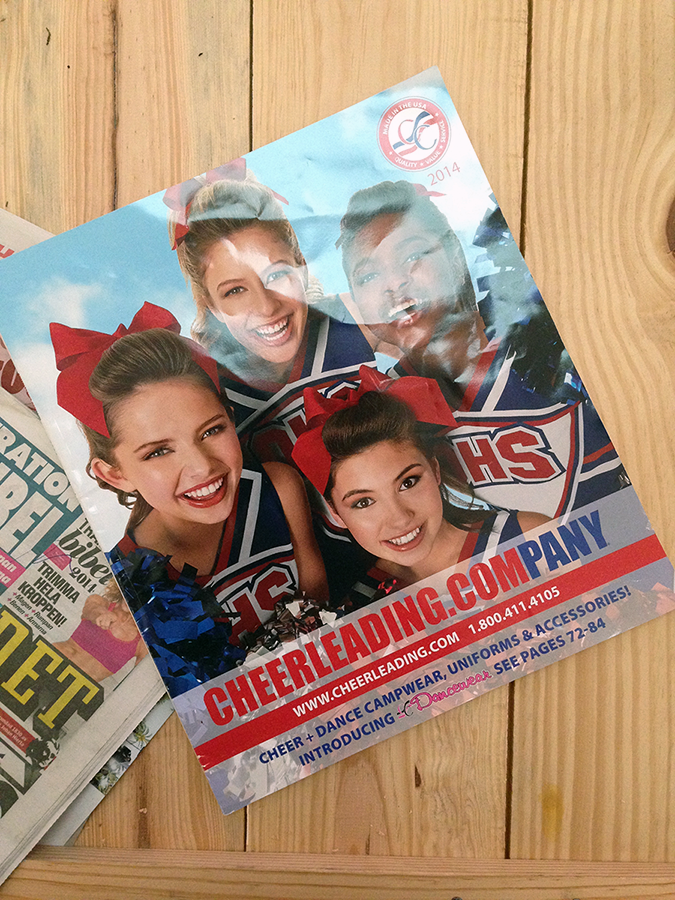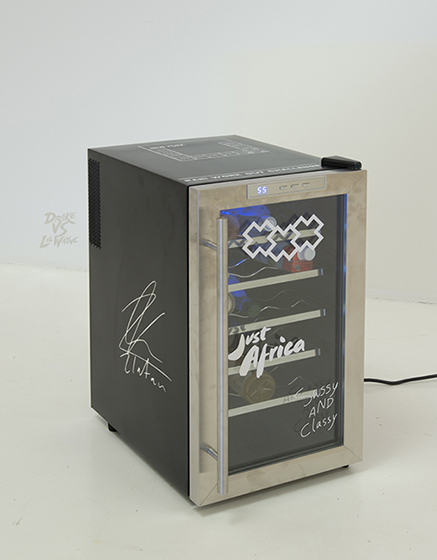 xxxercise trailer 3 from AK?NW?RLD on Vimeo.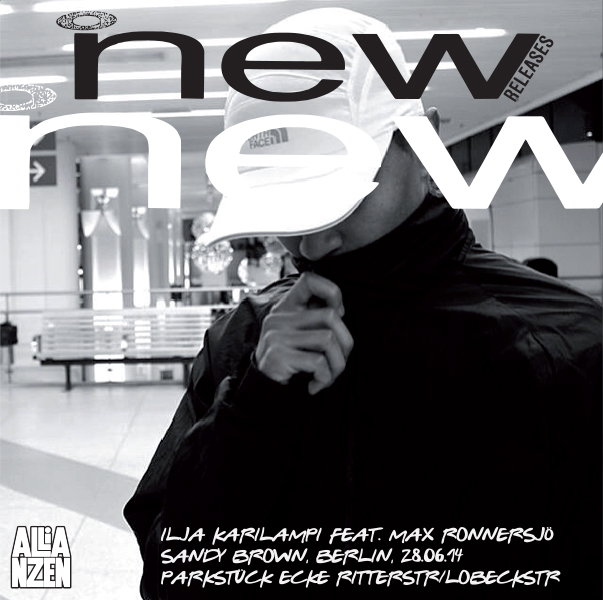 NEW releases feat. Max Ronnersjö, Sandy Brown, Berlin,
corner Ritterstr/Lobeckstr, June – open end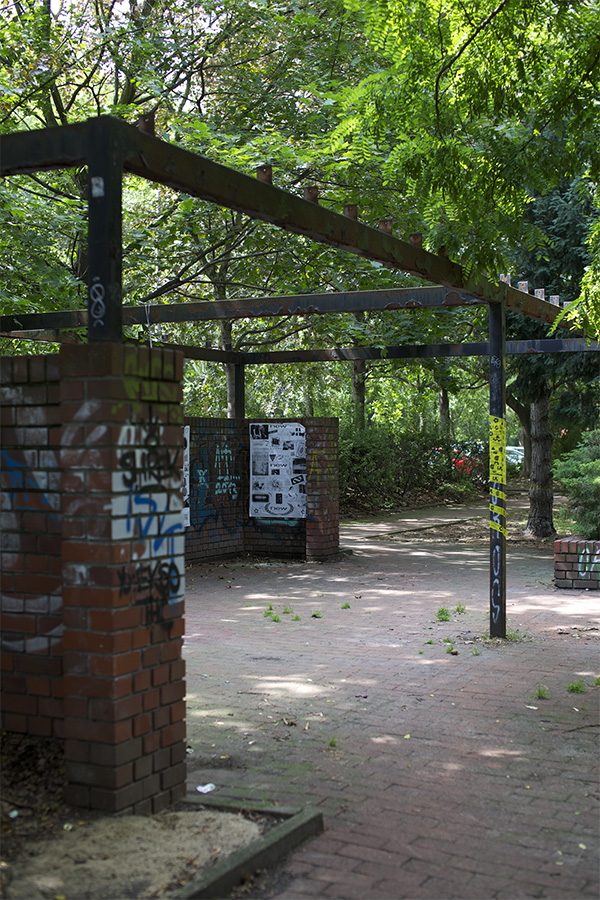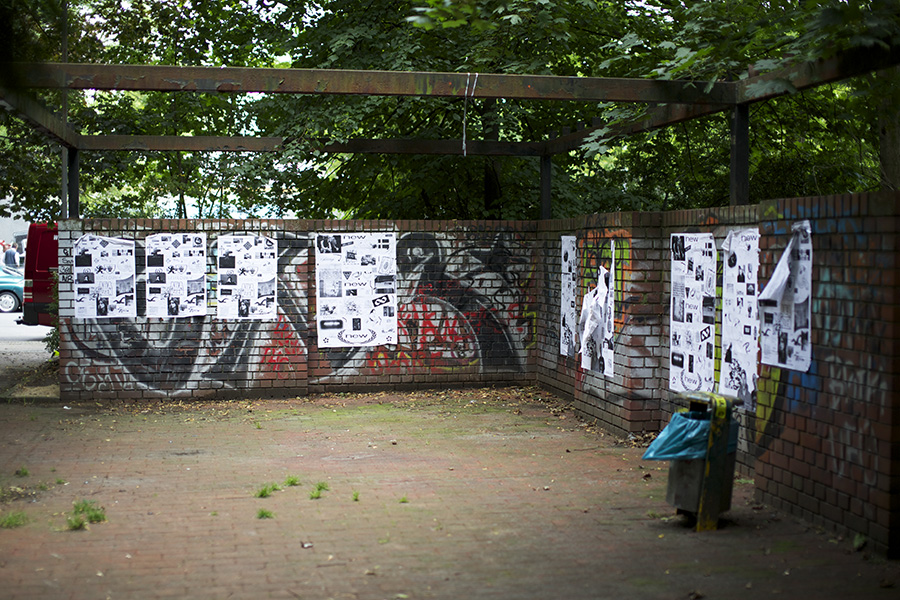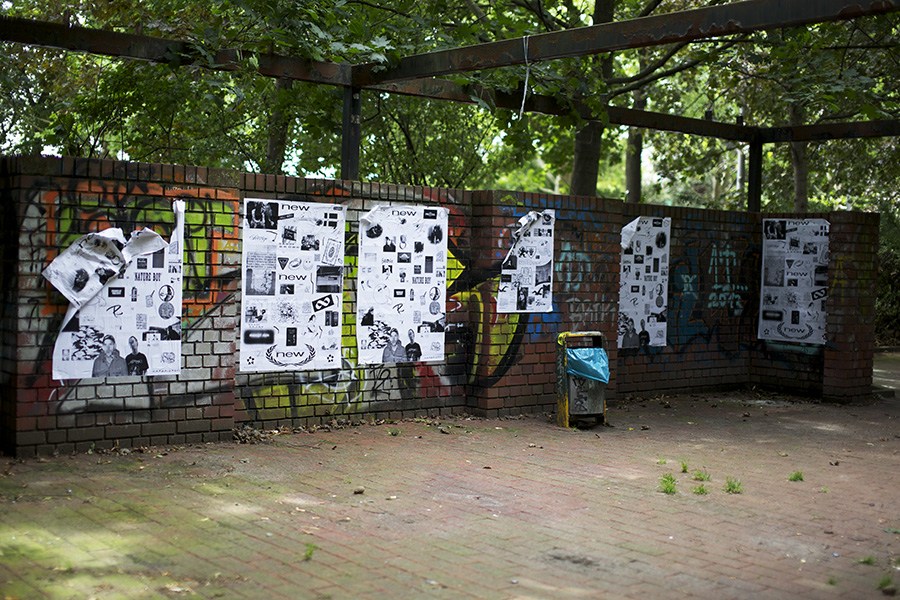 3 different posters, each in an edition of 10, A0 & A1 formats, collaboration with Max Ronnersjö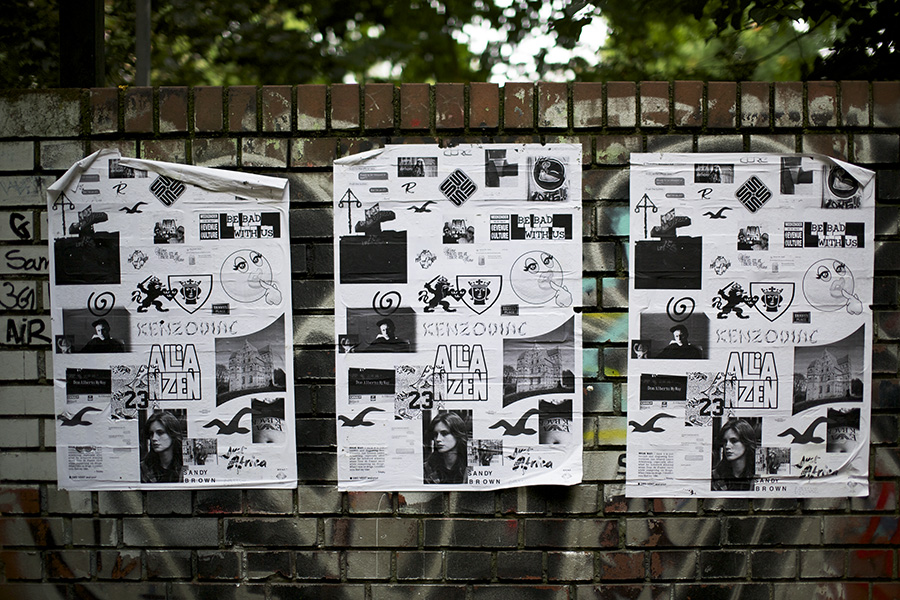 NEW releases 2 MAX & ILJA, A1 size, 84,1 x 59,4 cm, black & white offset copy print, edition of 10,
signed by both artists


To order any of the posters, contact Sandy Brown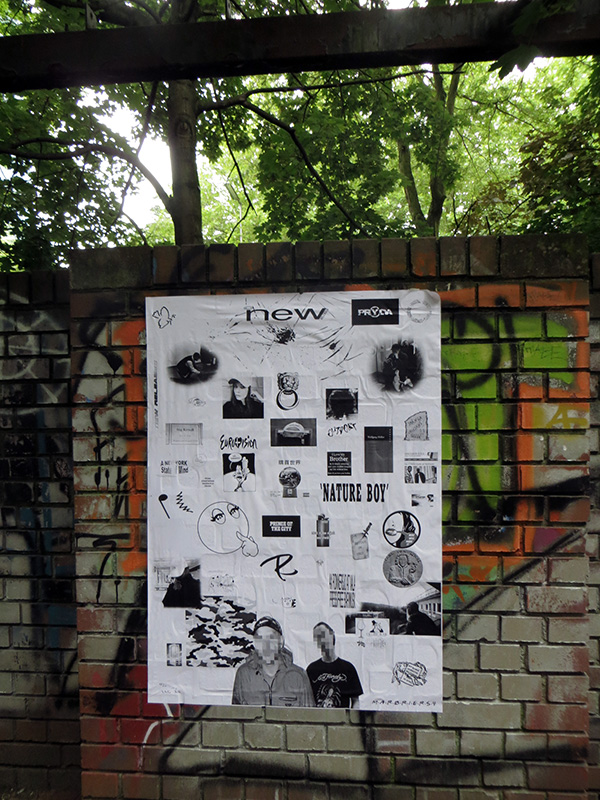 NEW releases premiären, A0, 118,9 x 84,1 cm, black & white offset copy print, edition of 10, signed by both artists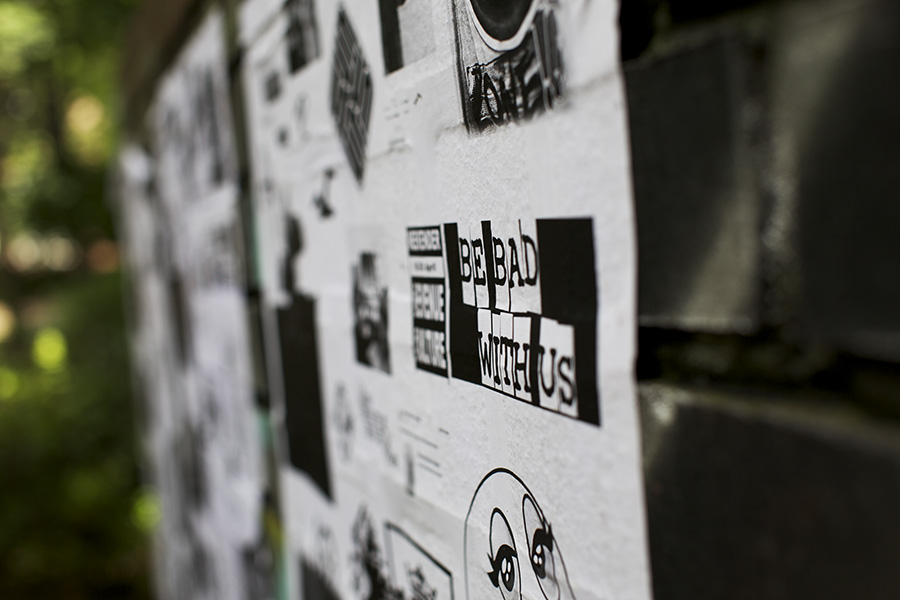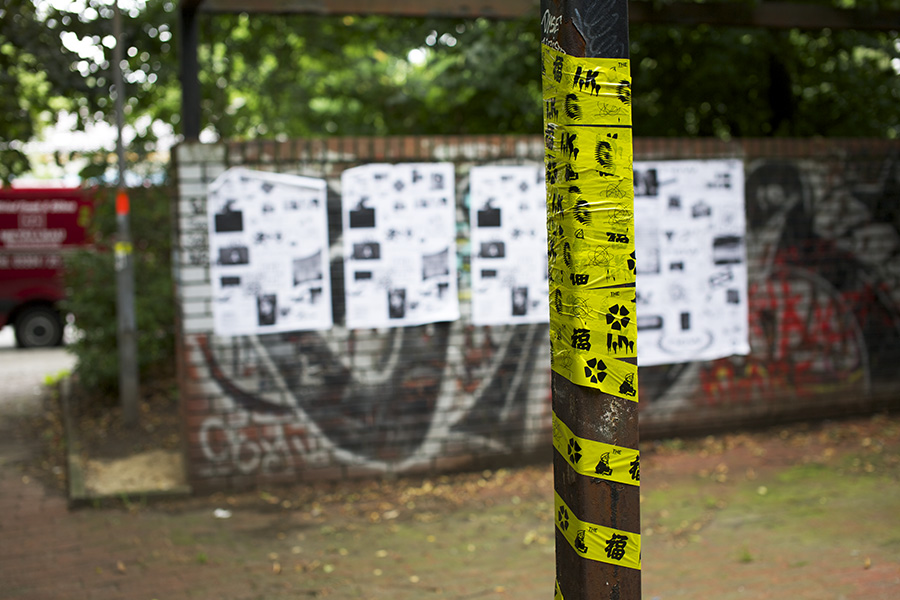 JAG ÄR, Gallery Niklas Belenius, Stockholm, 17.5 – 15.6.2014
All installation views from Instagram on the date of May 17th, 2014

Press text by Lars-Erik Hjärtström Lappalainen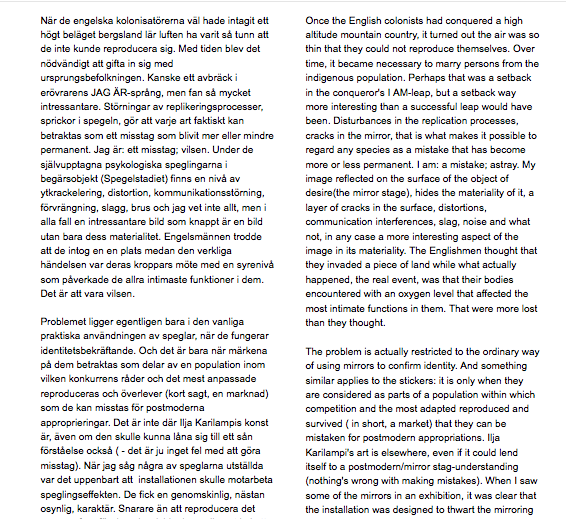 "SweSh Xpress"
Ilja Karilampi, Marbriers 4, Geneva, 25.4 – 17.5.2014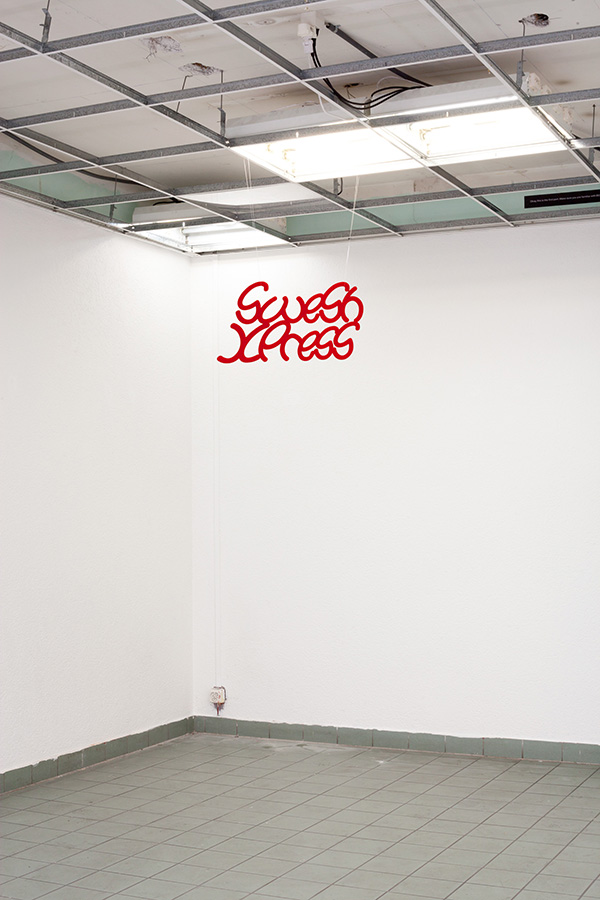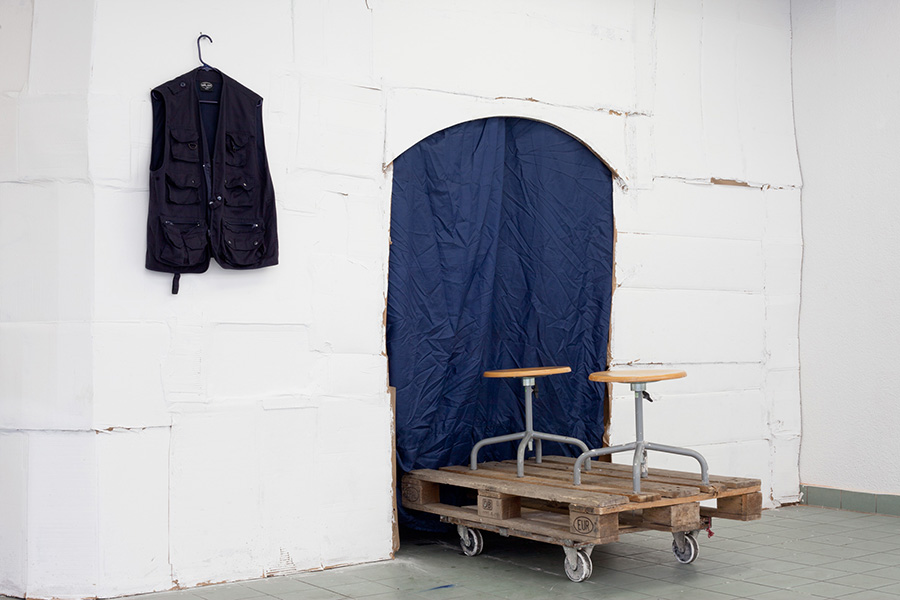 Click for press text (PDF)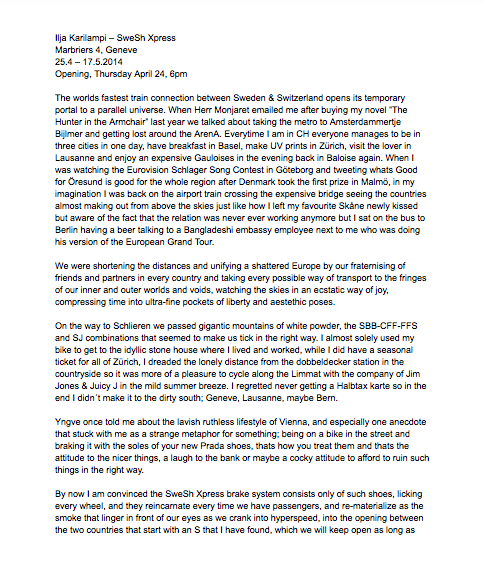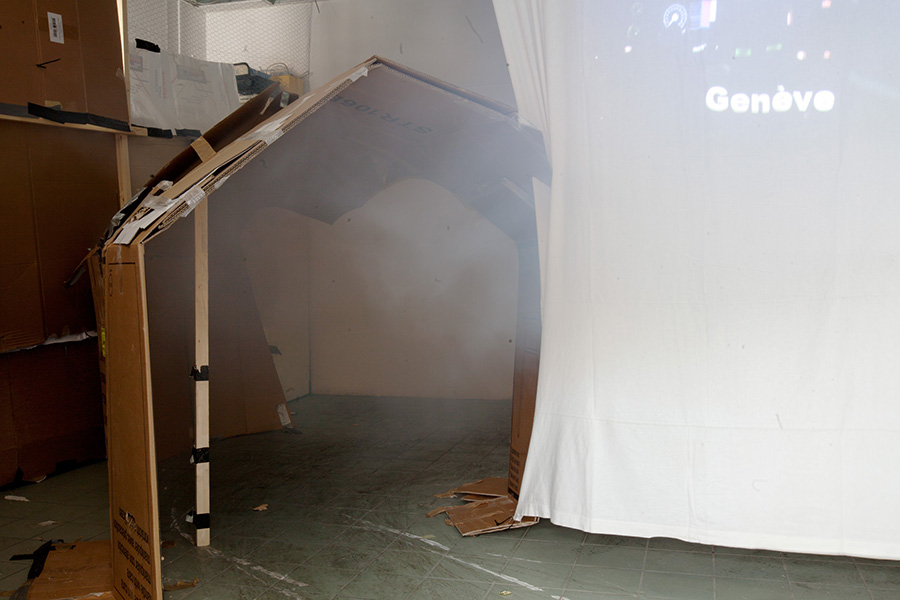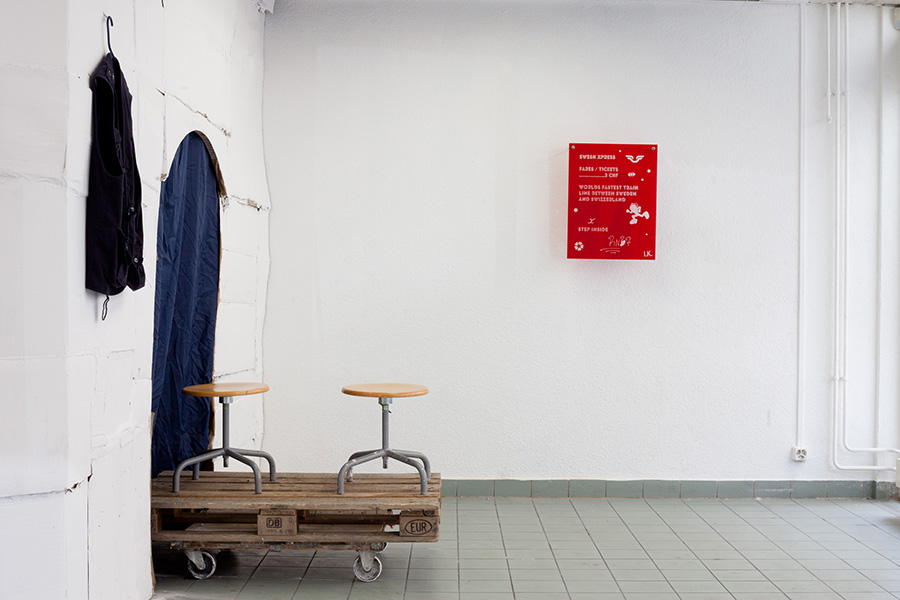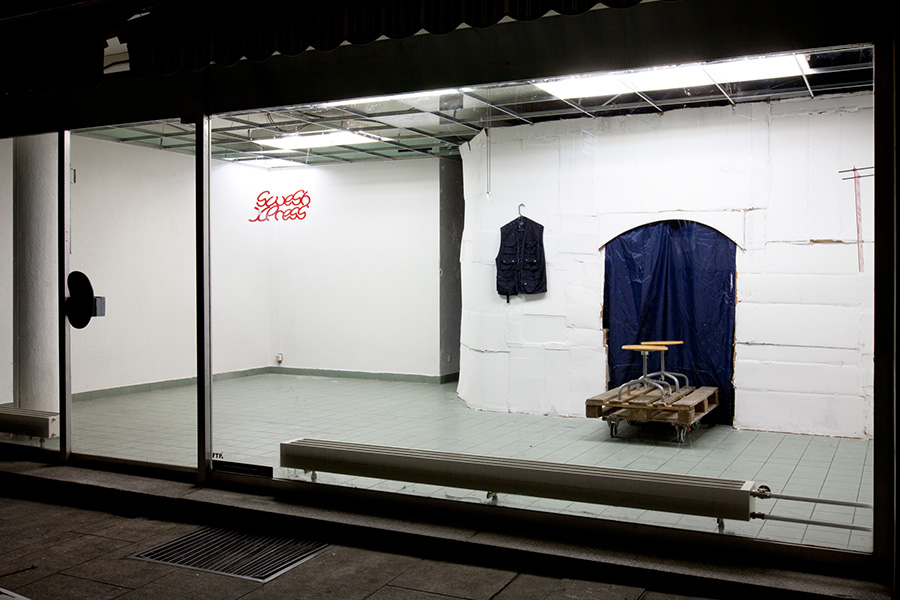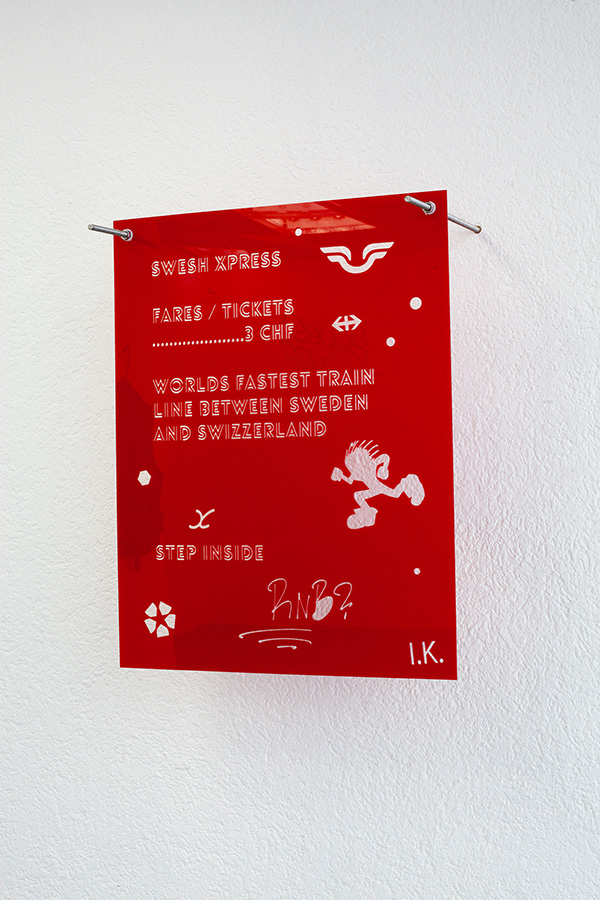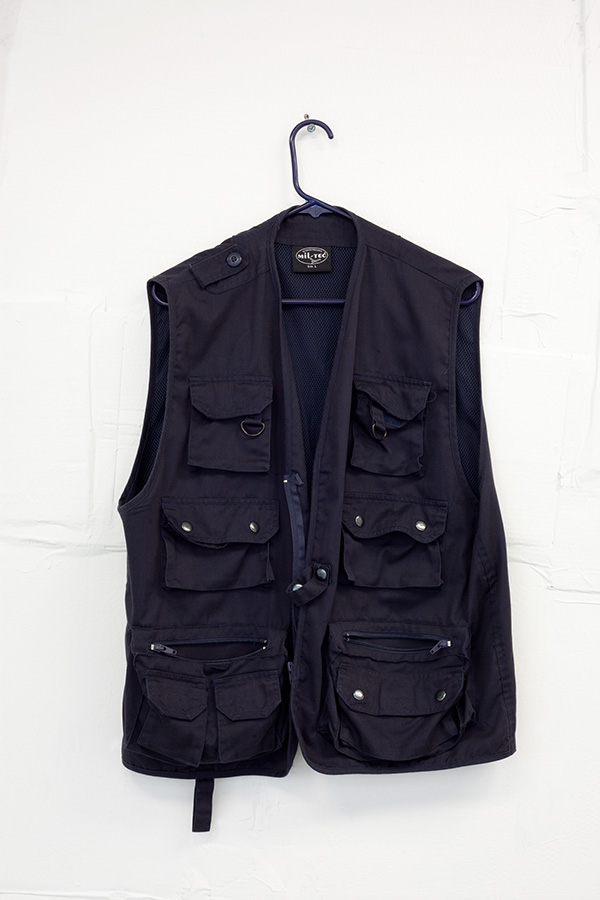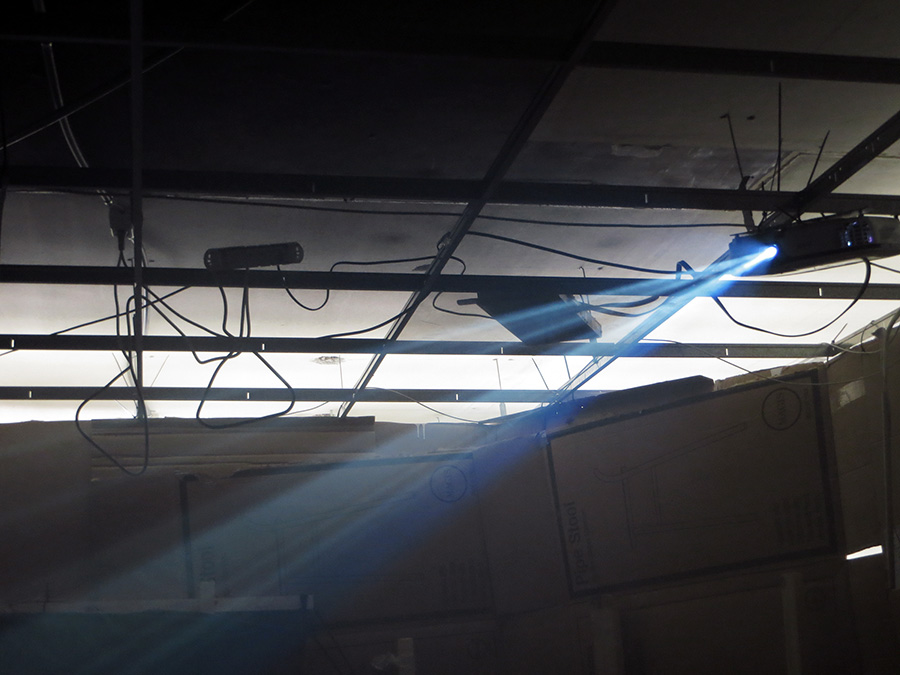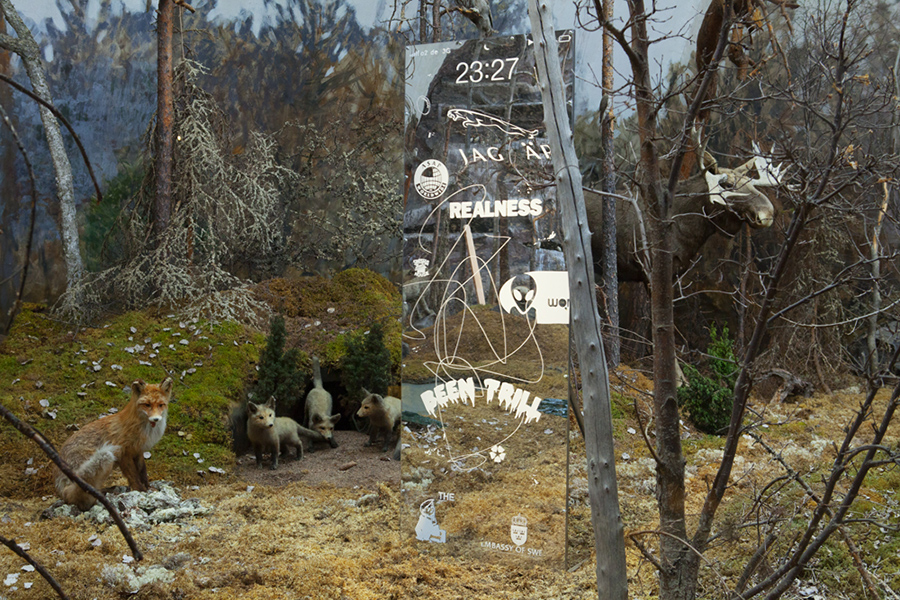 JAG ÄR JAGUAR
2014
Self-adhesive vinyl on mirror plexi, welded steel frame, 190 x 67 cm
"BIOTOP", Biologiska Muséet, Djurgården, Stockholm, org. by Galleri Niklas Belenius, April 2014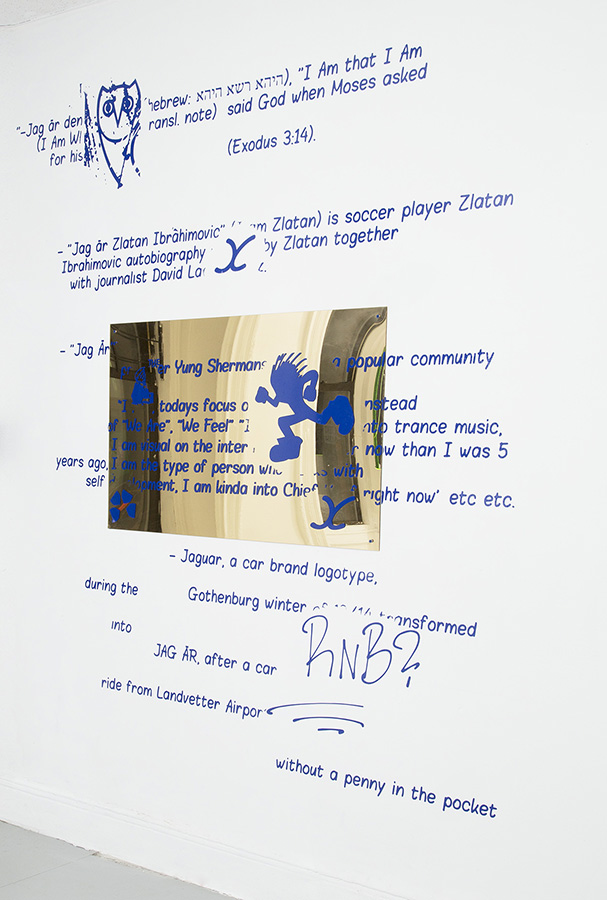 Om man ser det för vad det är så uppstår rätt många goa frågor
2014
Custom cut self-adhesive vinyl, gold perspex mirror. 210 x 190 cm, mirror 105 x 67 cm



"Shine On", UKS, Unge Kunstneres Samfund (Young Artists Society), Oslo, March 11-14th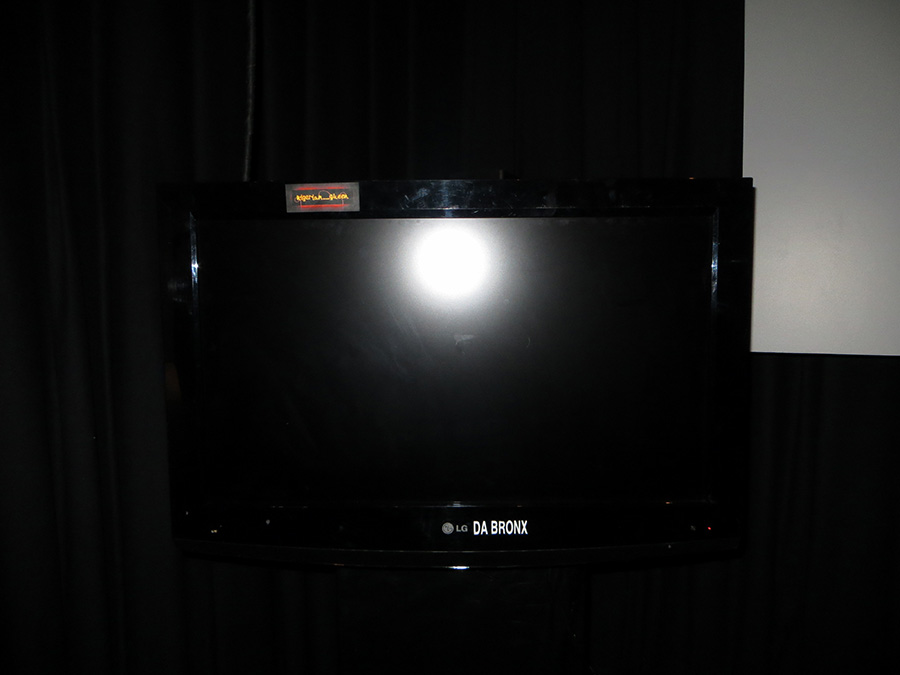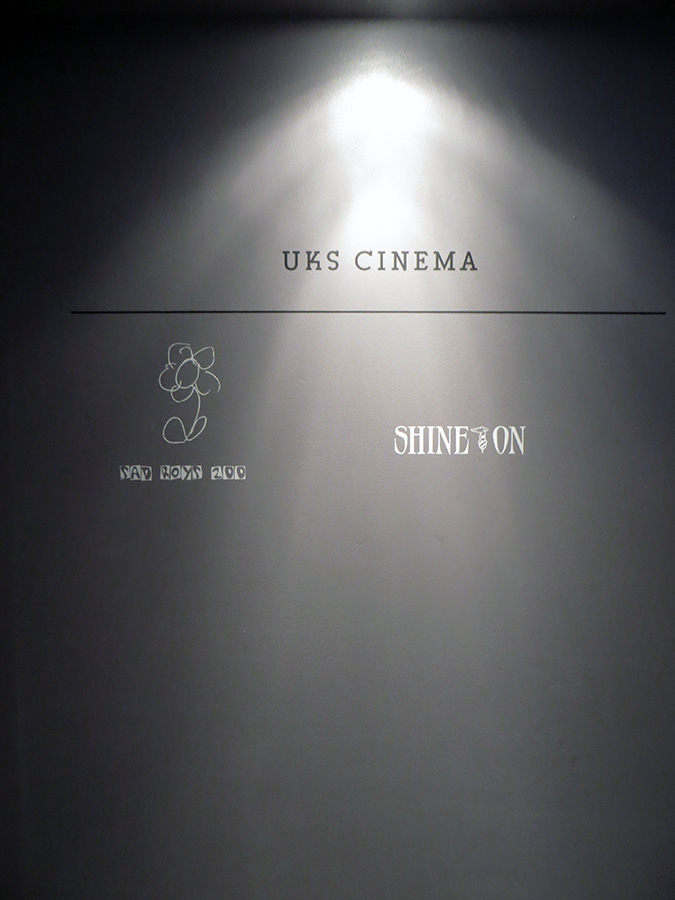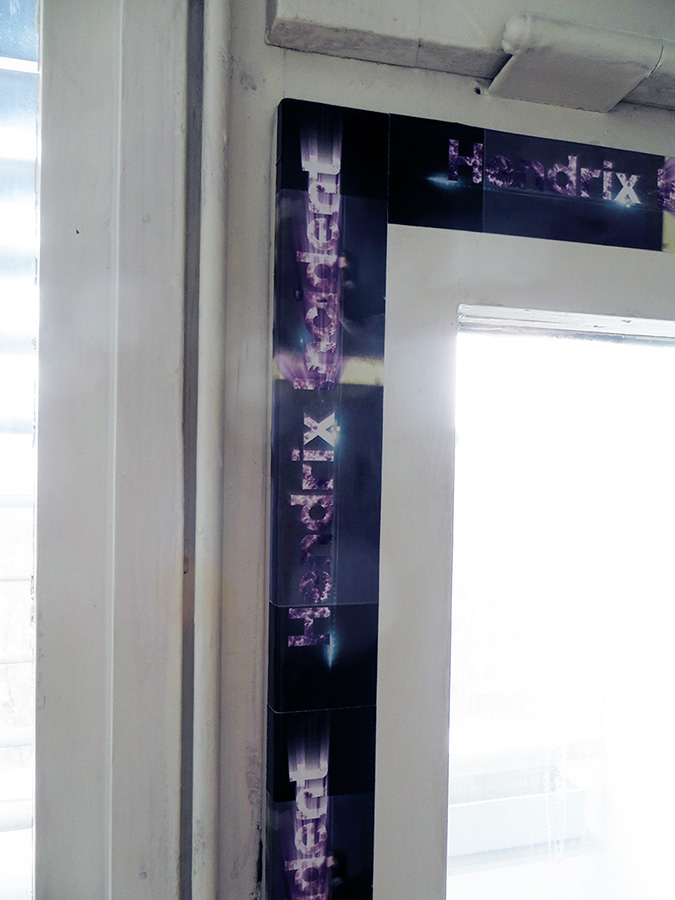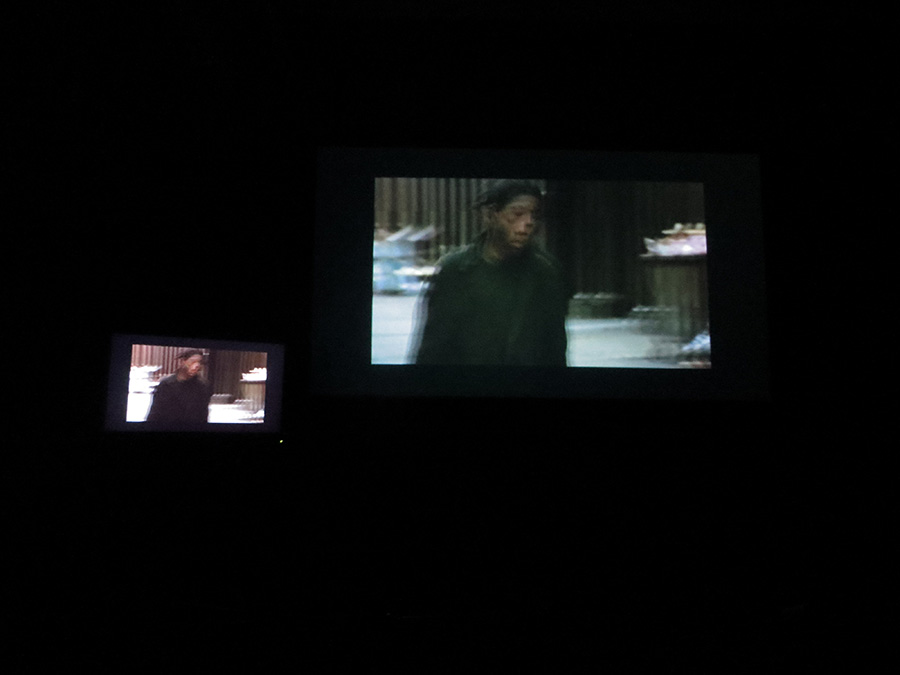 THE LECTURE "ESPRIT DE CORPS" AS 1 HR RADIO SPECIAL ON BERLIN COMMUNITY RADIO


ZONE, 63d-77th steps, Bari, Italy,Feb 16th - Mar 07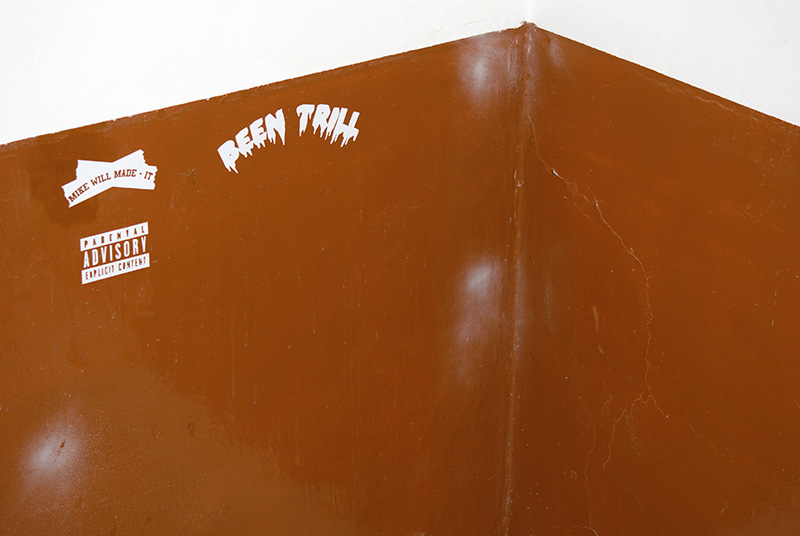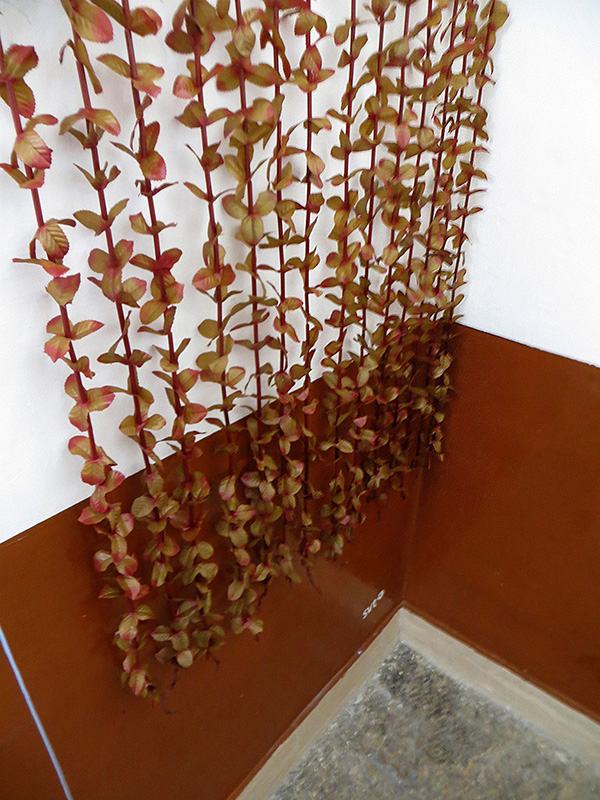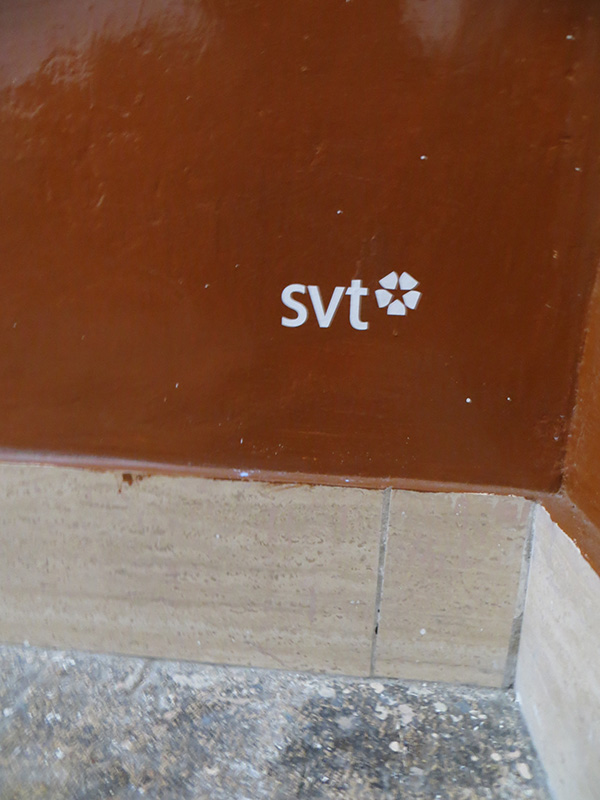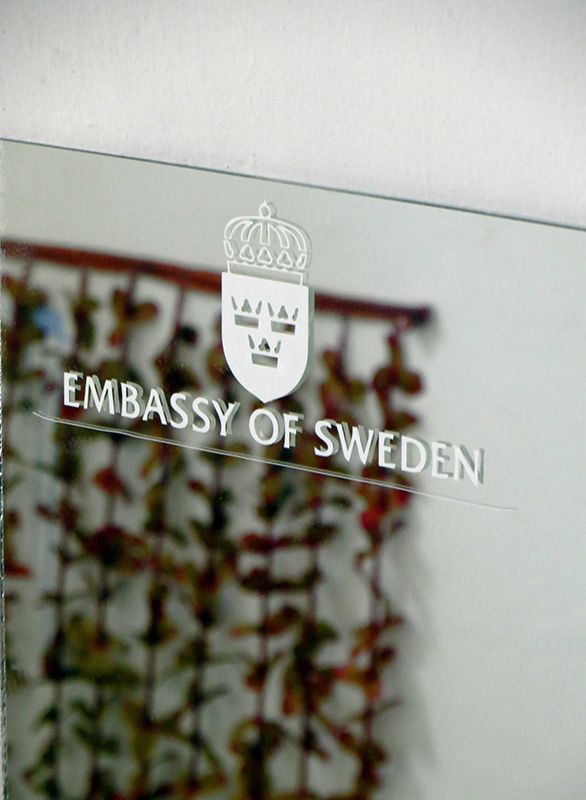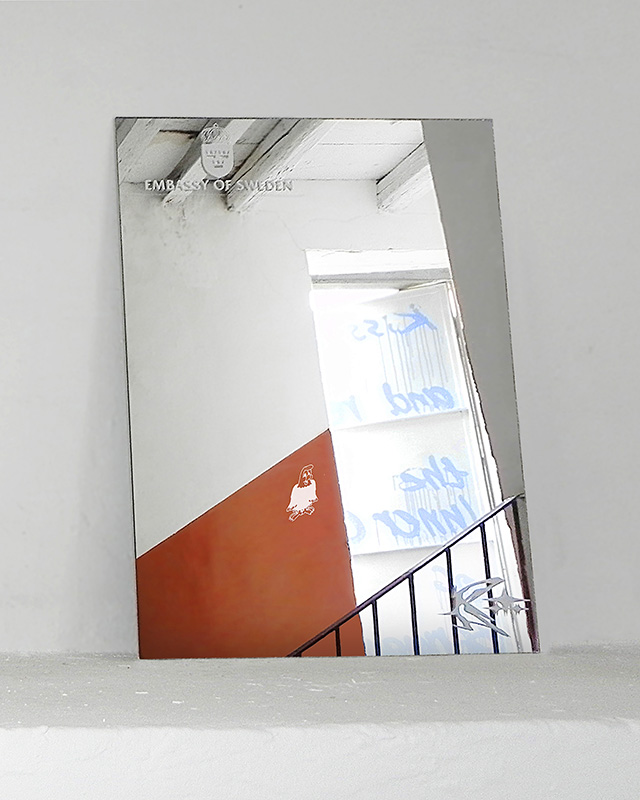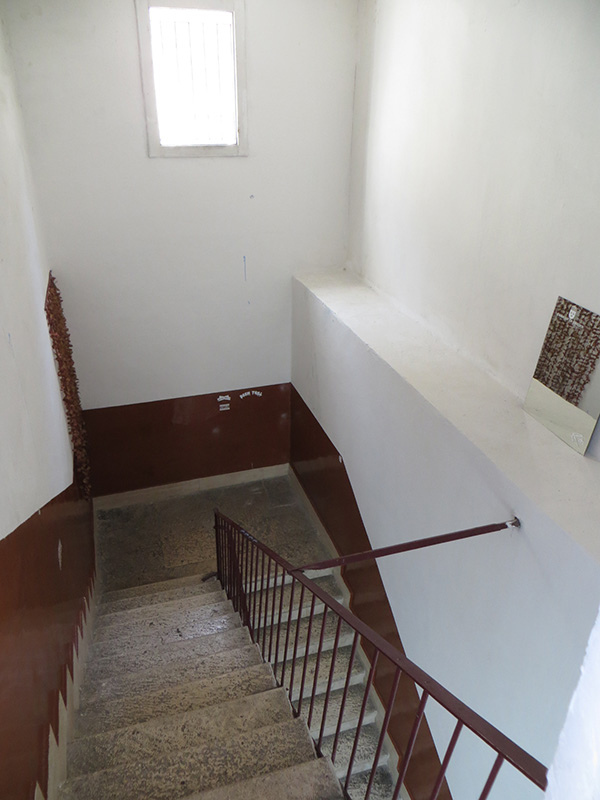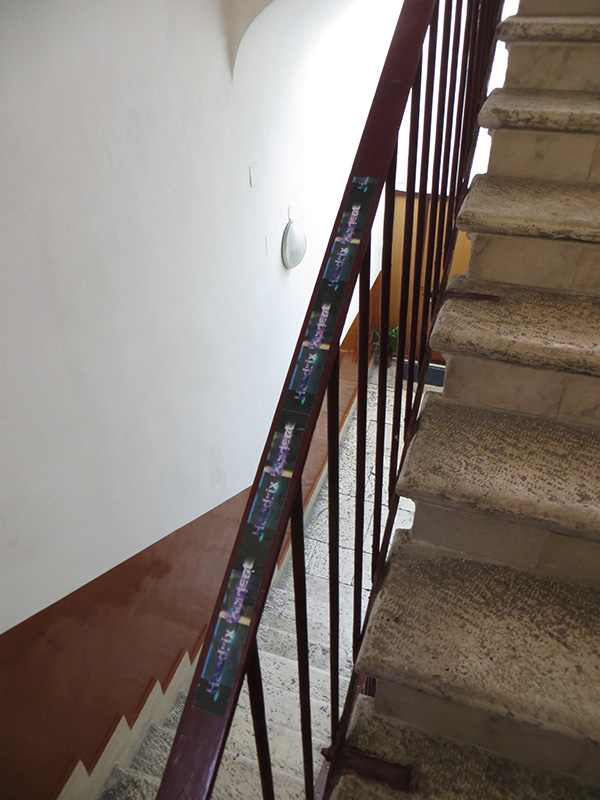 BASIC ZONE, Casamadre, Napoli, Feb 13th - 2014
Pressrelease written by curator Alessandro Bava (PDF)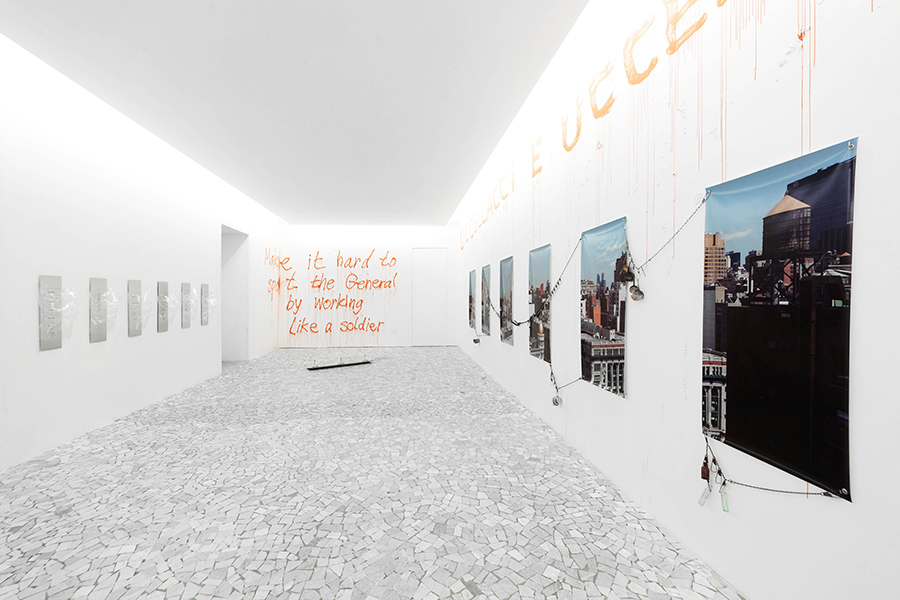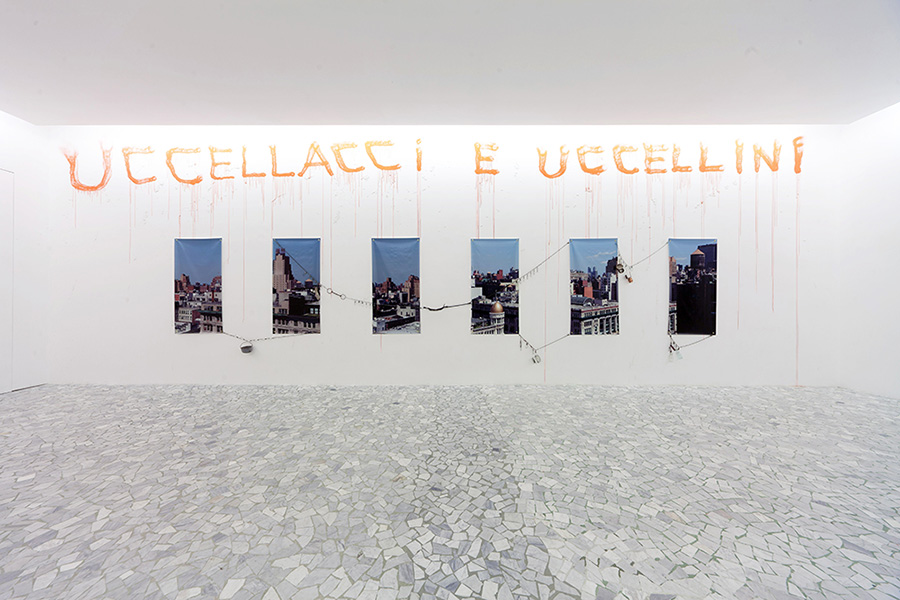 Top: Clas Ohlson, Malmö, 2014, Acrylic paint, plaster
Bottom: Dena Yago, The Death and Life of American Cities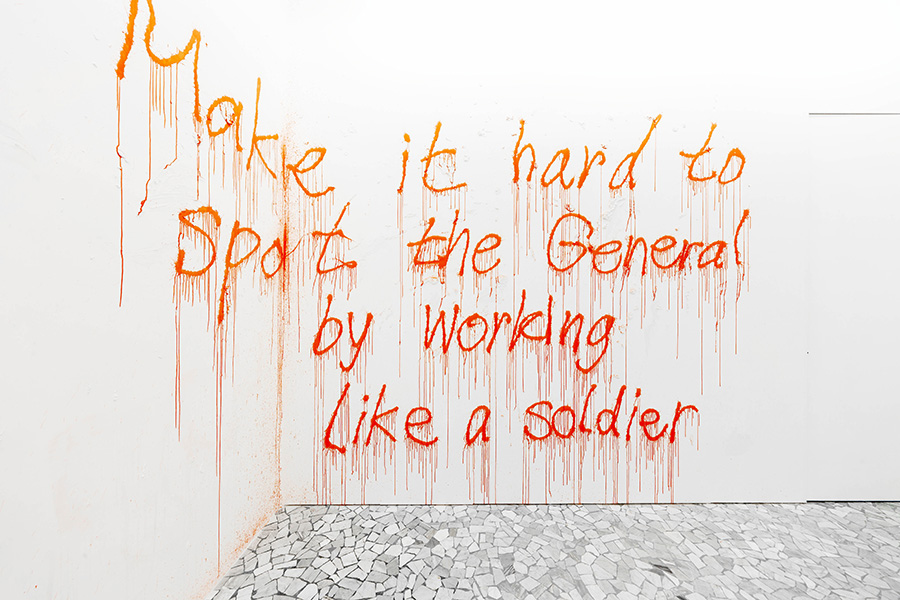 The undercover cop: The Seven-Ups, Serpico, Falckligan, Downtown 83, Port of New York, Fort Apache Bronx, 2014
Acrylic paint, gesso plaster



"President Room", CO2, Torino, Feb 8th–Mar 15th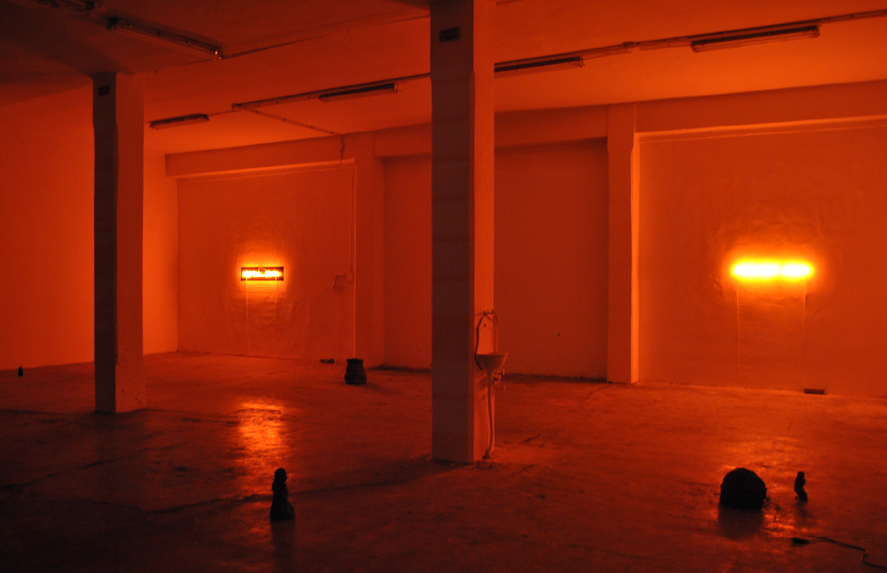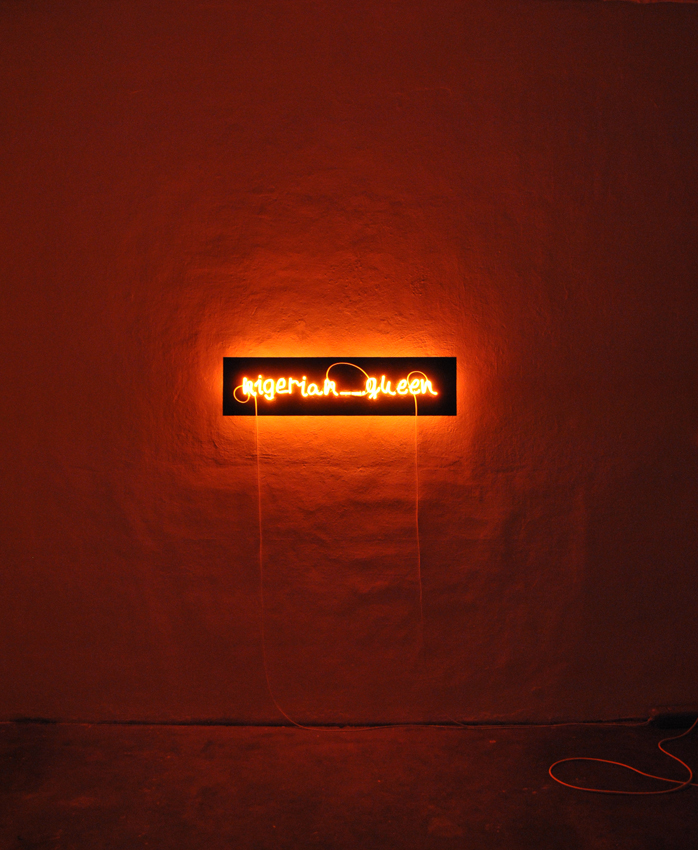 nigerian__queen, 2014, neon, paint on wall, cables , ca 40 x 90 cm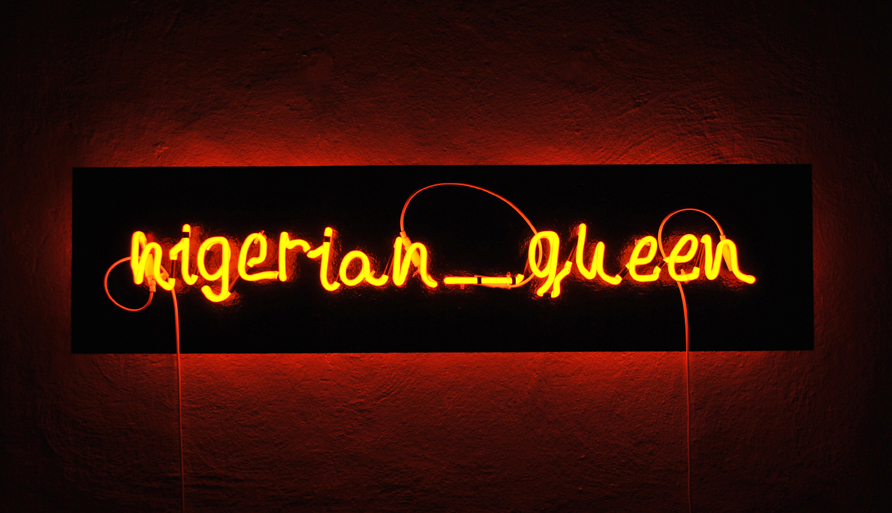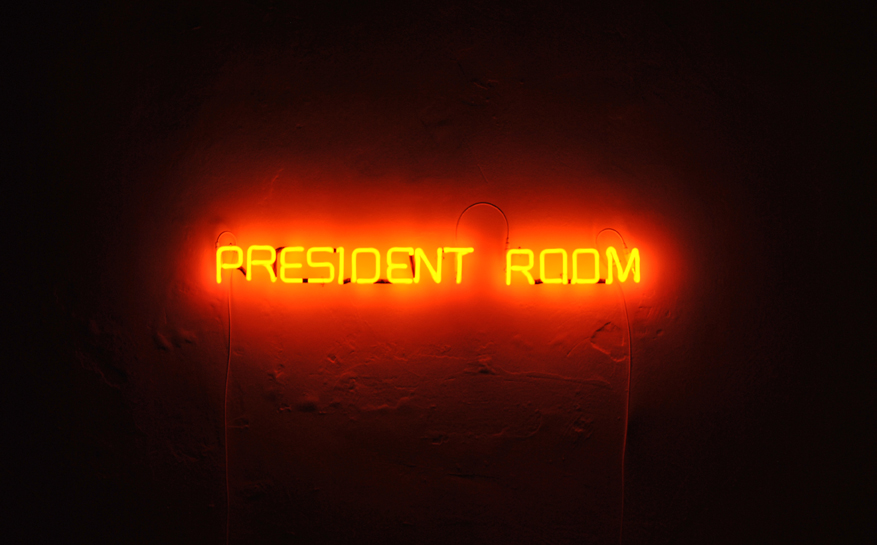 President Room, 2014, neon, cables , ca 30 x 80 cm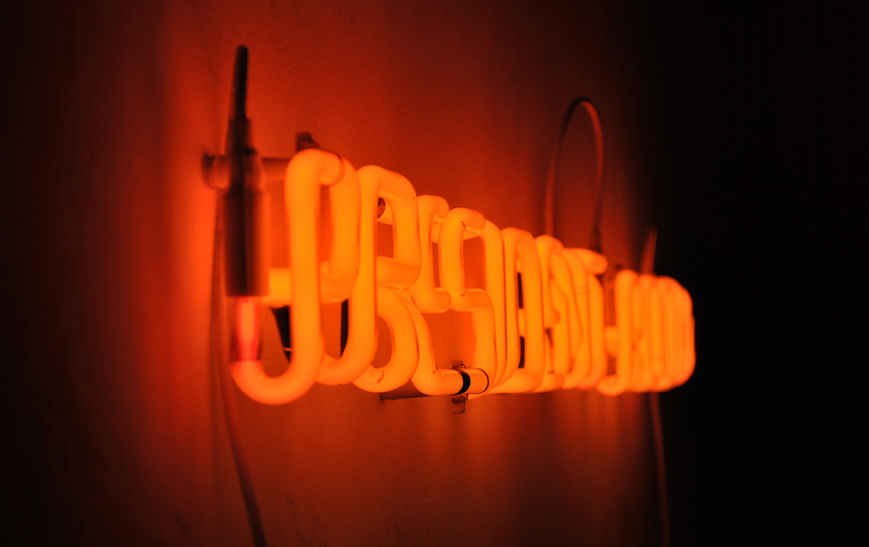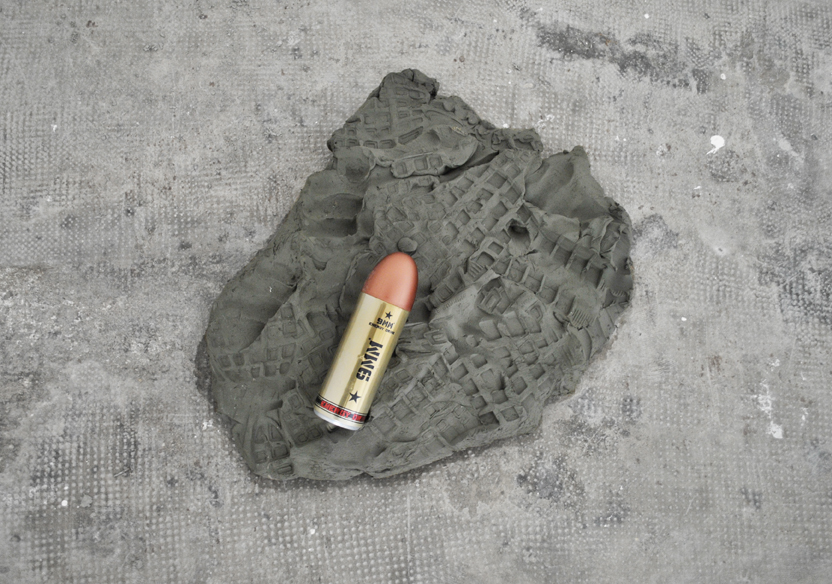 9mm relic of the Peckham speakers, Bennet, 201, 4clay, energy drink can, bottle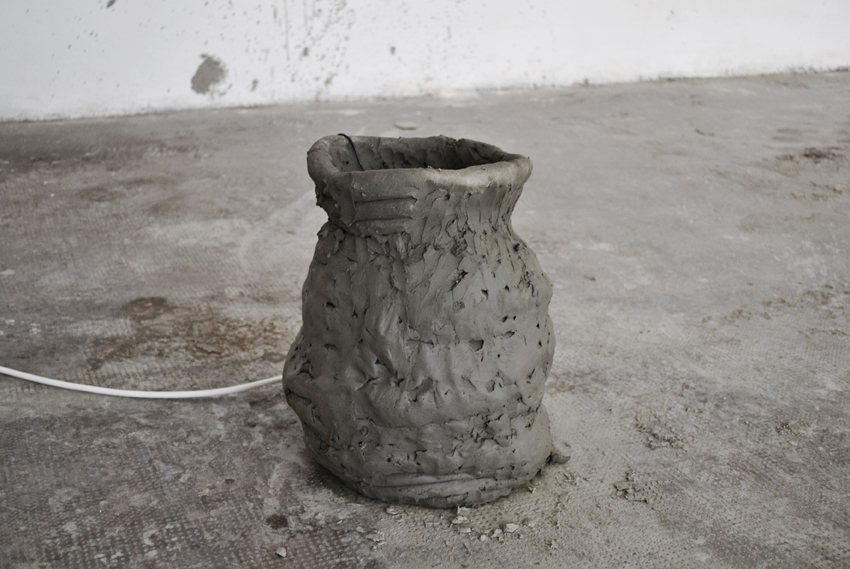 White Armor Dean Blunt Sherm Left Channel Urn, 2014, clay, speakers, mp3 player, 40 minutes audio track, cables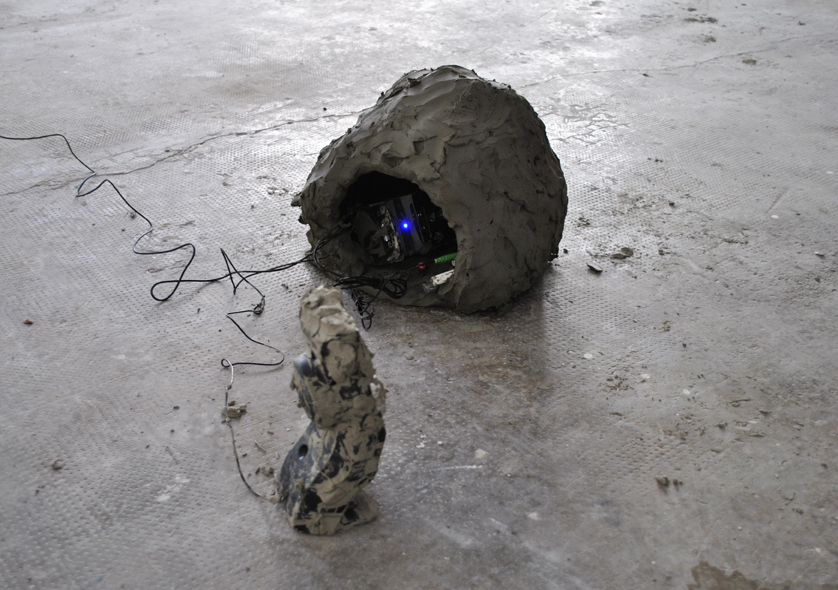 Need somebody to usher my love upon, 2014, clay, speakers, mp3 player, 40 minutes audio track, cables



President Room, 2014, custom stamp

The soundtrack:


"BIG BIRD", Wilkinson Gallery, London, Jan 15th–Feb 23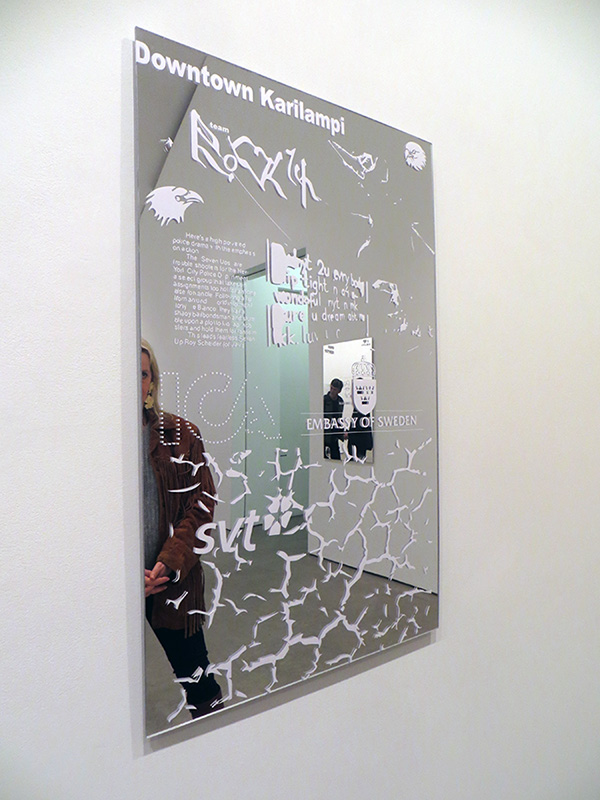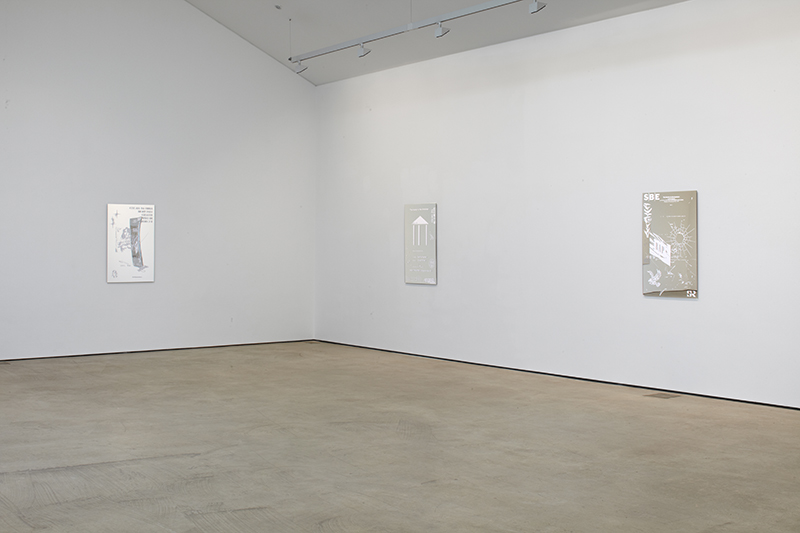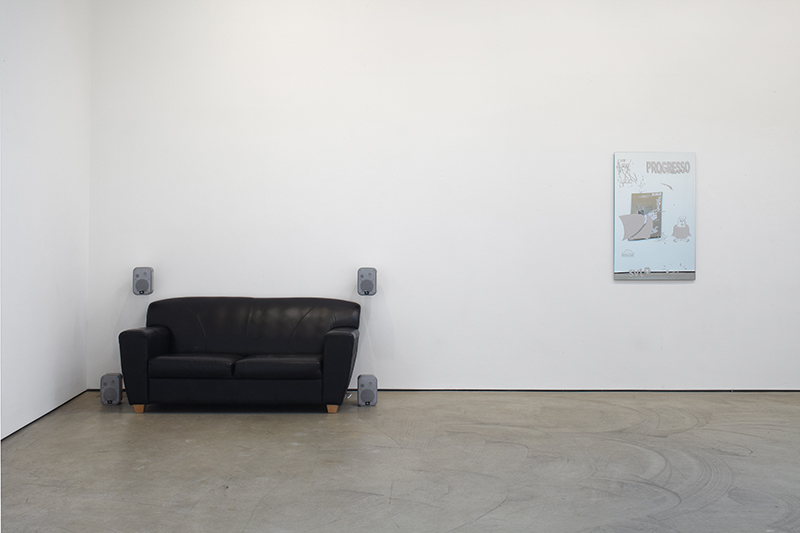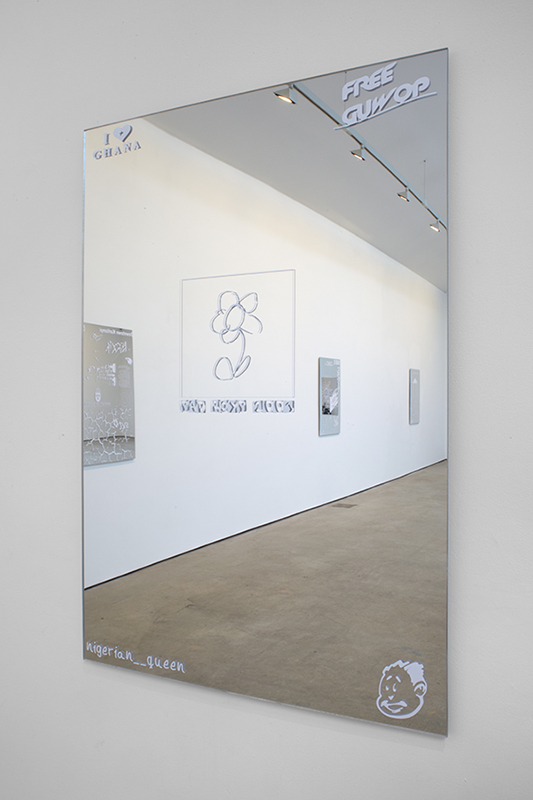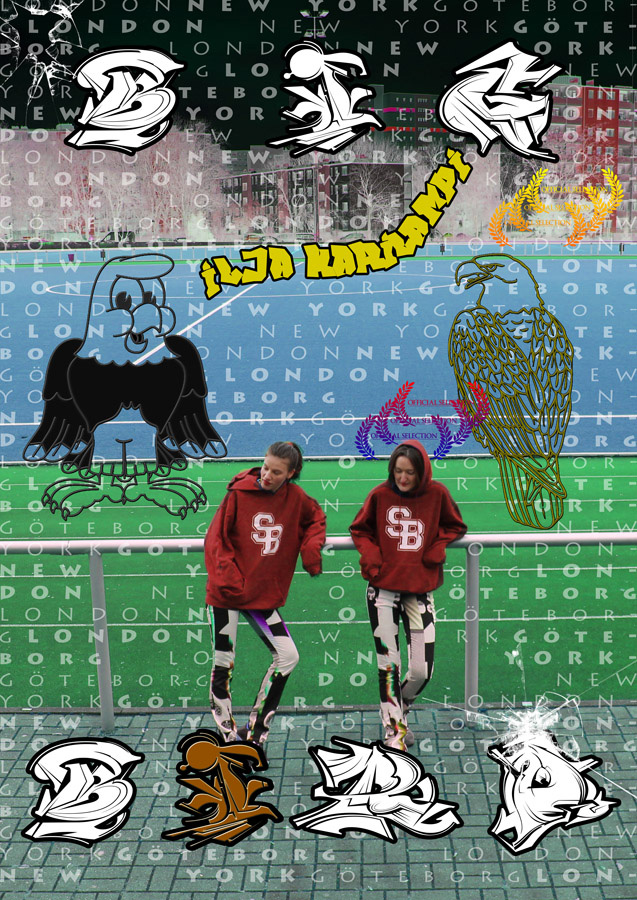 Poster designed by Dan Bodan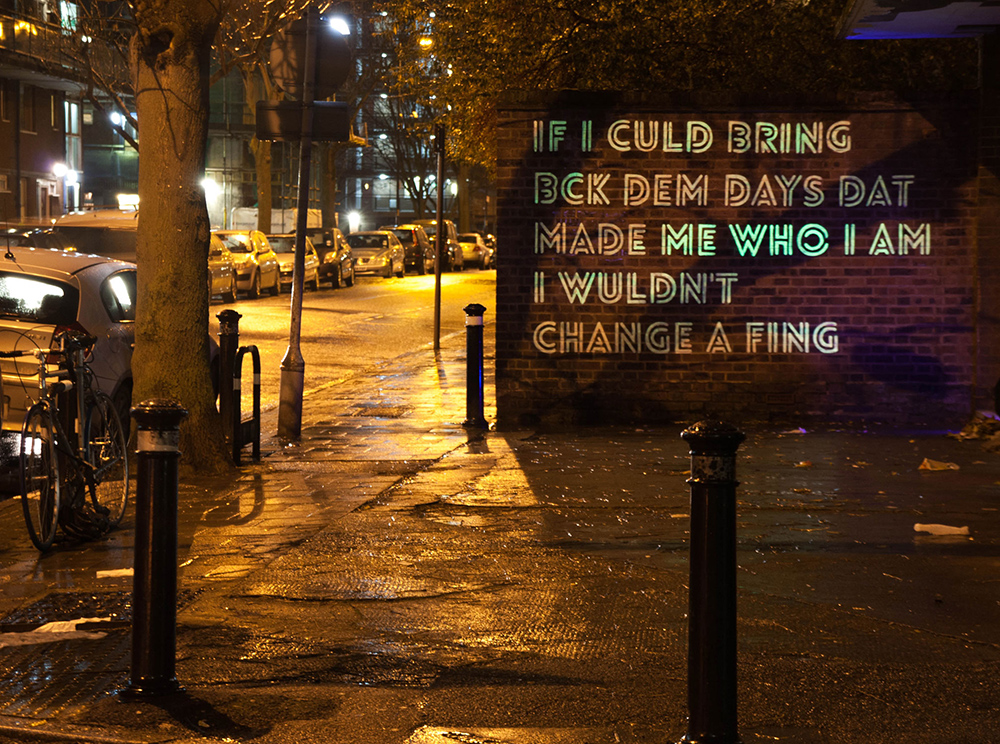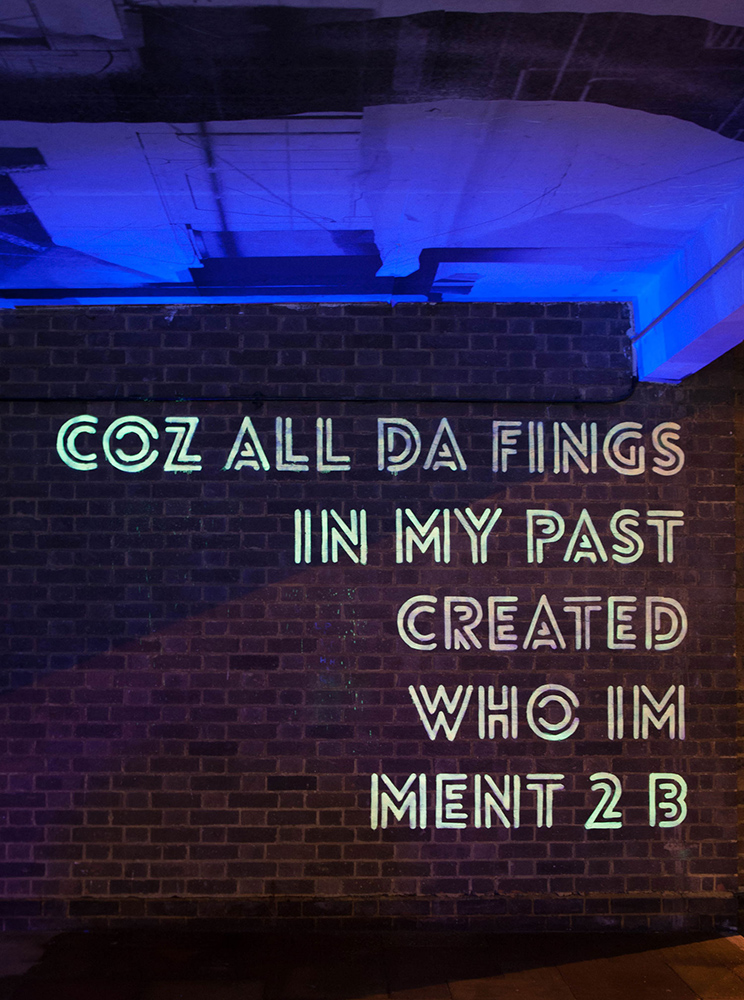 "Medulla Oblongata", Woodmill GP, Bermondsey, London, december 2013

Commissioned wall painting, fluorescent spraypaint on brick wall, UV-light
Sentence based on Wiley lyrics, translated to SMS slang by the local youth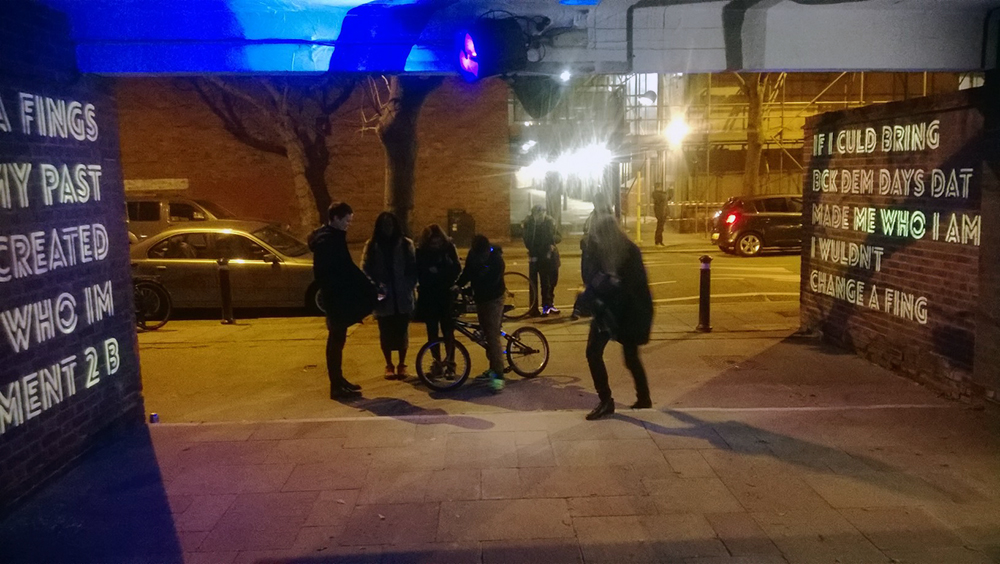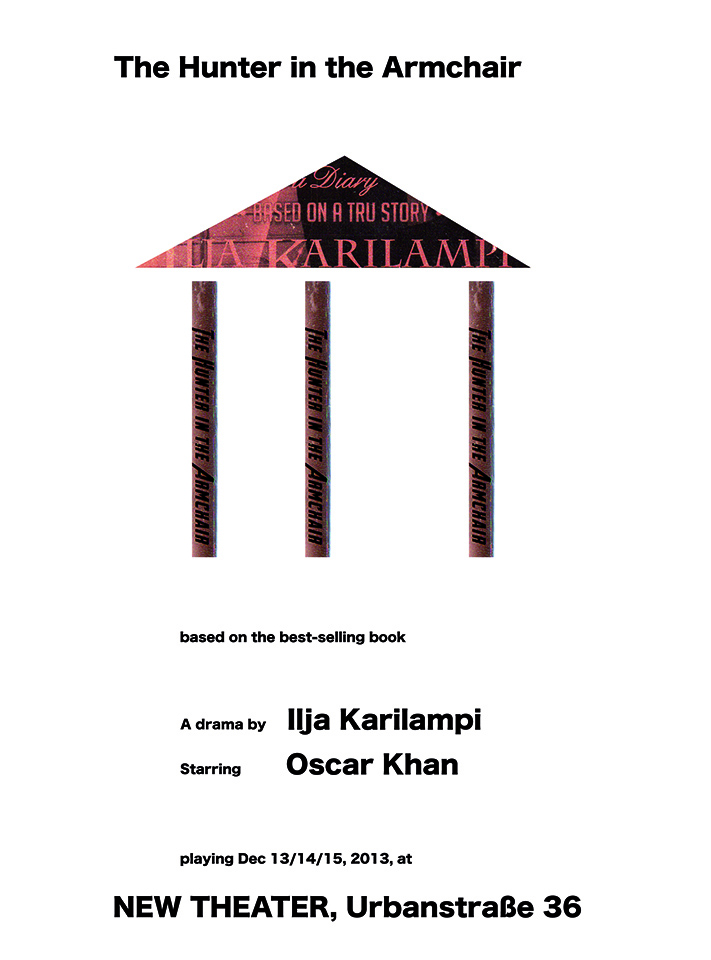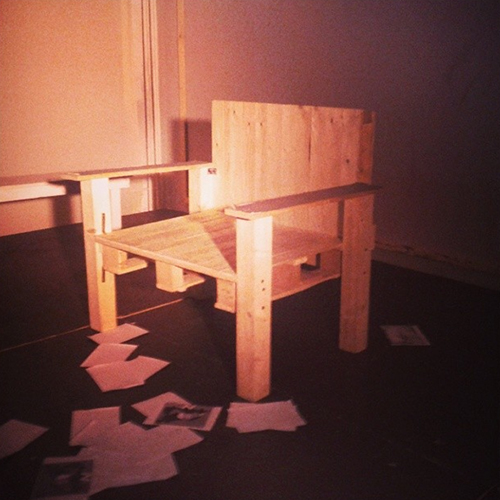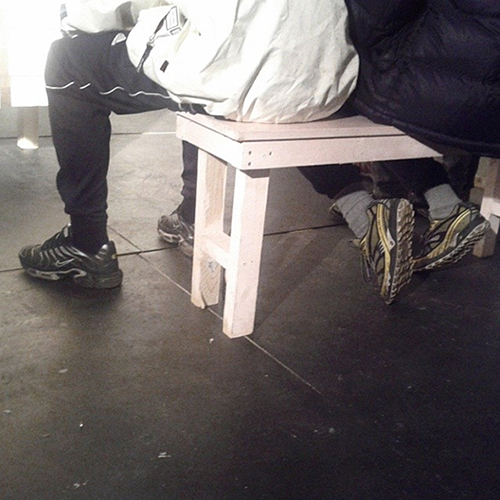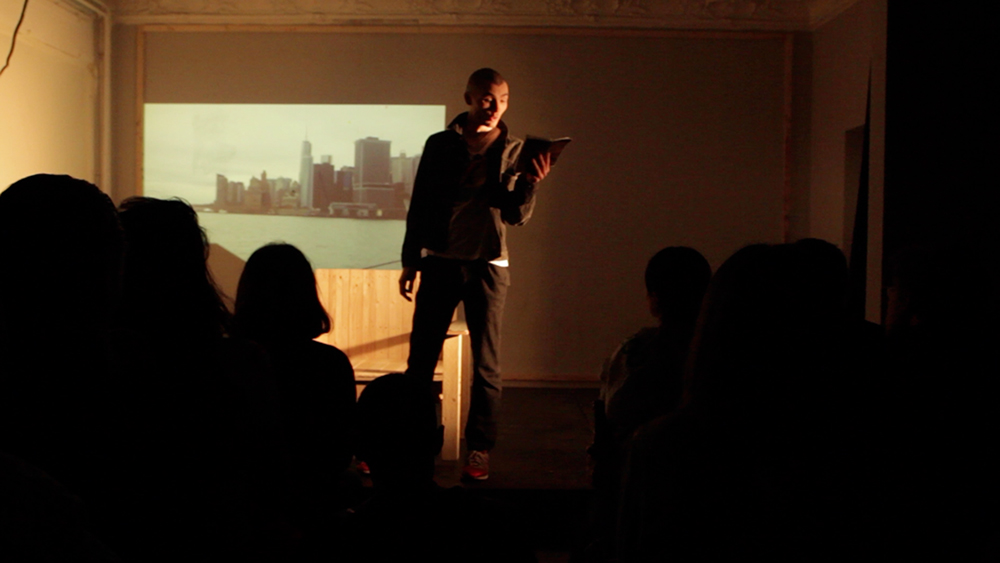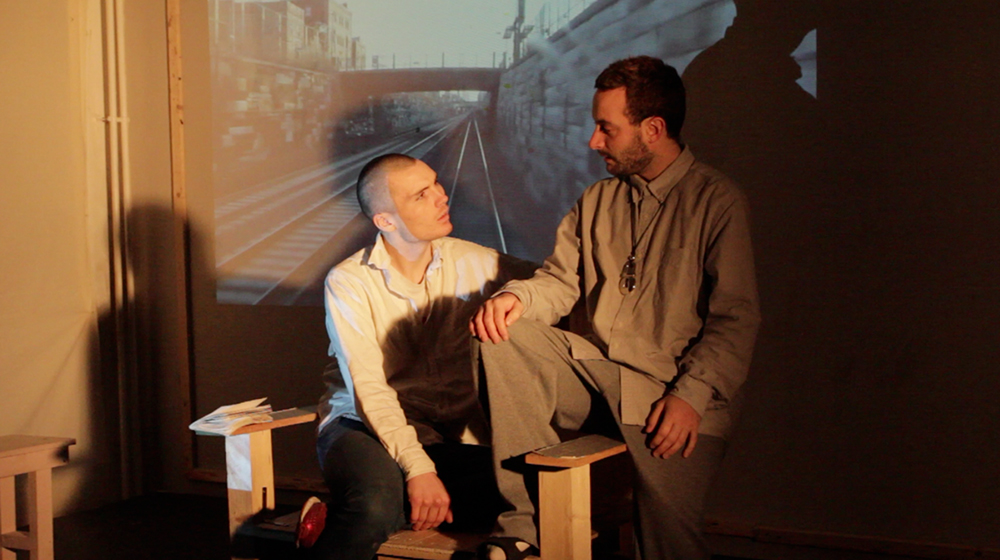 Oscar Khan & Matthew Lutz-Kinoy



– "Hendrix Incident", Berlinische Galerie, IBB-Lounge, Nov 20th - Dec 16th, Berlin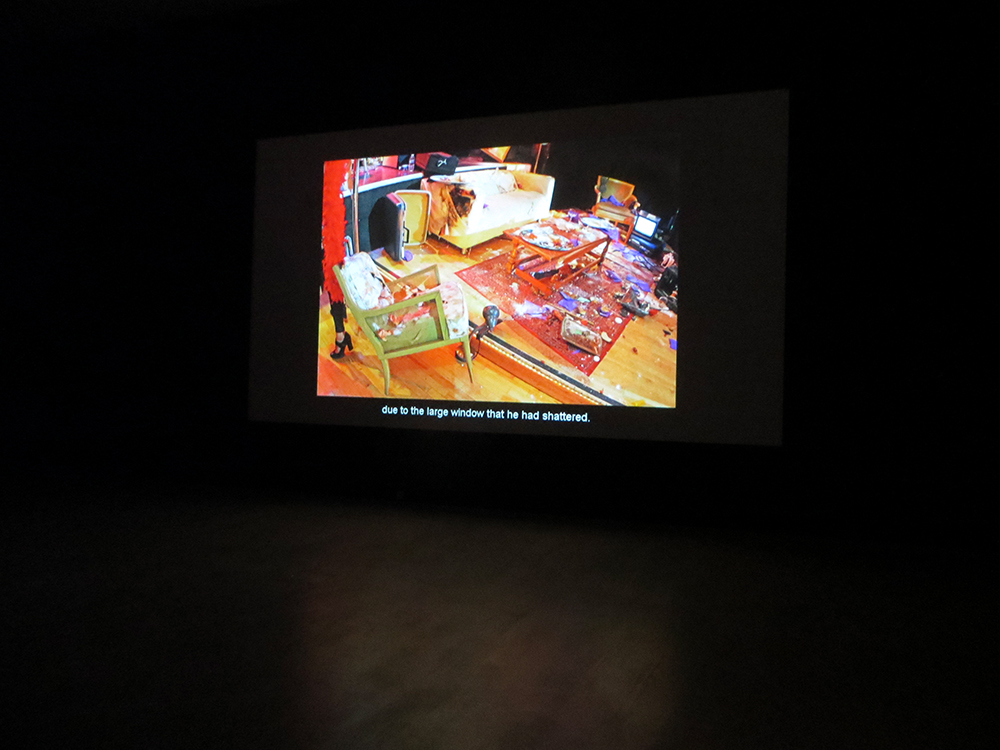 Hendrix Incident, Frame, Frieze Art Fair, London, with Sandy Brown, Oct 17th - 21st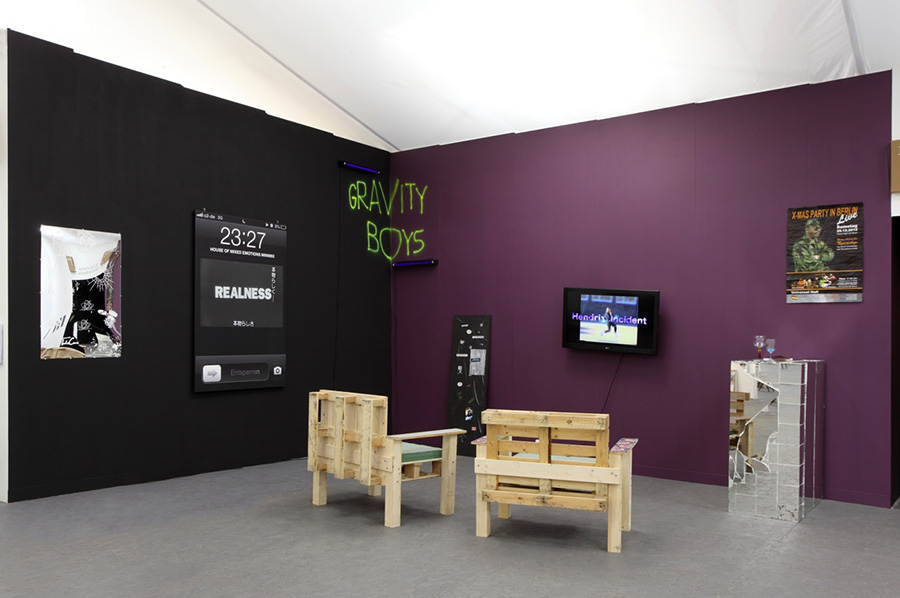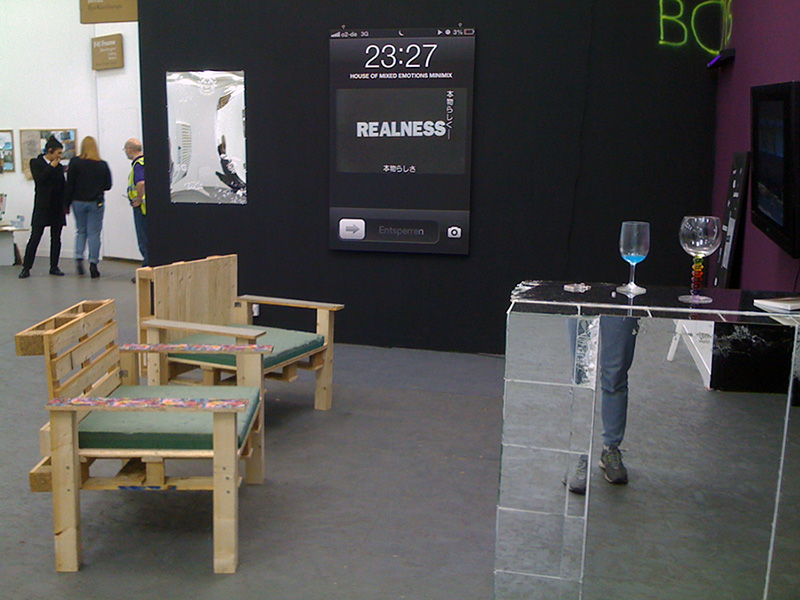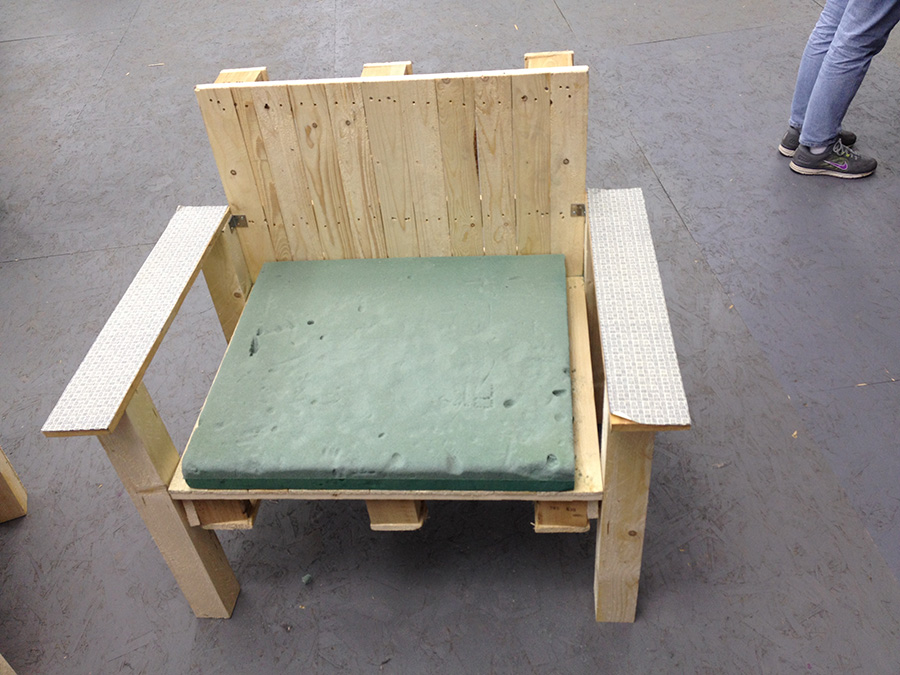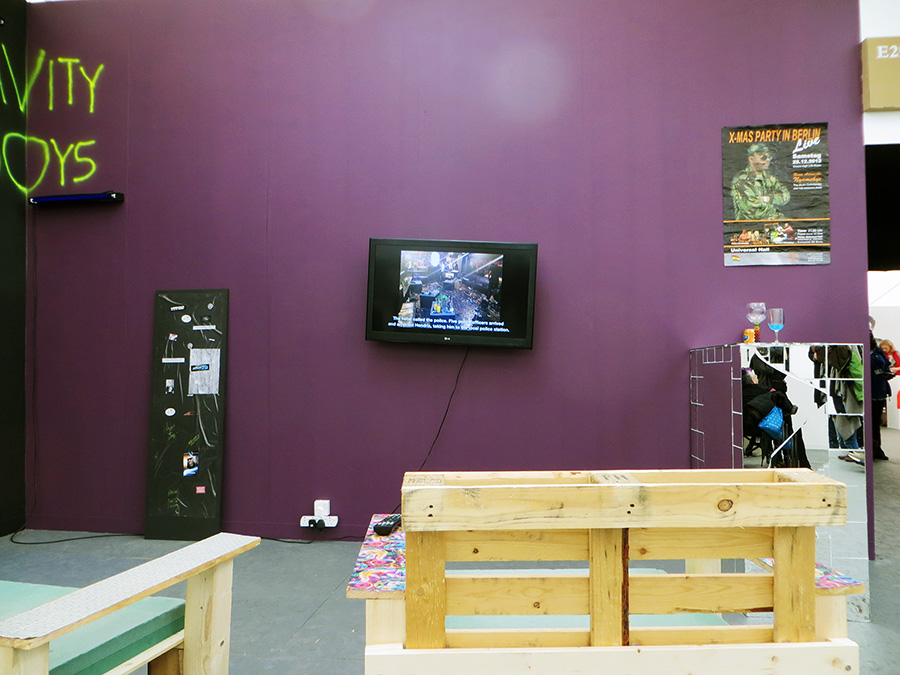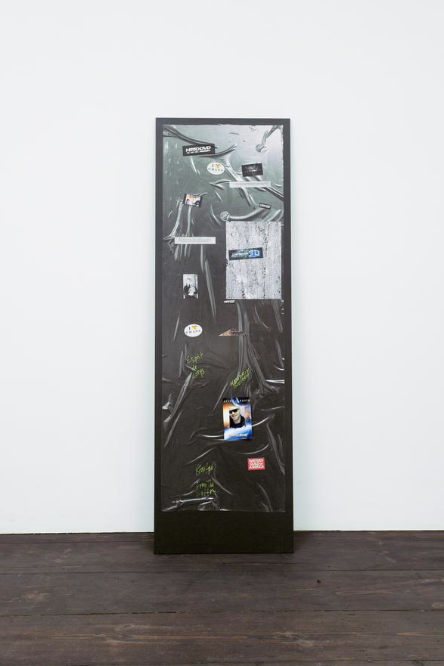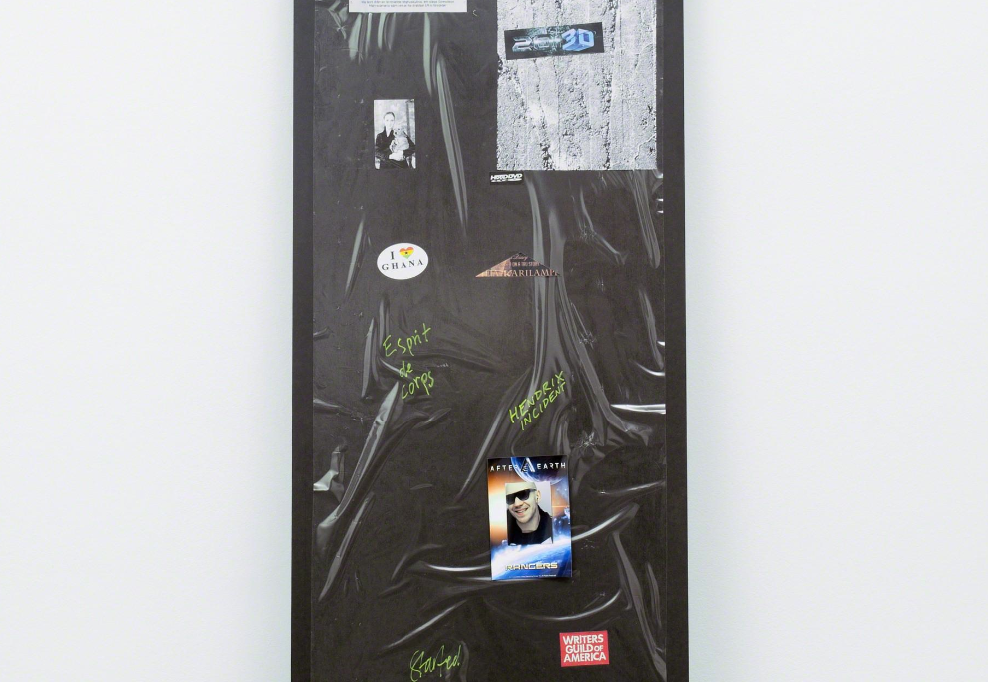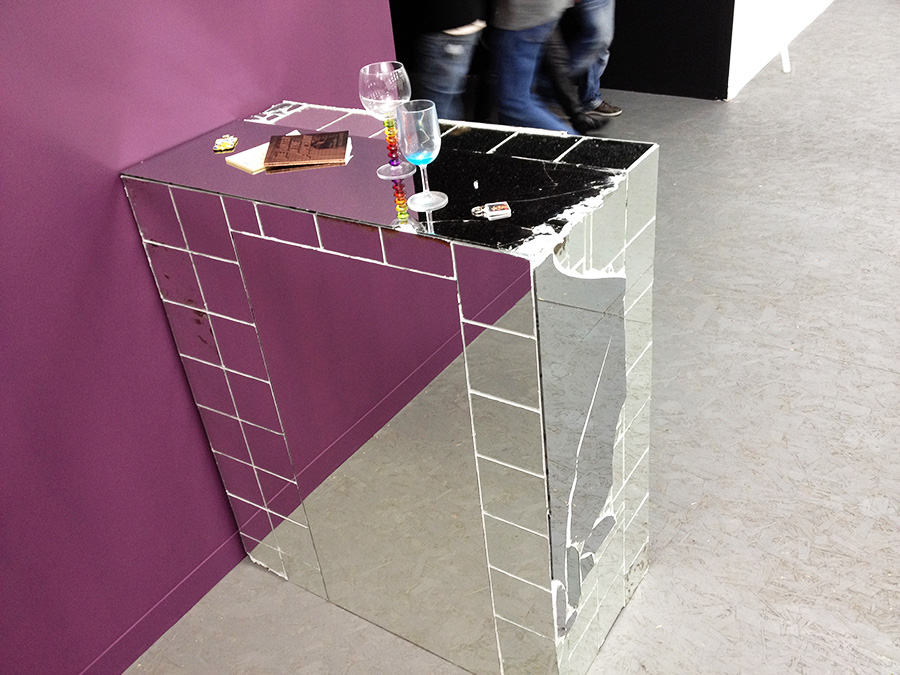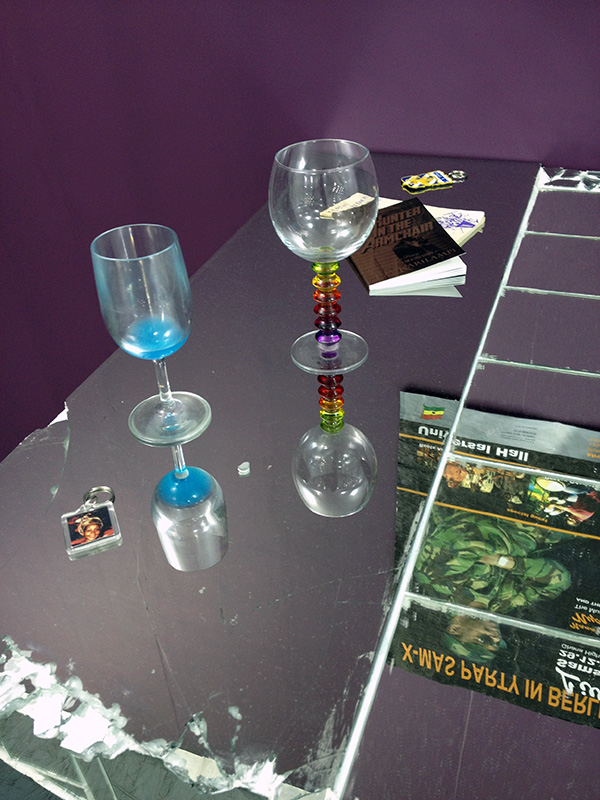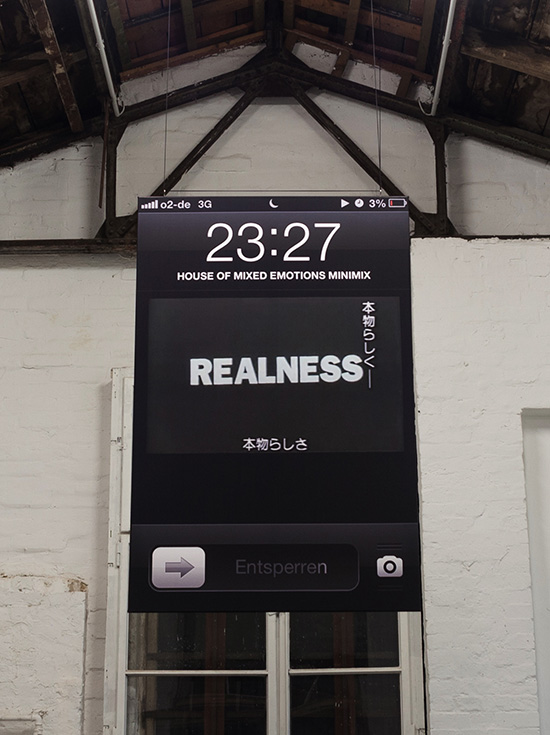 realness mixed emotions
170 x 113 cm
Inkjet print, marker, and spraypaint on canvas
D, Gitschiner Str 20, Berlin, deeeee.de, Sept 18th - 21st



Commissioned works, 2.35:1, Berns Salonger, Stockholm, sept - dec 2013
Self-adhesive vinyl on mdf panels, spraypaint, UV neon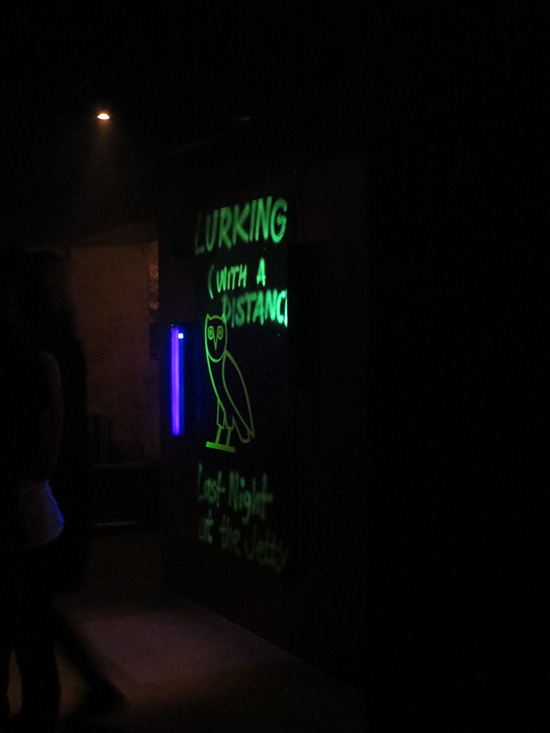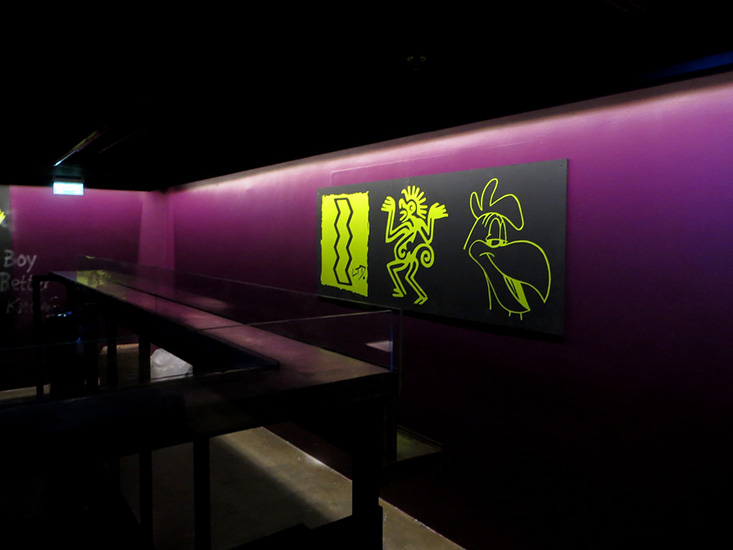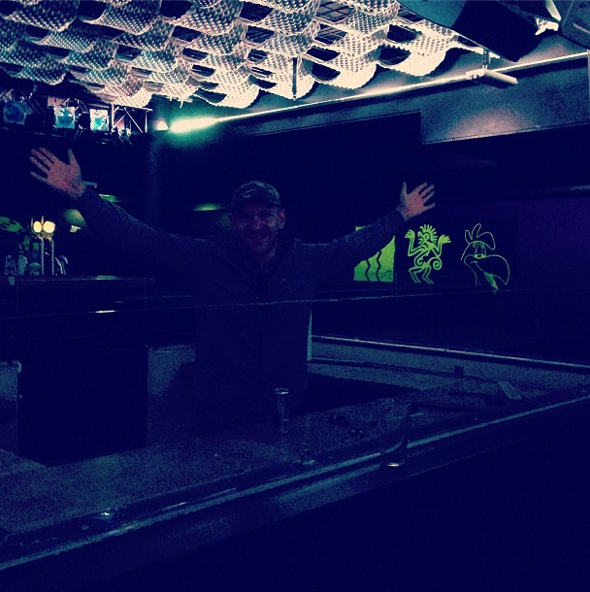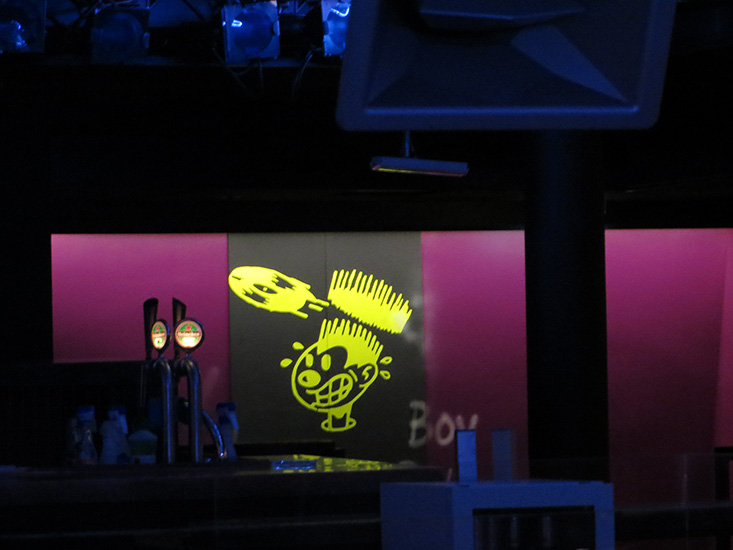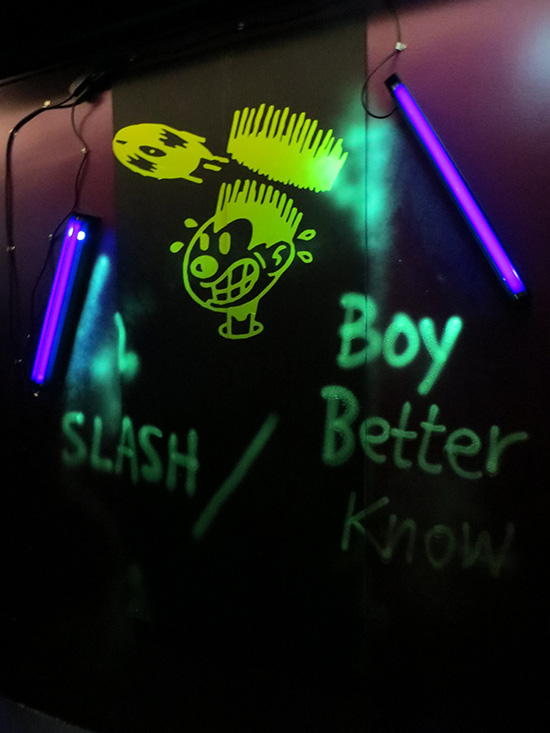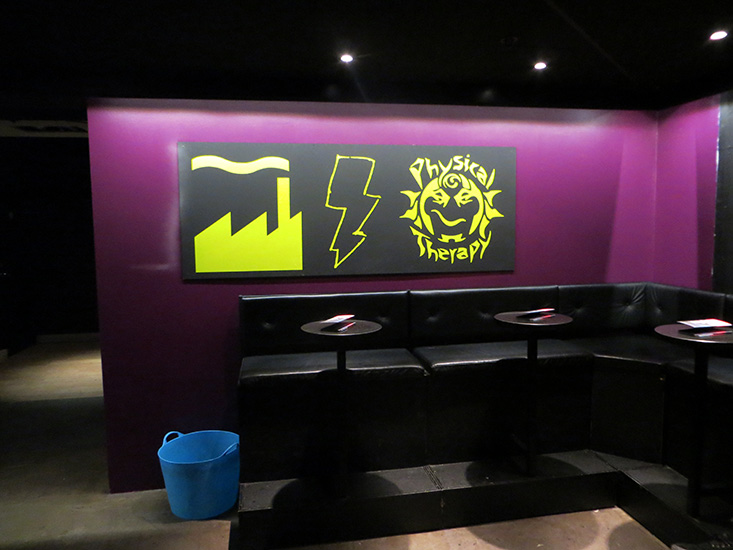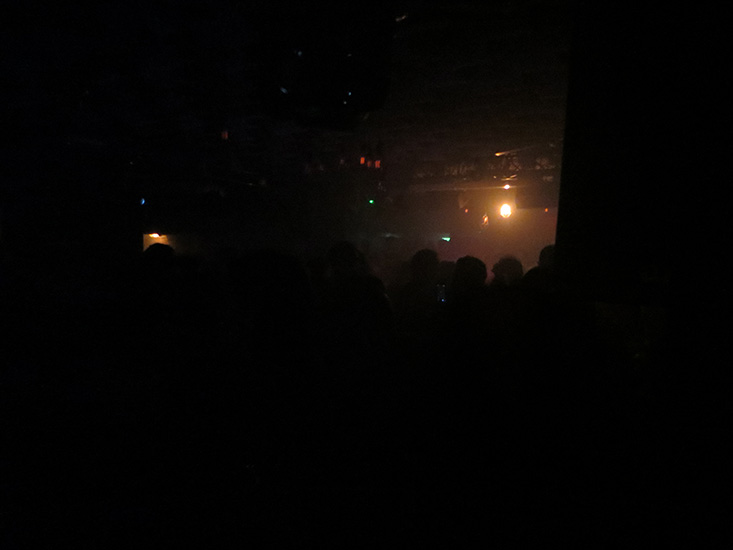 "2013D", Nextart, Göteborg, Sept 6th
Door sculpture, stickers, self-adhesive vinyl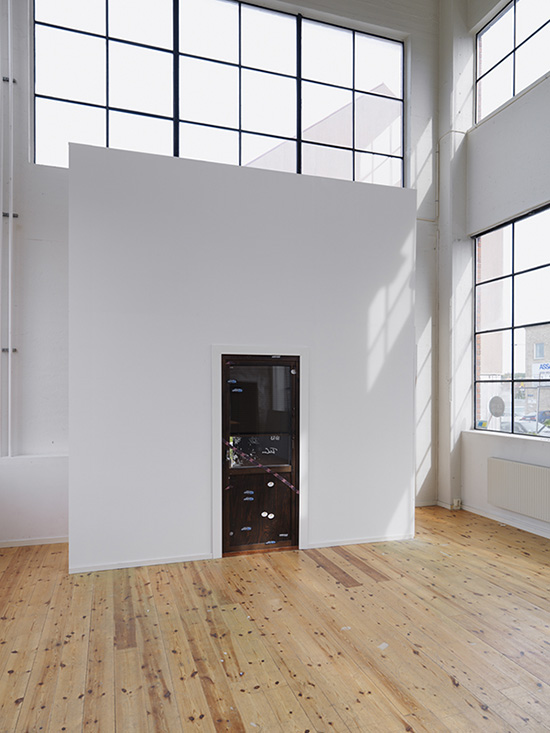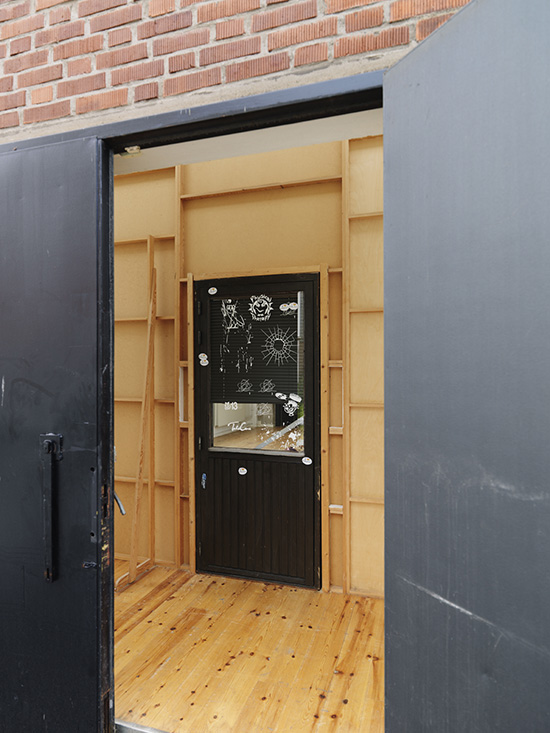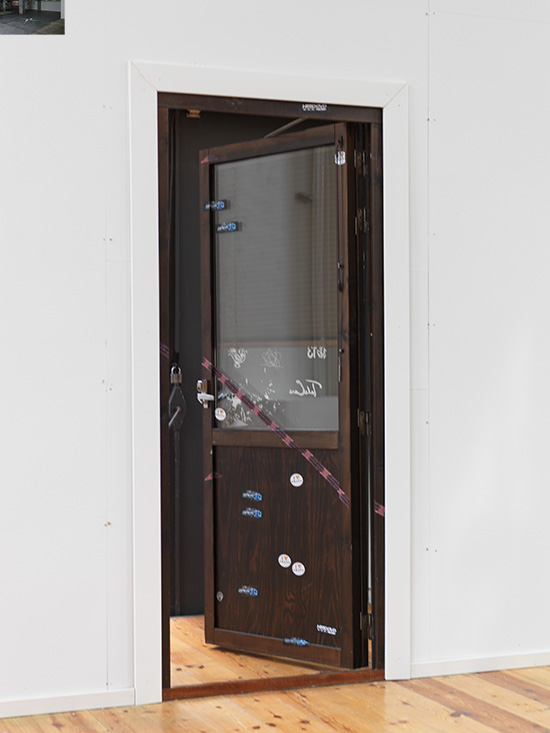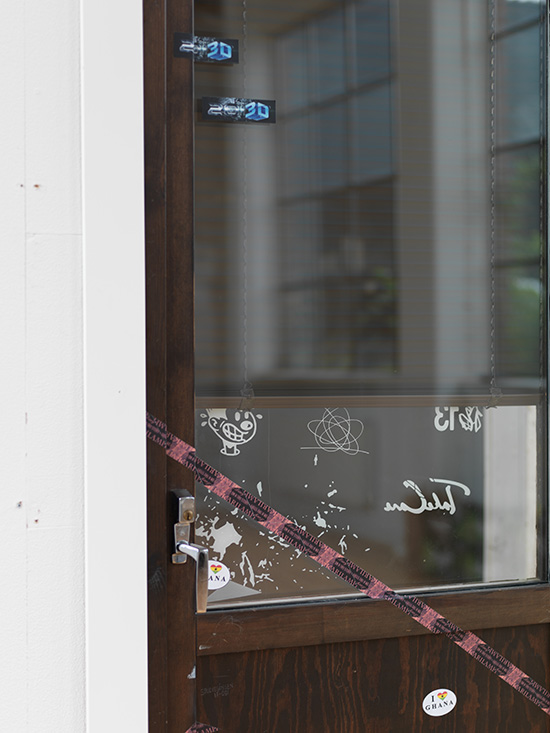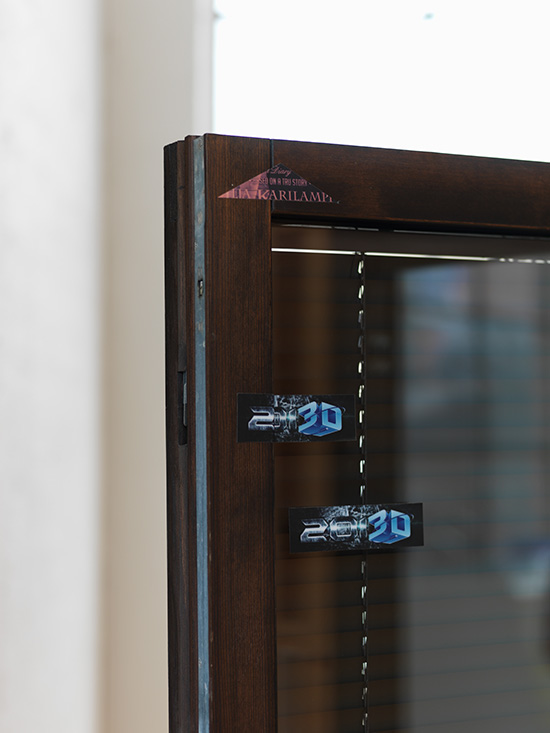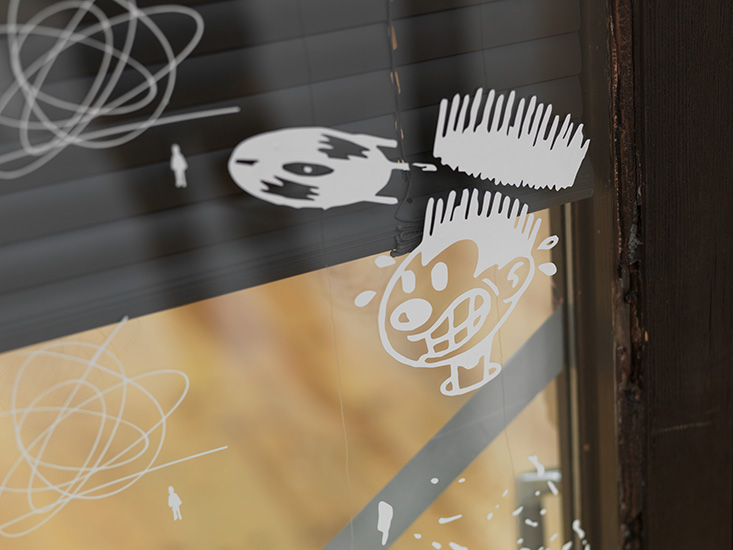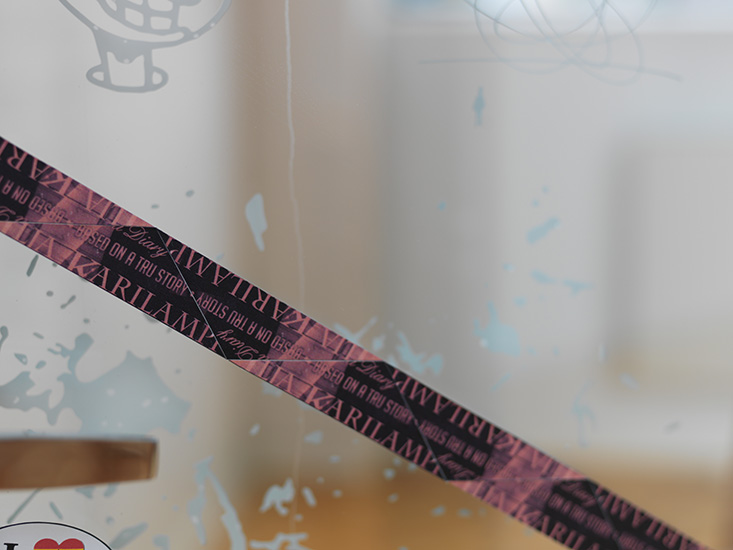 ?13, fluorescent phosphor spray, UV-neon lights, dimensions variable, "The Problem of Everything", Etcama, Amsterdam, 2013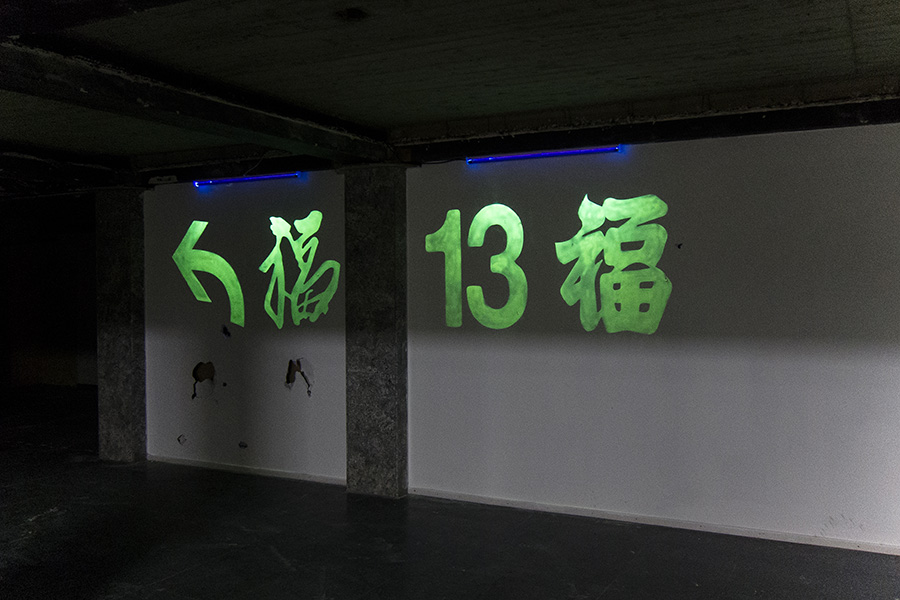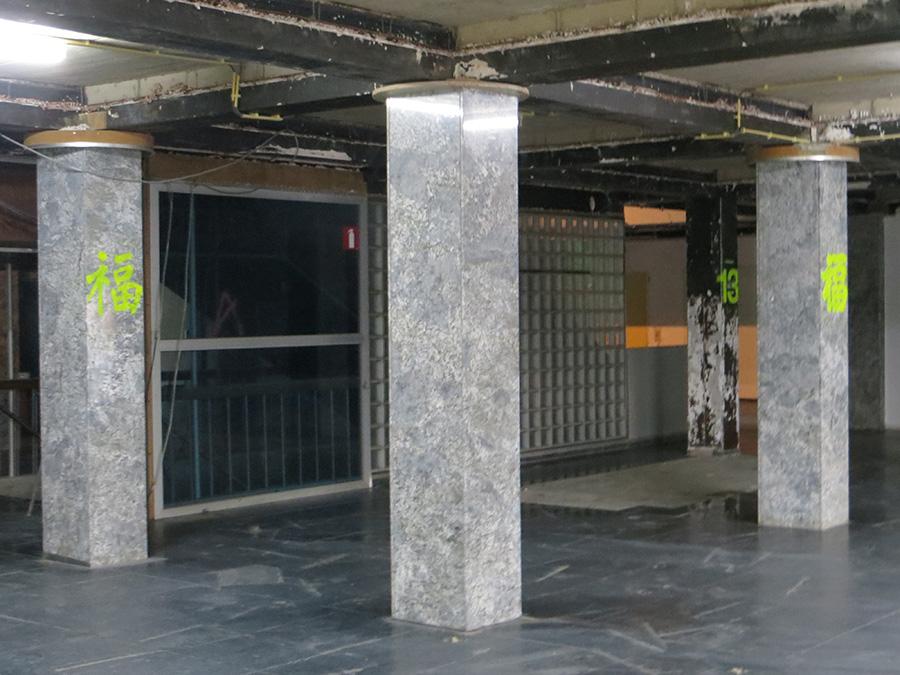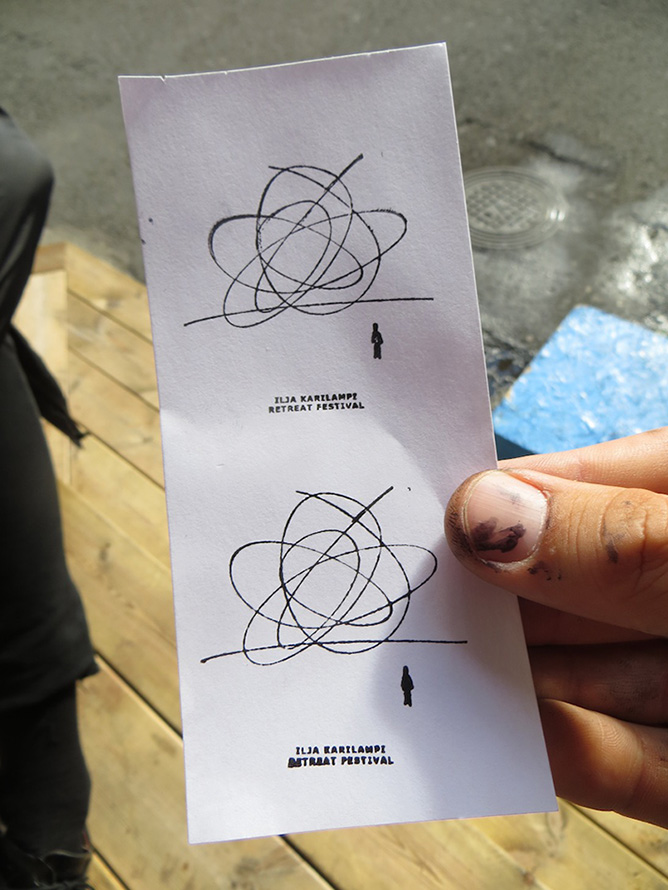 Custom made stamp, Retreat Festival, Stockholm, 2013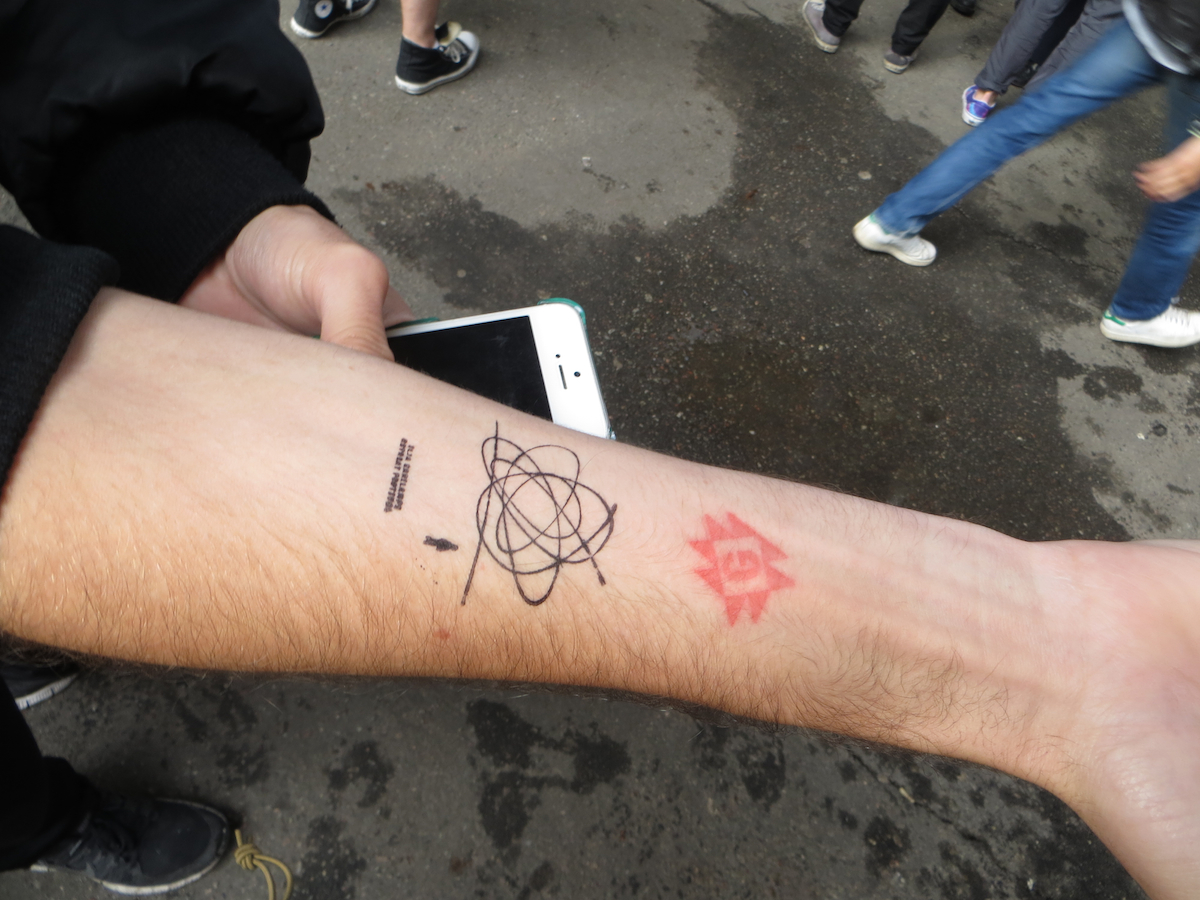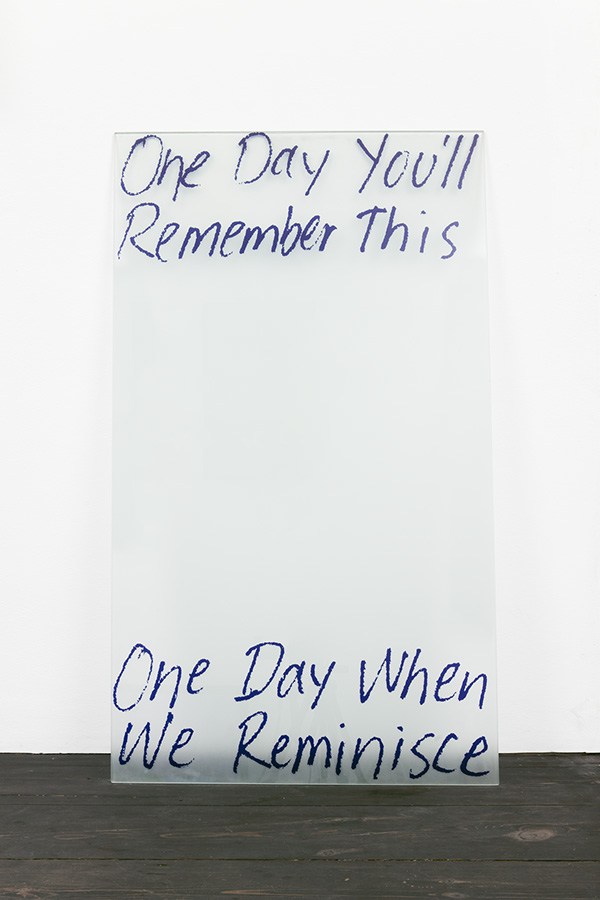 Still I Shine, inkjet print on frosted glass, 80x 140 cm "Liquidate", Sandy Brown, Berlin, 2013



Started From the Bottom
site-specific piece
"Collapse", Fluxia, Milano
March 29 - April 30, 2013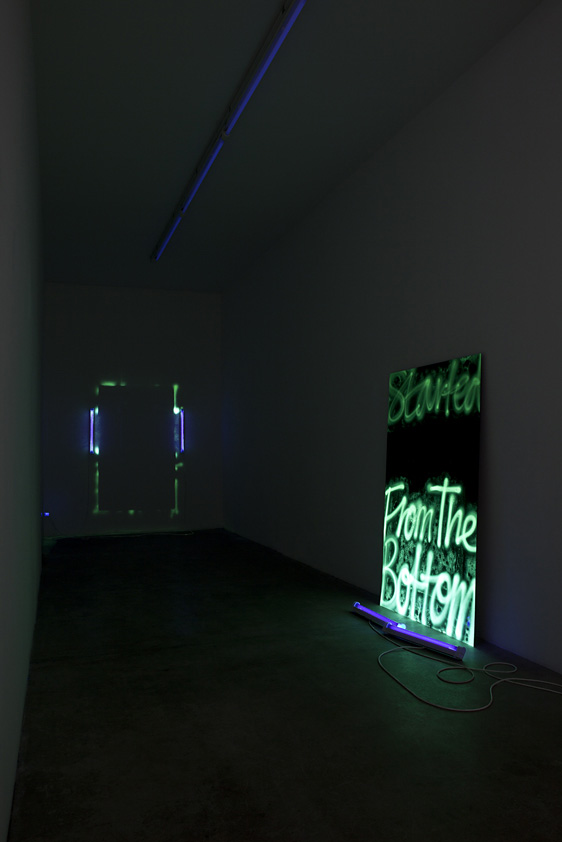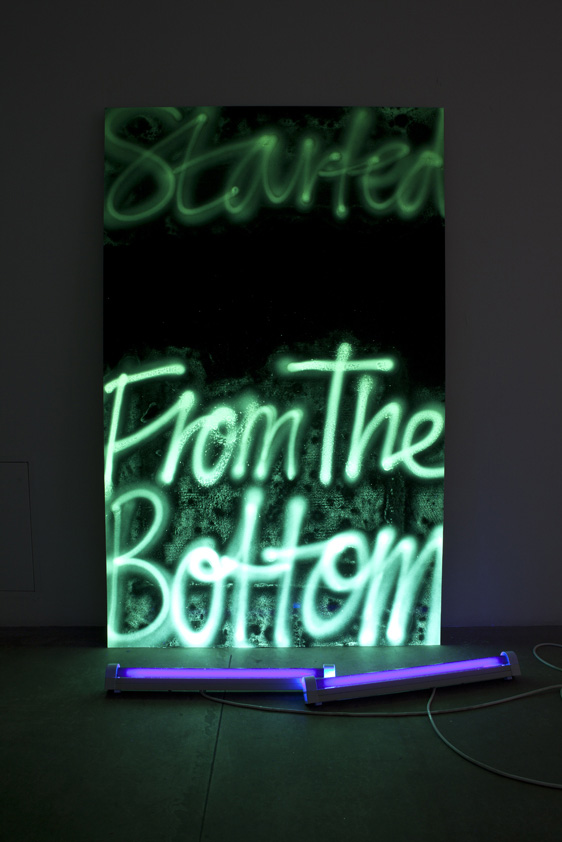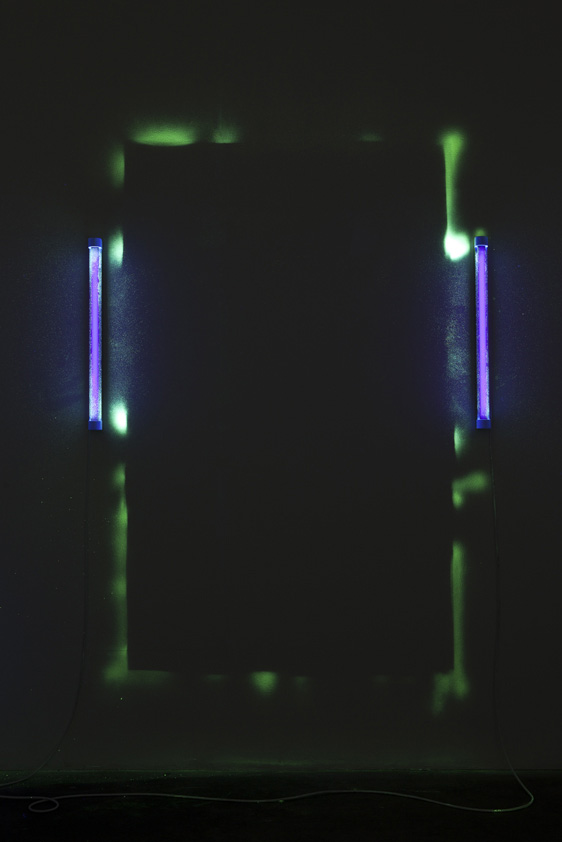 Excerpts from manuscript of The Chief Architect of Gangsta Rap, 2009
Letters custom engraved in font that was used on the "2001" record cover
"Heterotopias", New End Art Foundation, E 43D St, New York, curated by Ariella Wolens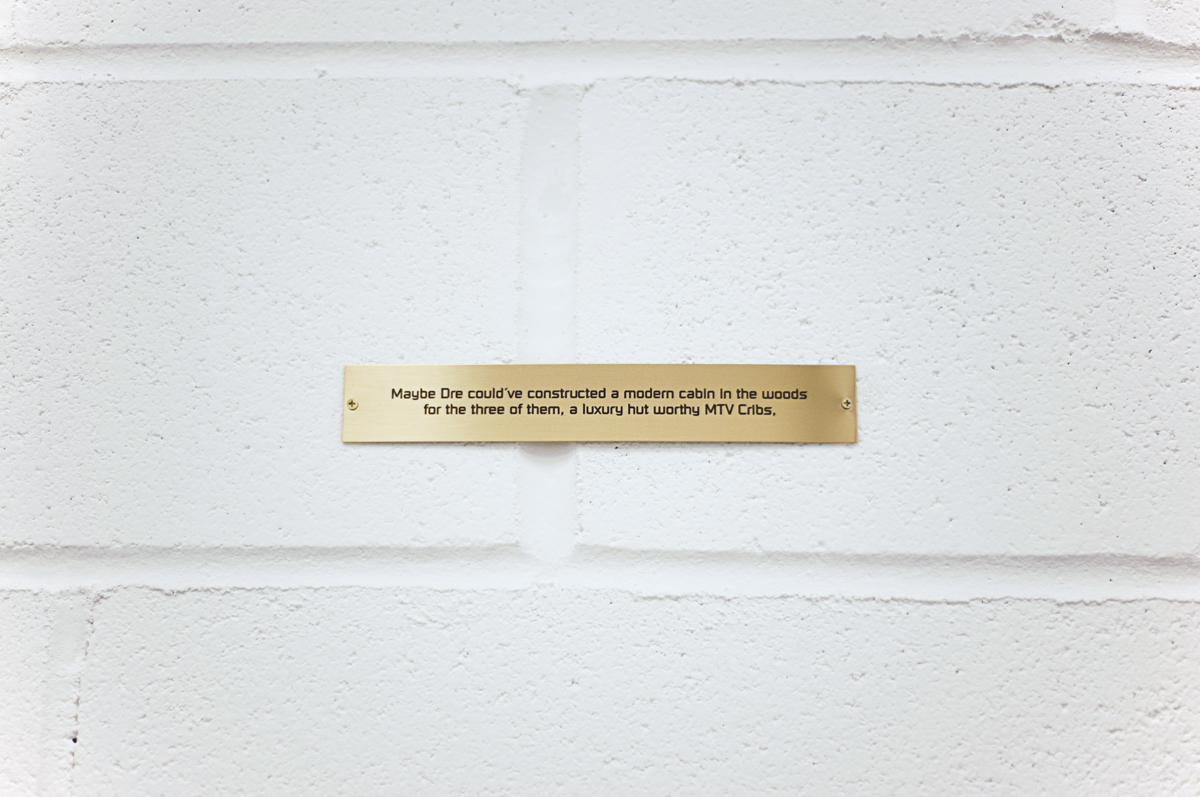 Maybe Dre could´ve, 2013, engraved brass sign, 19 x 3 cm

"Heterotopias", New End Art Foundation, E 43D St, New York, curated by Ariella Wolens
March 16th - 23d, 2013


NYC CTTV CT TV VT CC
Leslie Fritz, New York, Jan. 20 - Feb. 17, 2013

| | | |
| --- | --- | --- |
| | | |
| | | |
| | | |
| | | |
| | | |
| | | |
| | | |
| | | |
| | | |
| | Press release | |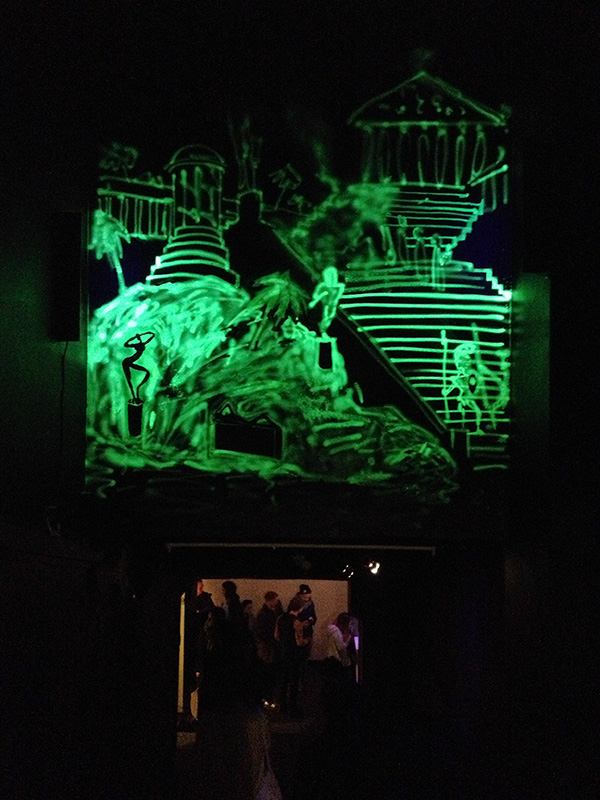 Oscar Andersson (O.A.) - Förslag till Skeppsholmens bebyggande enligt
Verner von Heidenstam. Tuschteckning i Söndags-Nisse 1905.
Revenue, St Eriksgatan 79, Stockholm
Wallpainting, phosphor spray paint, UV fluorescent tubes
Feb.2 - 17, 2013




TRILLENIUM, 2012, wallpainting, phosphor spray paint, UV fluorescent tubes, custom cut mirror
New York Minute, 2012, video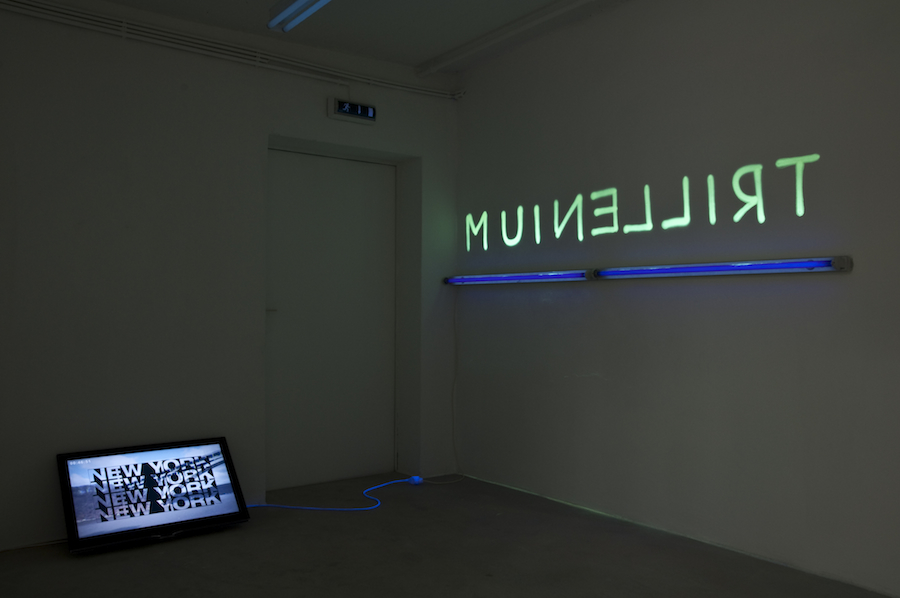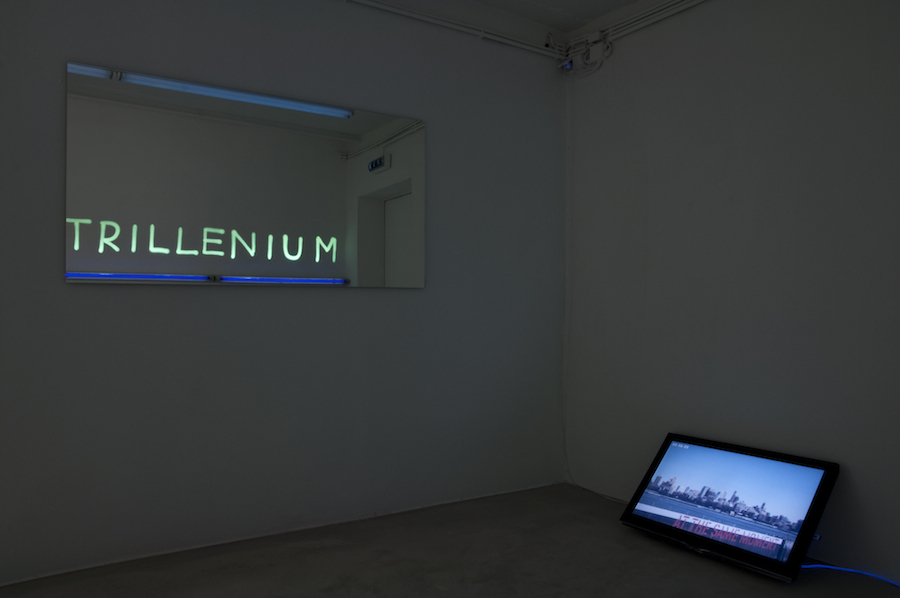 Installation views
"Realness Respect", Kunstverein Medienturm, Graz, 29.09-07.12.2012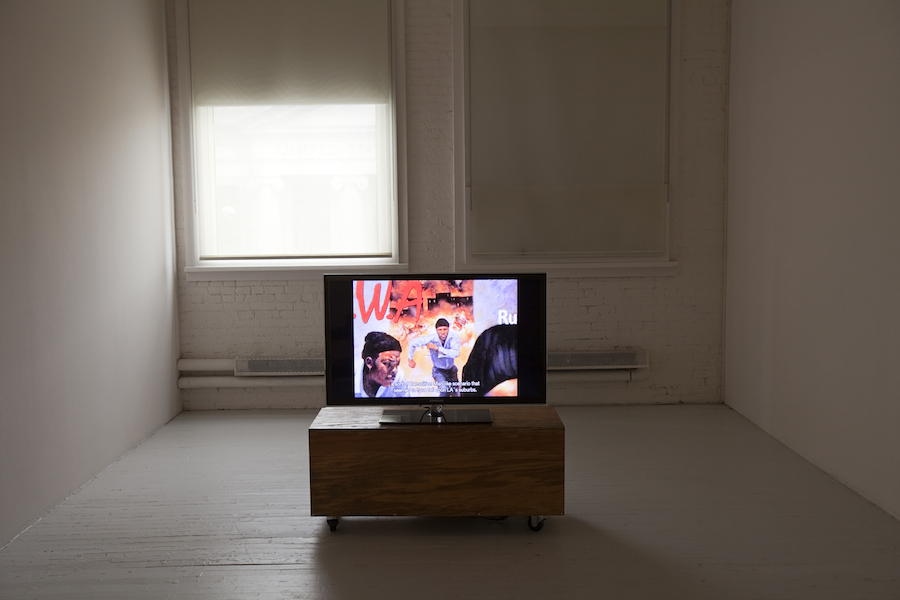 The Chief Architect of Gangsta Rap, June 3—September 17, 2012, MoMA PS1
Video, 11:12, flatscreen, dvd, collected benches and seating from MoMA´s storage department, shades halfway down on the left side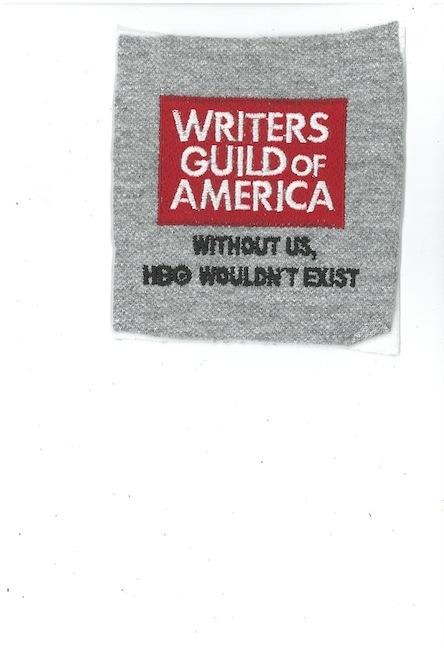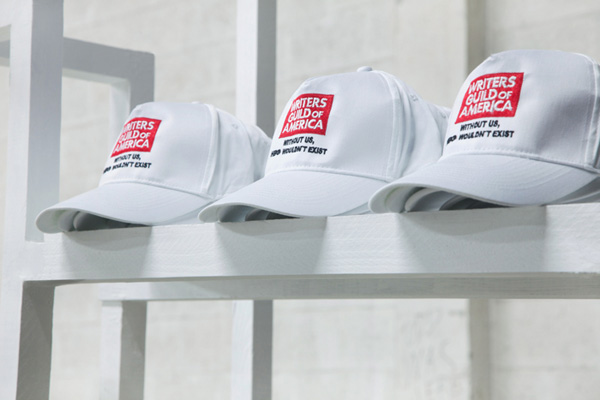 WGA Cap, 2012, custom embroidery on white caps
Edition of 13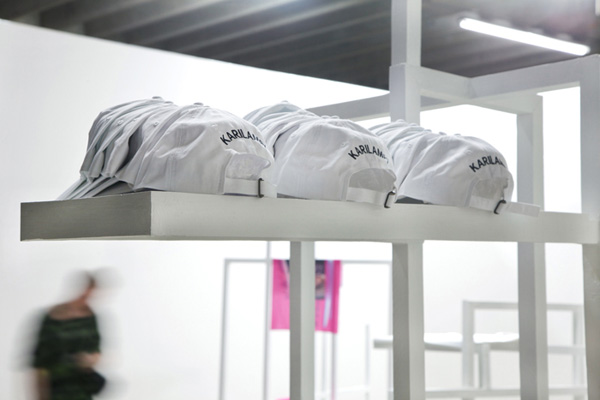 Backside
"Shell-Reflexive", curated by Agatha Wara, Bas Fisher Invitational, Miami, Dec. 4, 2012 - Jan. 20, 2013







October 5–27, 2012
New Jerseyy, Hüningerstrasse 18, Basel
Opening: October 4, 6 pm
The Hunter in the Armchair, book launch & reading: October 6, 8 pm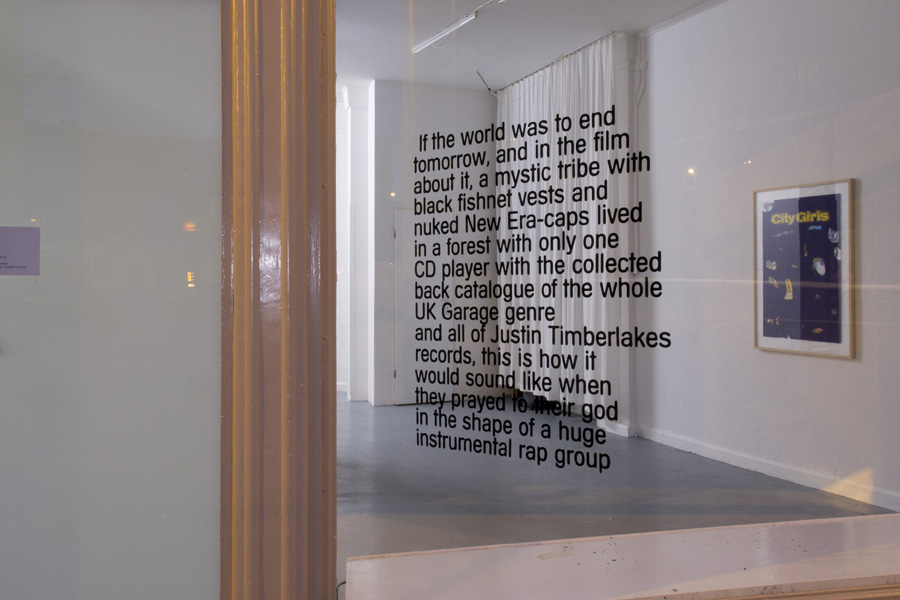 TITEL / TITLE, 2012, vinyl letters on window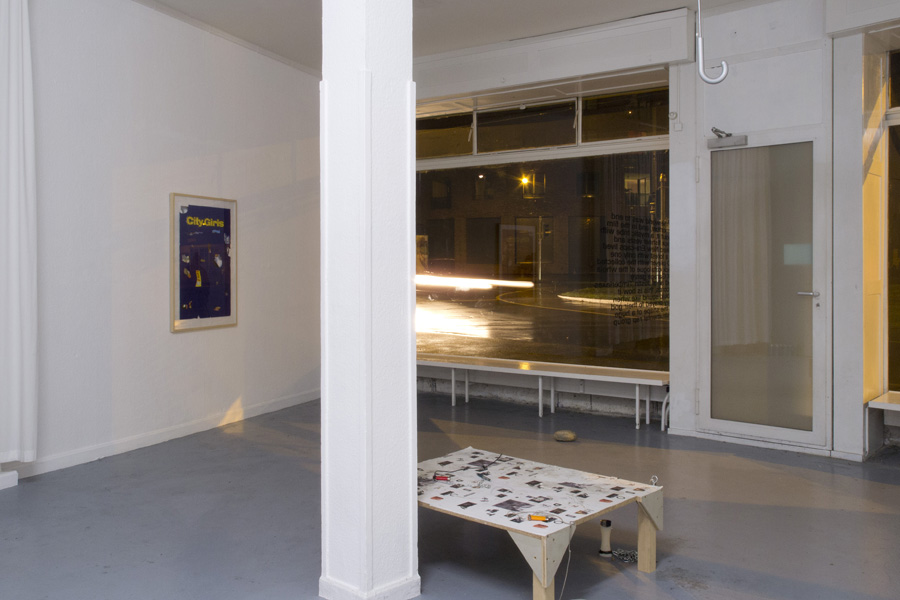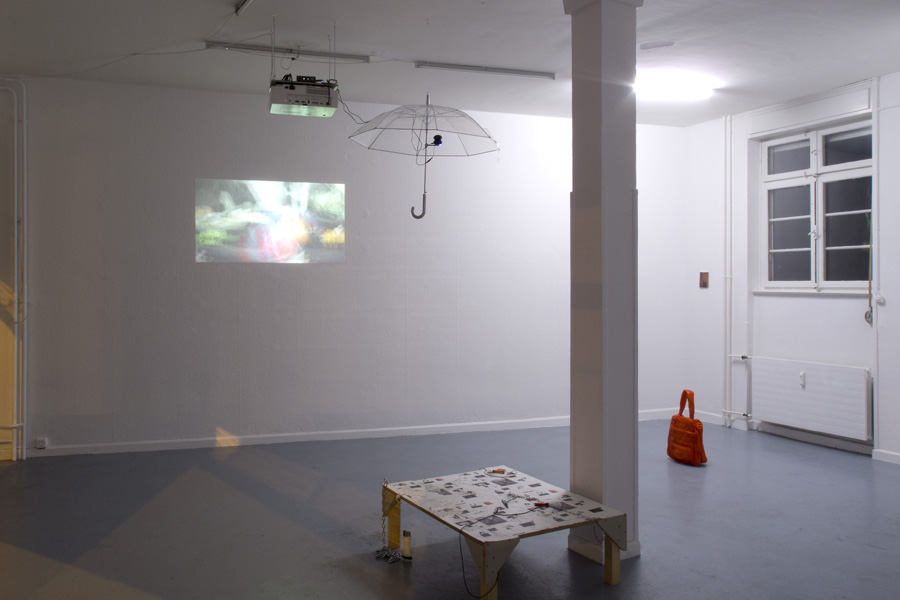 W€LL $PENT, 2012, HD video with sound, looped
metallic projection paint, DIY umbrella speaker, DV box



warez_house h00dumentary table, 2012, wood, offset posters, lighters, chains, strings, pen, footprints, residue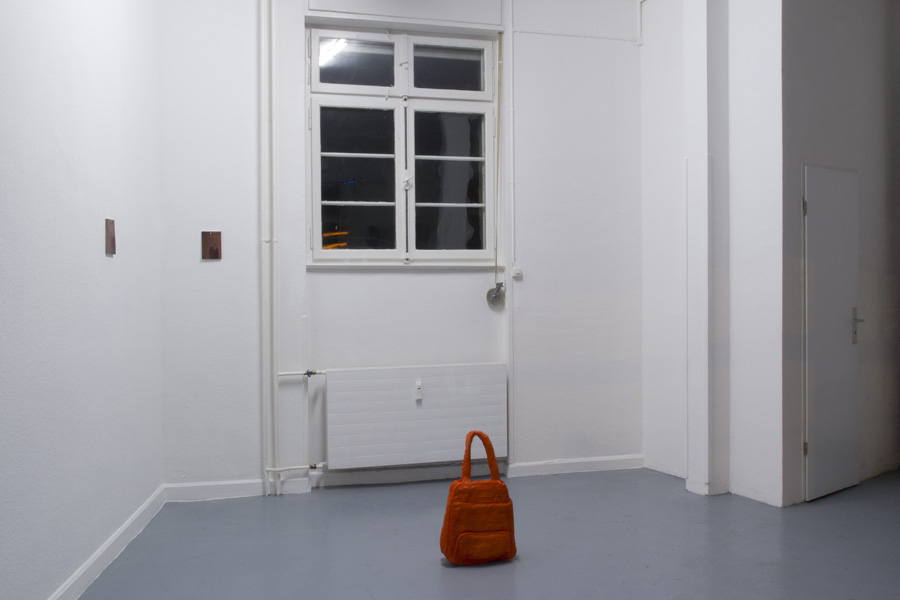 LugLife (Dubbla Hastigheten), 2012, cast, expandable polyethylene foam, spray paint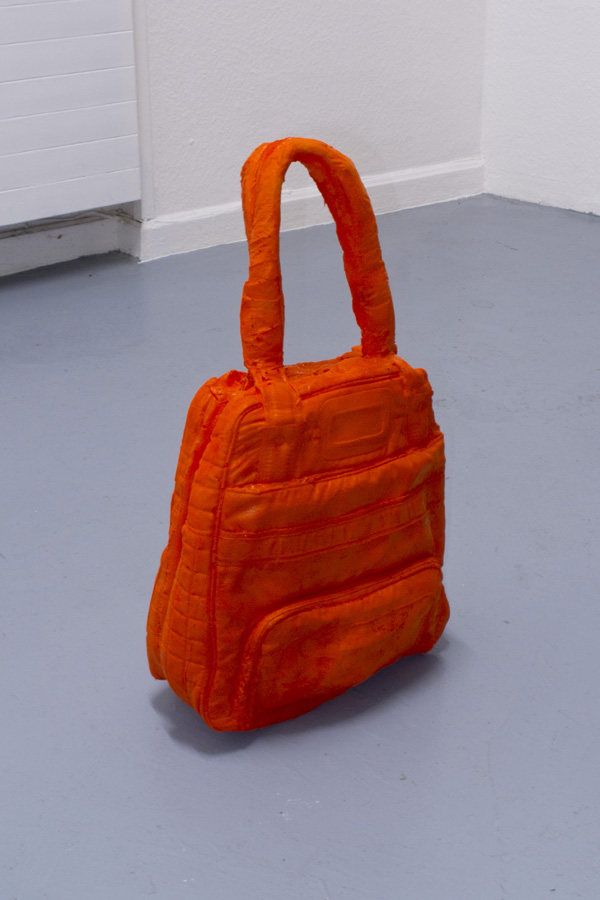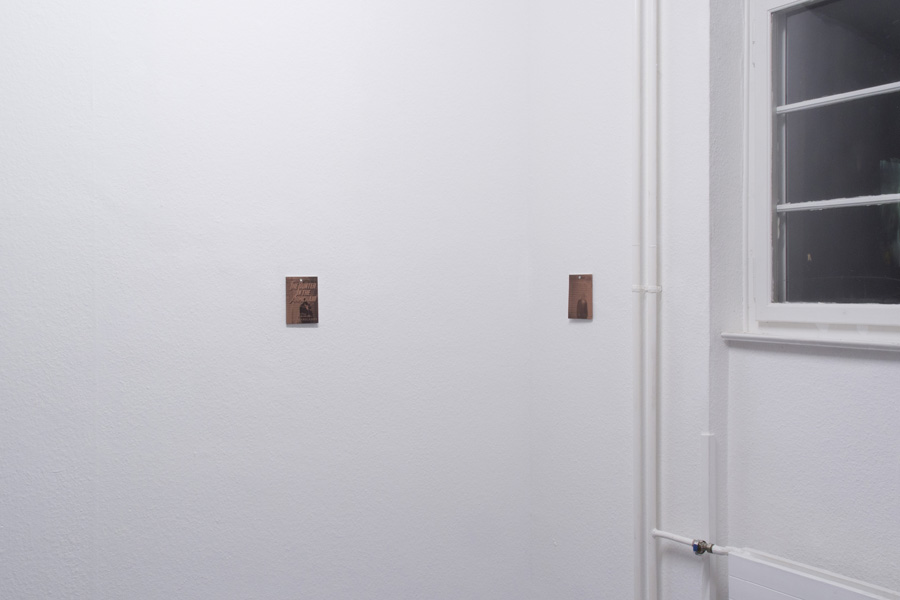 The Hunter in the Armchair, 2012, published by Morava Books, ISBN: 978-83-933762-4-7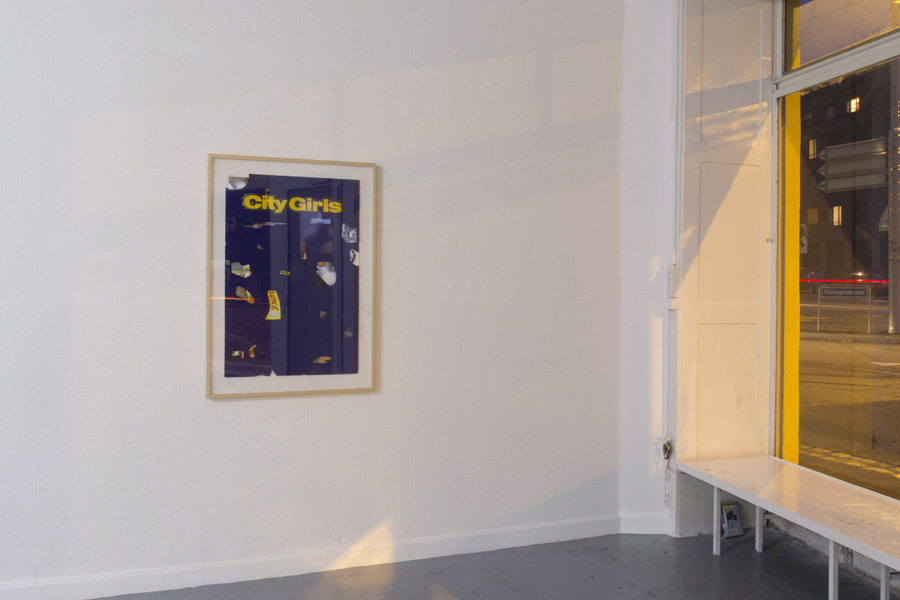 City Girls (De rising sun production Ltd. Hardbrücke), 2012, Acrylic paint on Nigerian film poster, bubble wrap, custom glass frame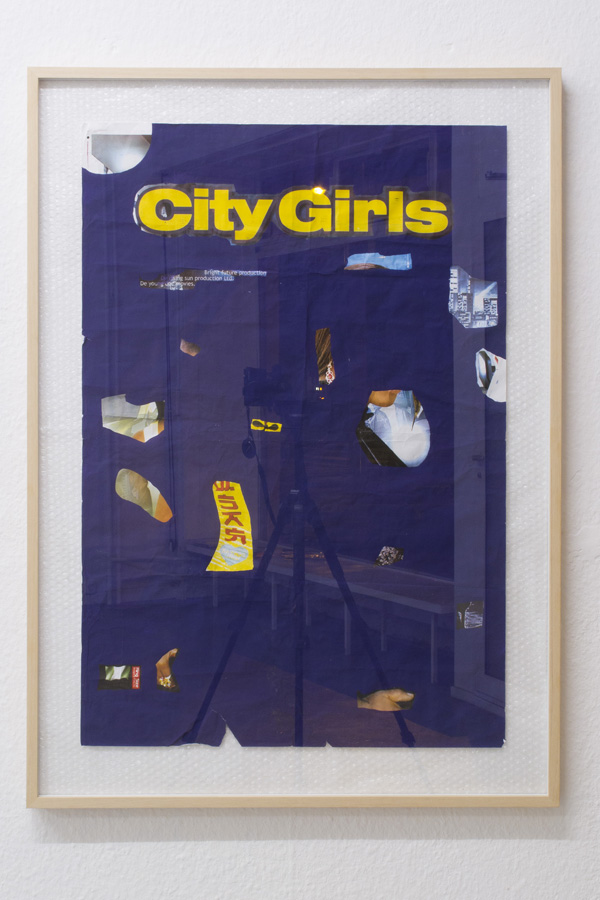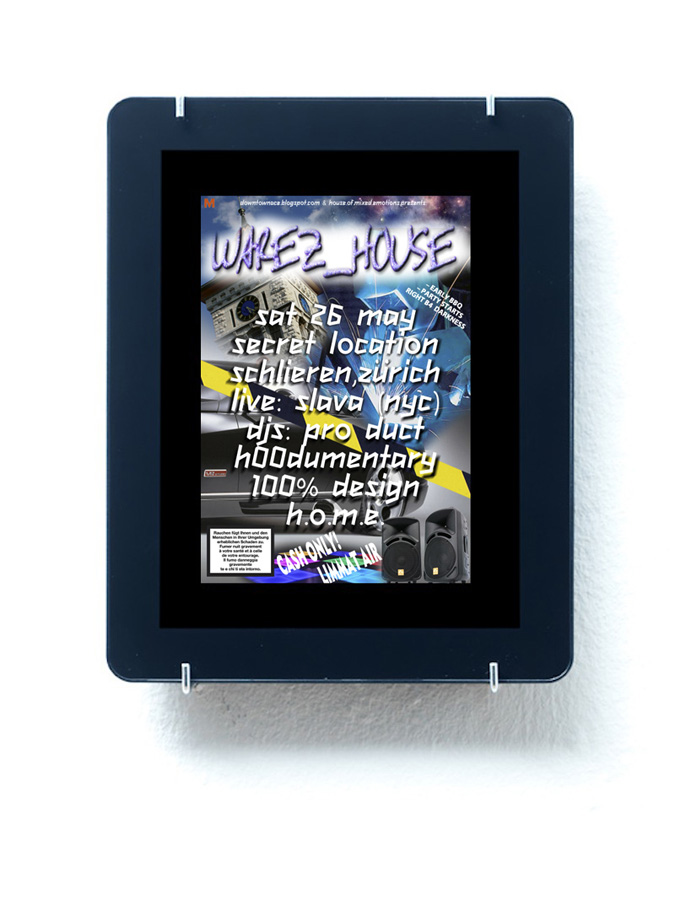 WAREZ_HOUSE
2012
Jpeg, 652 X 454 pixels, Agfa digital photo frame, 212 x 170 x 18 mm, Unique
"Power of Consumption", Club Midnight, Berlin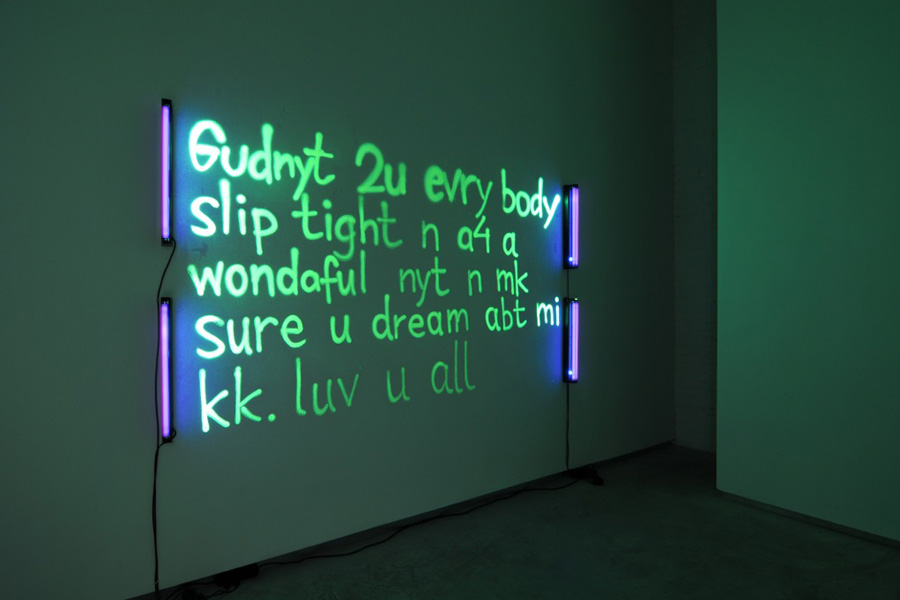 Gudnyt 2u evri body slip tight n a4 a wondaful nyt n mk sure u dream abt mi kk luv u all
2012
Phosphor spray paint, 4 UV fluorescent tubes ,280 x 196 cm
"Domino Effect", Galerie Catherine Bastide, Brussels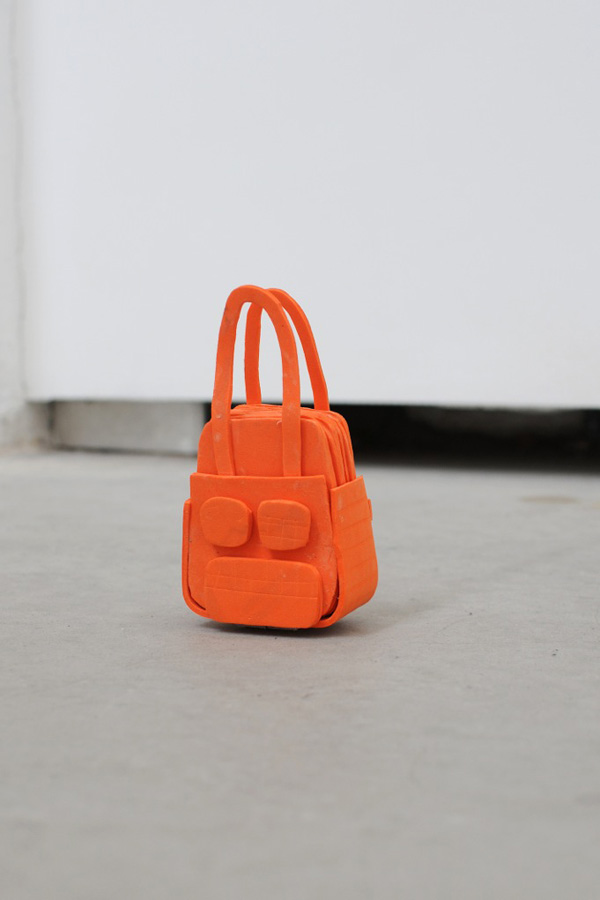 LugLife (Graz)
2012
Ethylene-vinyl acetate foam 7,5 x 15 x 4,8 cm
"Domino Effect", Galerie Catherine Bastide, Brussels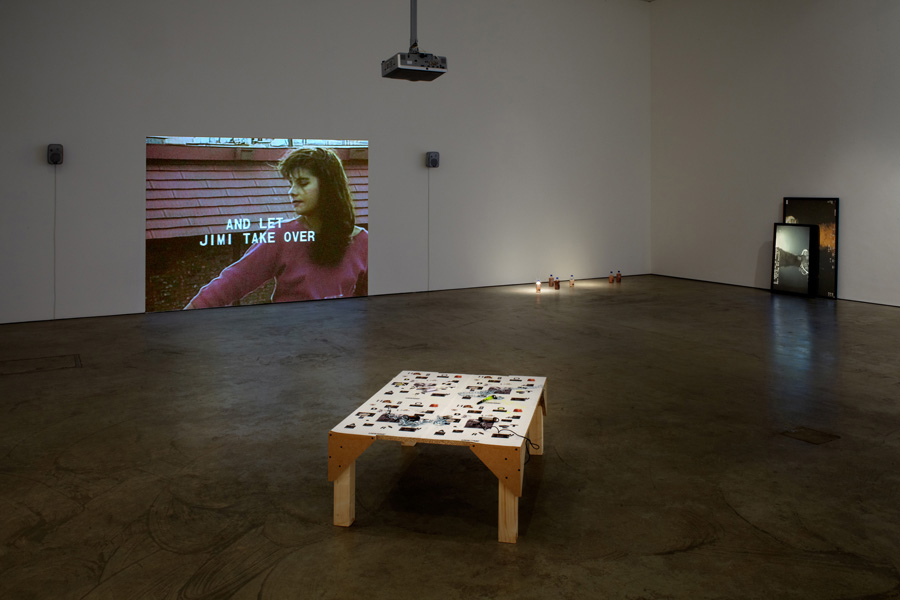 h00dumentary warez_house table (Berlin remix)
2012
Wood, posters, lighters, chains, string, pen, footprints (84 * 116 * 40 cm)
View: How to eclipse the light, Wilkinson Gallery, London. (From left to right, background: Dara Birnbaum, Pamela Rosenkranz, Bernadette Corporation)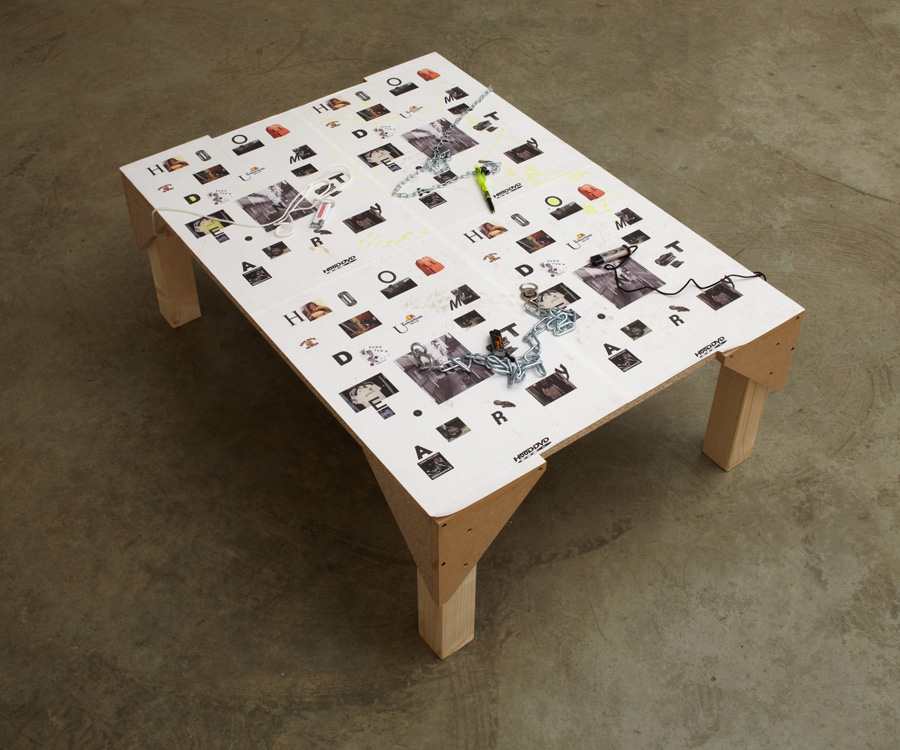 h00dumentary warez_house table (Berlin remix)
2012
Wood, posters, lighters, chains, string, pen, footprints (84 * 116 * 40 cm)
Detail




– The Hunter in the Armchair, published on Morava Books, order it here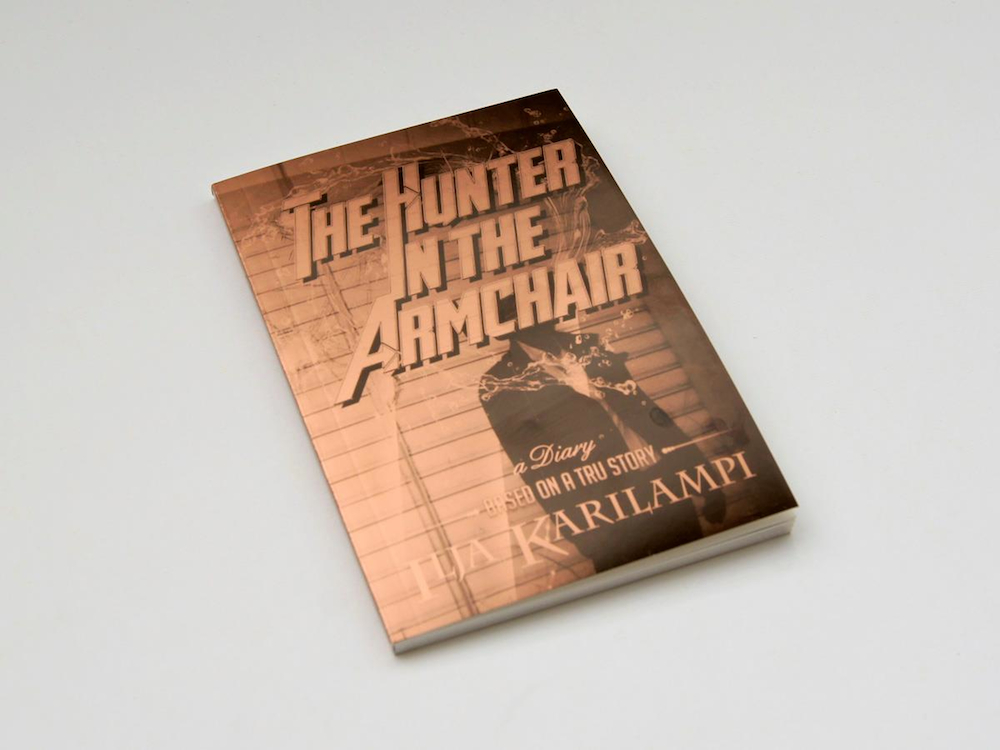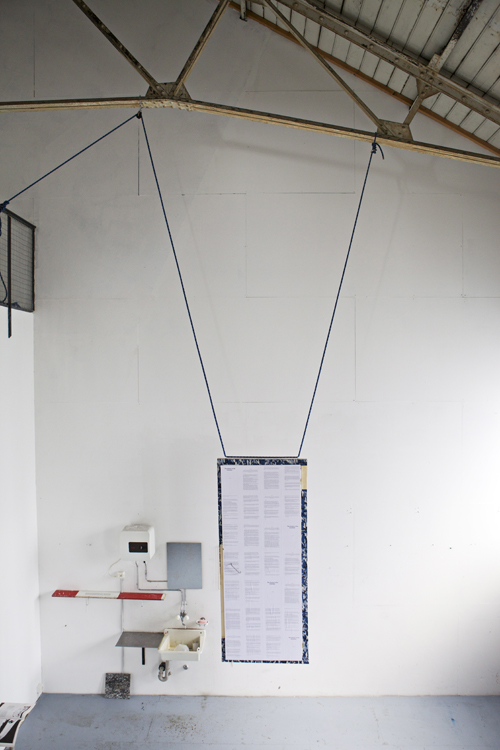 The Hunters Door
2012
wood, hinges, self adhesive plastic, draft manuscript from The Hunter in the Armchair, glue, A4 paper, handle, scew, rope
variable size, Arbeitsgemeinschaft Zürcher Bildhauer, Schlieren




New York Minute
1 min 0 sec
2012
HD h264 video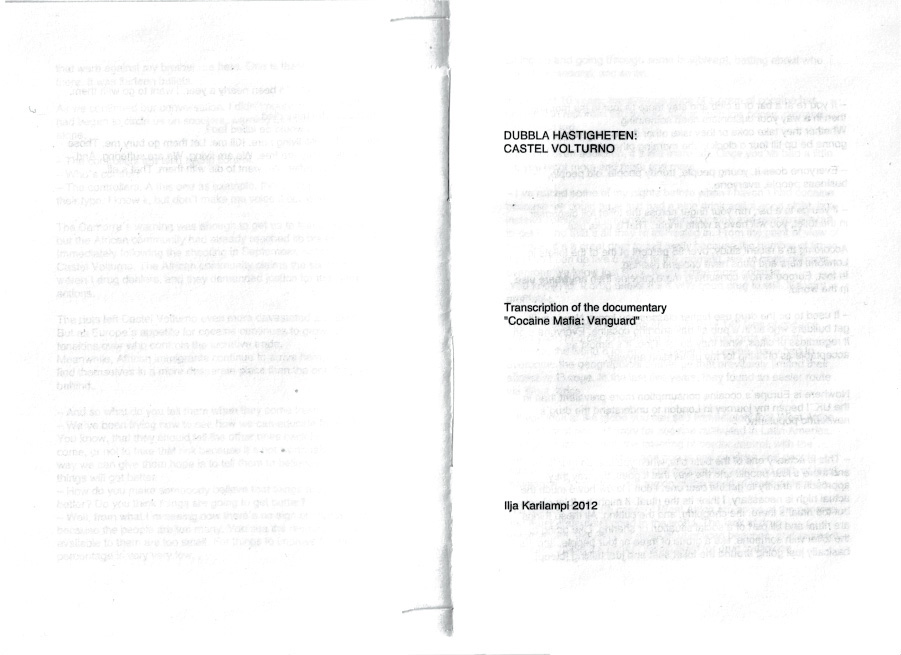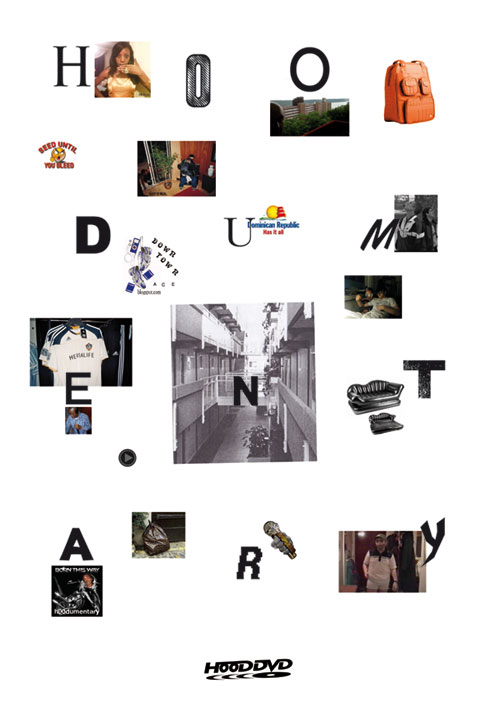 h 0 0 dumentary
20 Jan - 26 Feb 2012, Wilkinson Gallery, London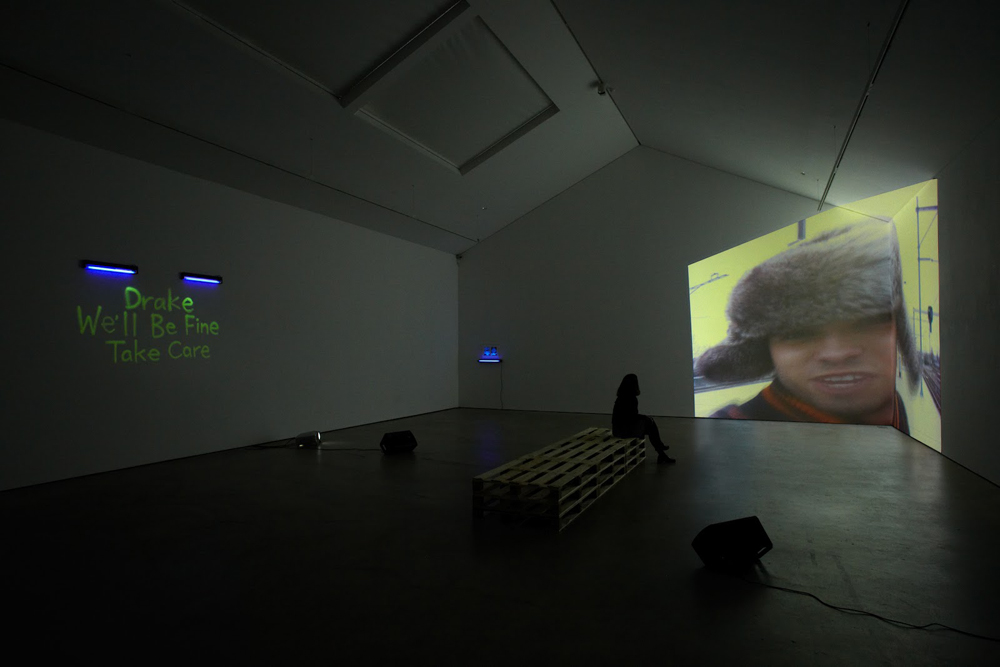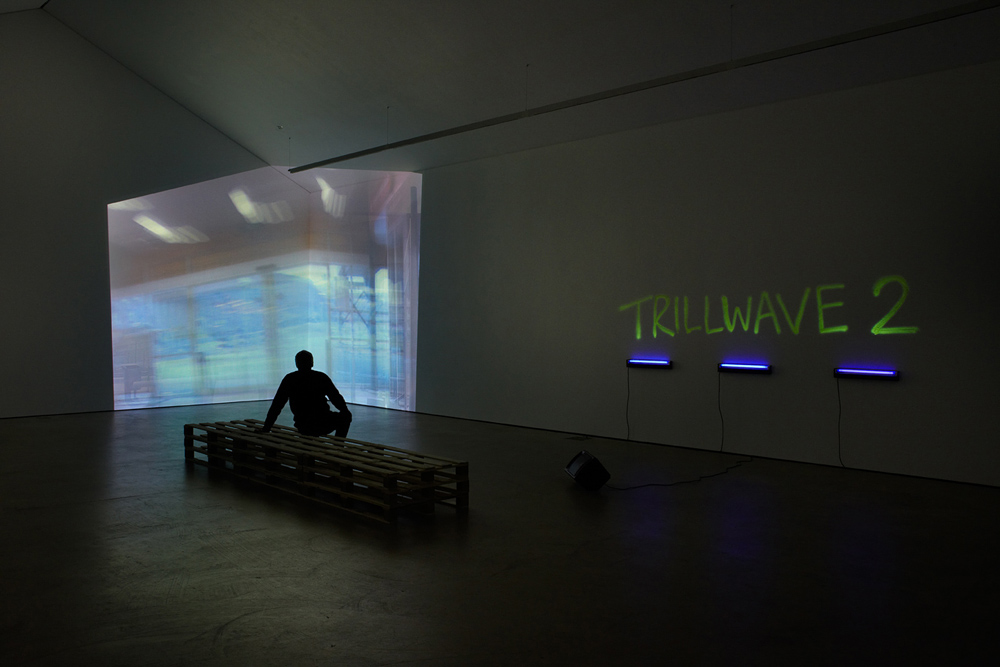 h00dumentary, Tha London Edition, 2011/2012
Video on DVD, sound
(duration 22 min 52 sec)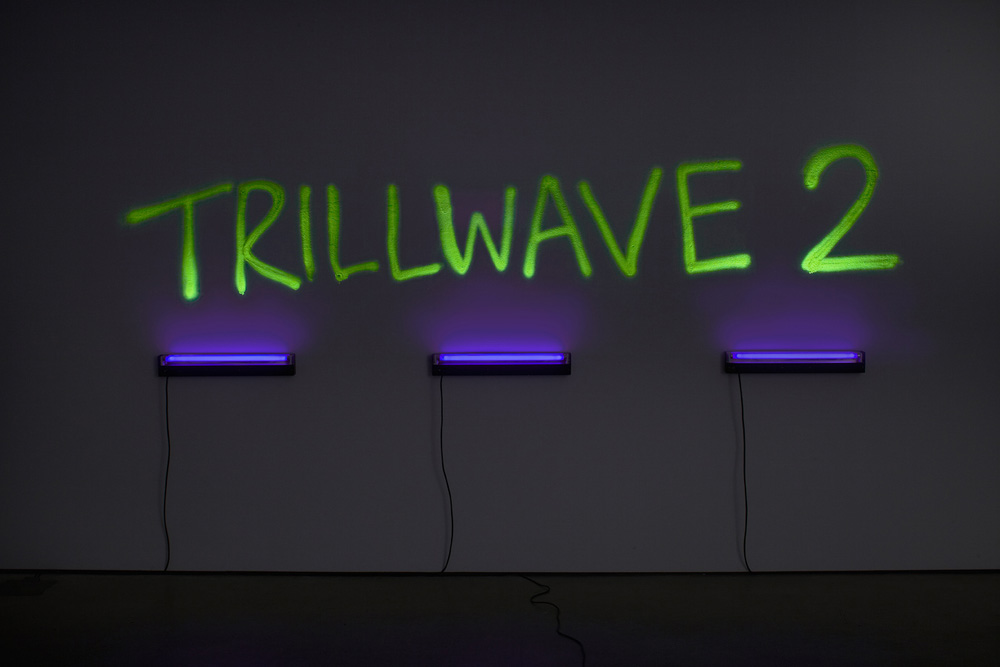 TRILLWAVE 2, 2012, Phosphor spray paint, 3 UV fluorescent tubes
103 x 355 cm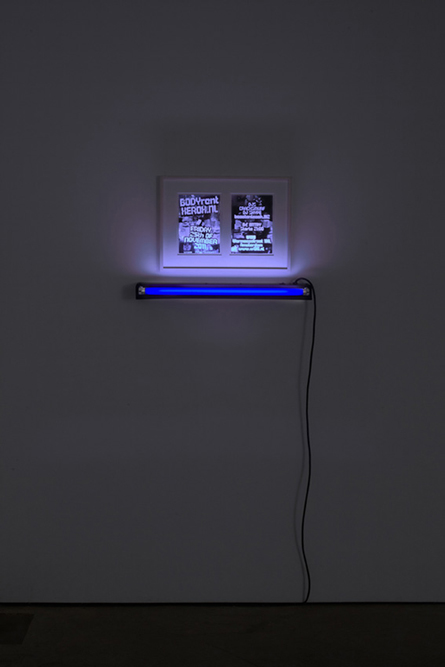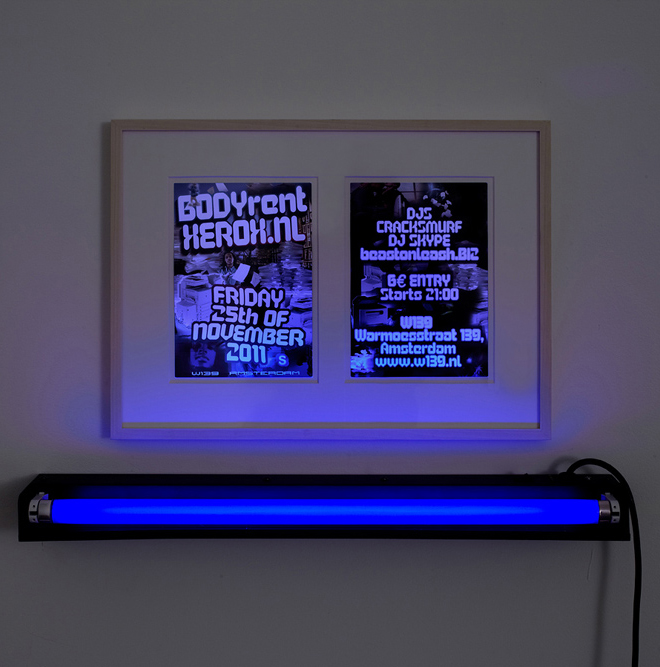 .BIZ, 2012, Offset print on glossy paper, custom made frame, UV fluorescent tube,
43.5 x 63.5 cm, two prints back and front side 21 x 14.8 cm each




Drake, We'll Be Fine, Take Care
2012, Phosphor spray paint, 2 UV fluorescent tubes, 122 x 91.5 cm



hoodumentary ~ SELECT CROWD
MINIBAR ARTIST SPACE, Stockholm, 28 jan - 12 feb 2012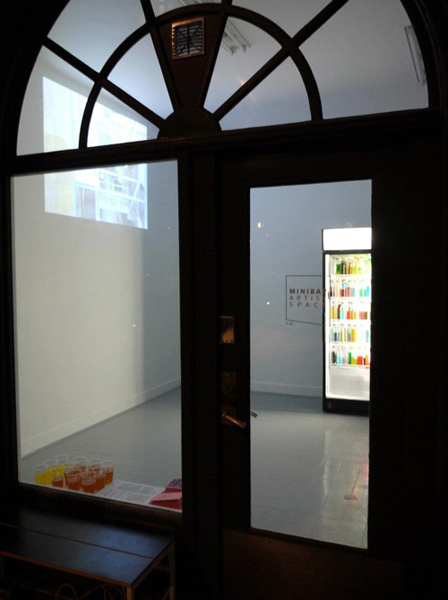 Exhibition views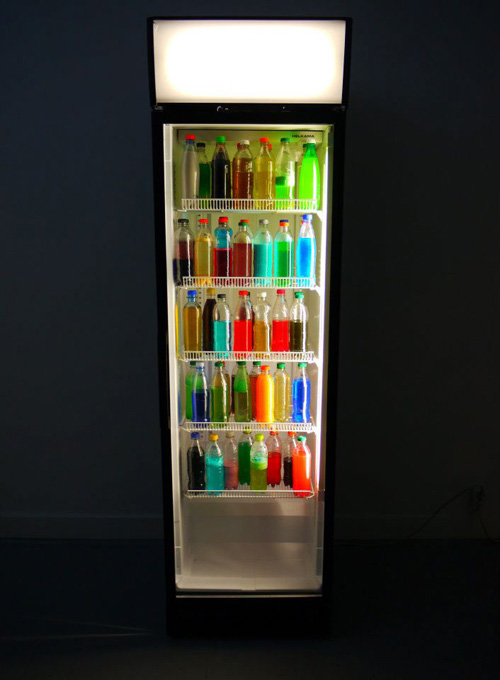 Untitled (minibar)
2012
Soda, refridgerator, energy drink, milk, tonic water, wine, beer, alcohol, coloring agent, 50 cl plastic pet bottles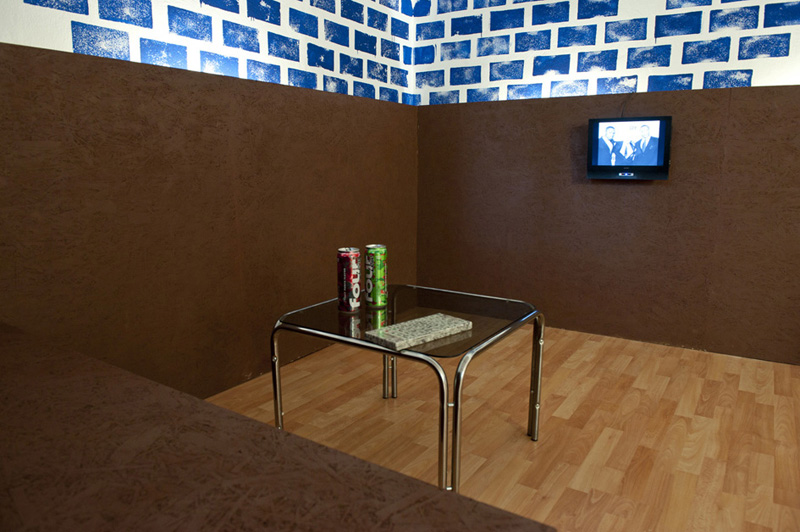 The Michael Todd Room, 2011, mixed media, dimensions variable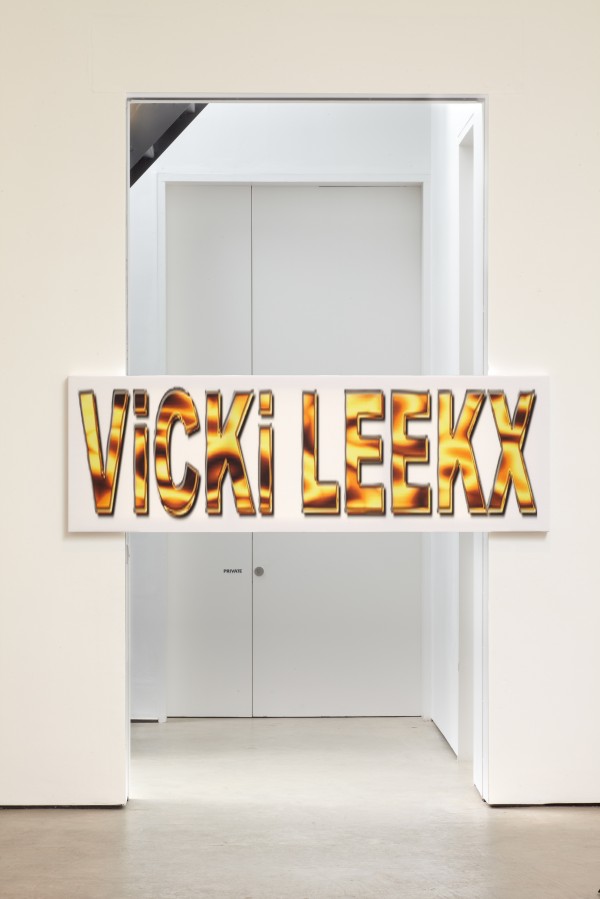 VICKI LEEKZ, 2011, inkjet print on canvas, 200 x 65 cm, blocking the entrance so that one has to bend down in order to enter,
"When Language Stops", Wilkinson Gallery, London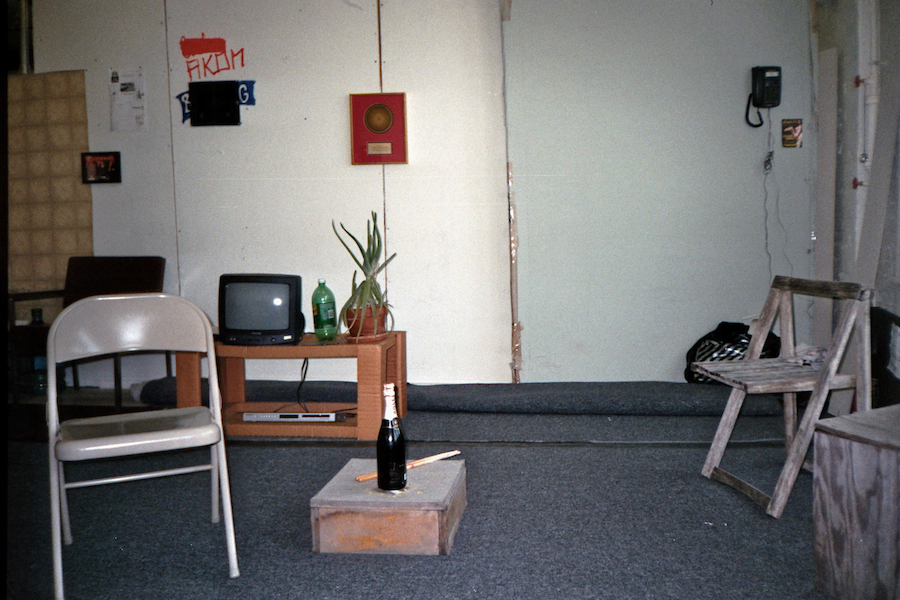 Governors Club, 2011, installation, mixed media, dimensions variable, LMCC Building 110, Governors Island, New York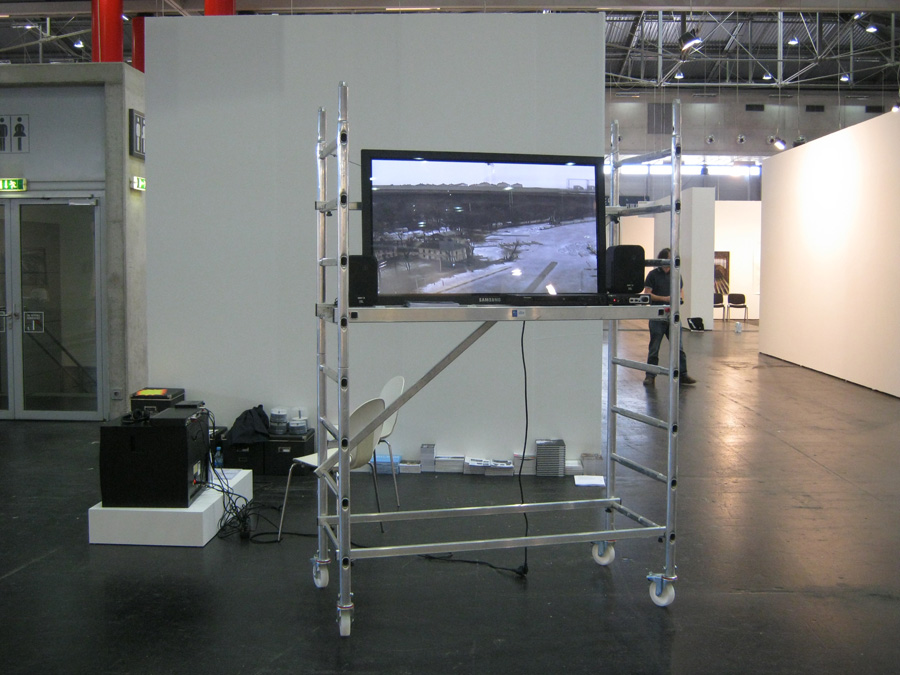 DJ SÄKERHETSKONTROLL, 2011, installation, Vienna Fair, presented by Kunstverein Medienturm, Graz, Wien
aluminium scaffolding, dvd player, soundsystem, chords, plasma screen




Dj Säkerhetskontroll
2010
10 min 12 sec



ON-BLOCKS, Sandy Brown, 2011 (poster in the back, Jean-Michel Wicker)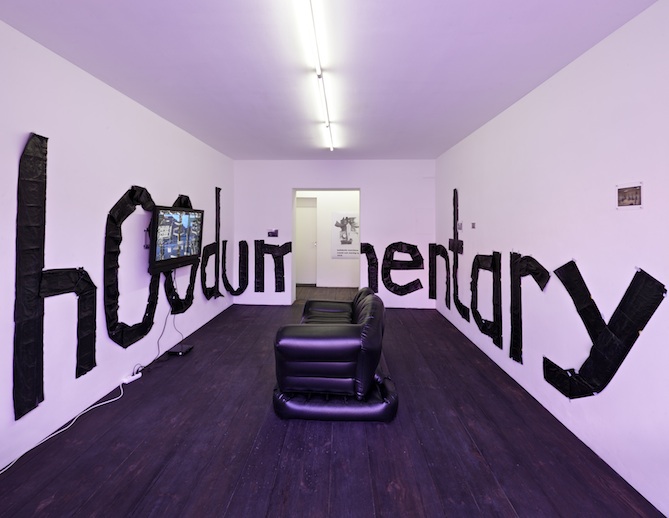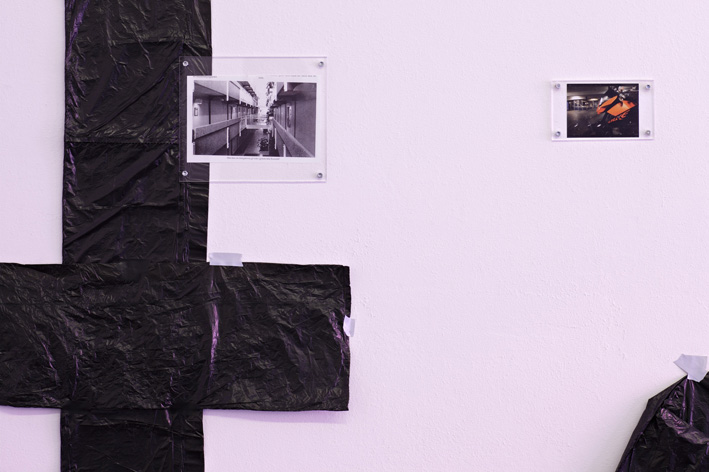 h00dumentary, Sandy Brown, 2011, Berlin
Installation, video, length 22:52, inflatable couch, widescreen display, purple
window foil, plastic bags, tape, plexiglas, inkjet prints, bolts






AKON, 2010, plaster, running shoes, mixed media, 475 x 317 cm
Installation view, Geschmacksverstärker, MMK Zollamt, Frankfurt






| | |
| --- | --- |
| | The Chief Architect of Gangsta Rap (2009) |